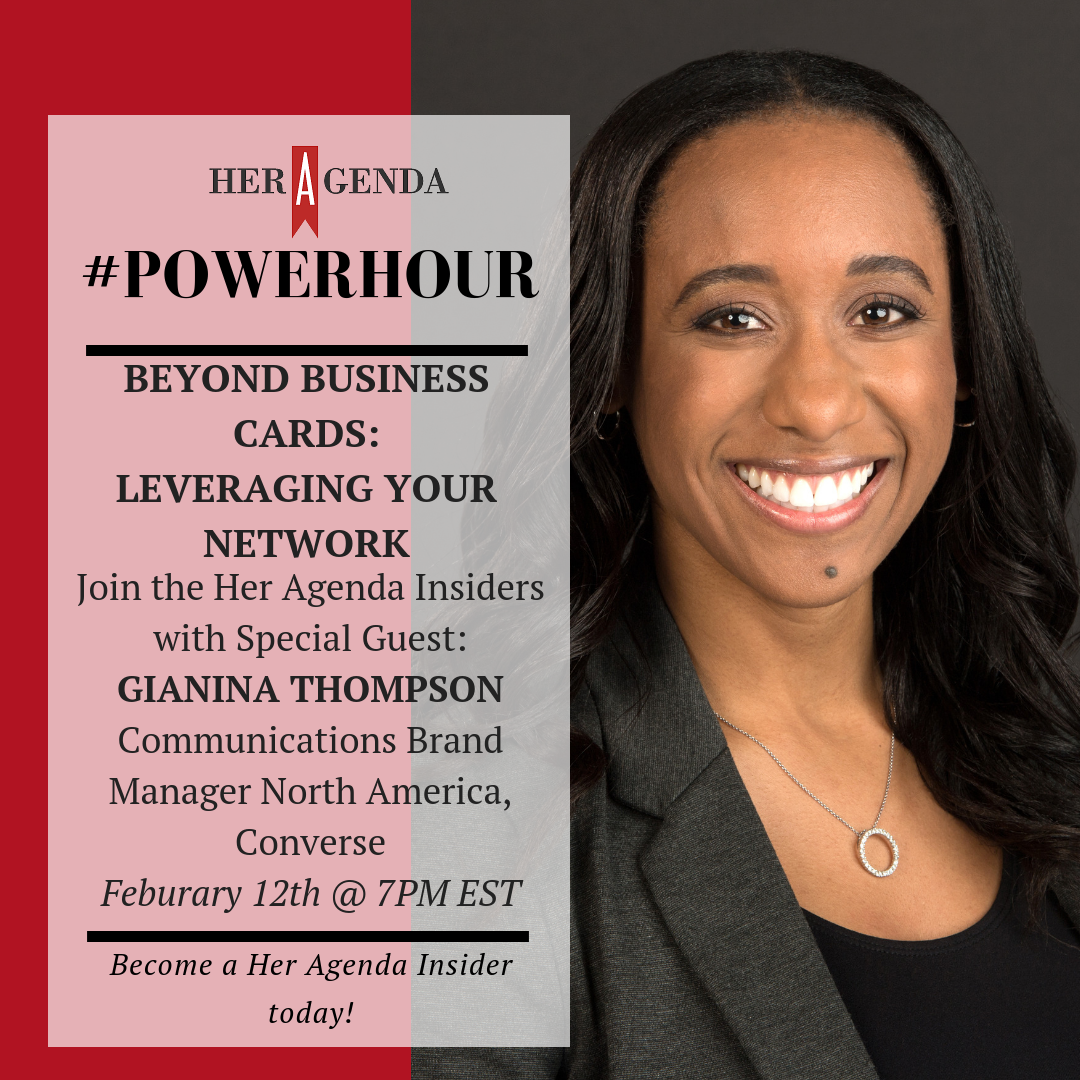 #PowerHour With Gianina Thompson - Beyond Business Cards: Leveraging Your Network
By
Her Agenda Staff
Feb. 12 2019, Published 7:00 p.m. ET
VENUE: SLACK (HER AGENDA INSIDERS!) - SUBSCRIBE TO JOIN THE CHAT
Networking is an essential part of growing your career. How do you move beyond casual conversations to meaningful relationships? Gianina Thompson, Communications Brand Manager, North America of Converse has mastered this art. Join us on February 12th at 7PM to hear Gianina's stellar advice on developing a network that propels you forward.
Gianina began as Converse's Communications Brand Manager in July 2018 after completing her fourth NBA Finals at ESPN. She dived into the brand storytelling of Converse, re-entering the basketball space during key moments like New York Fashion Week and NBA All-Star, as well as the signing of NBA players. At Converse, she creates relationships with influencers and public figures who are sneakerheads, culture pushers, and court hustlers for ambassador programs and events.
Article continues below advertisement
At ESPN, she was the senior publicist for NBA, MLB, FIBA, and Little Leagues where she served as a spokesperson, created and executed strategic publicity campaigns, analyzed TV ratings for media distribution, and pitched on-air exclusives for spots on-air commentators. Here, she successfully pitched pieces in Allure, Vogue, Men's Fitness, Essence, among many others...further meshing the world of sports with culture, lifestyle, entertainment, and fashion.
In 2016, Gianina was named one of PR News' Rising Stars 30 Under for her work around ESPN's Jessica Mendoza who broke several glass ceilings for women in MLB broadcasting, the most watched and historical 2016 NBA Finals and the new Saturday NBA game series on ABC. She was also part of the team that received a Beacon Award for brand reputation management for "Jessica Mendoza Makes History" campaign. To add on, she has been featured in Forbes and Black Enterprise. She is also a contributing writer for InStyle, and writes and hosts digital videos for espnW and ESPN's The Undefeated.
Before that, she held communication and writing roles at the NFL Washington Redskins, a FOX-affiliate news station in Virginia, Hampton University, a Forbes-featured website Bonfire Impact, and her alma mater Old Dominion University. At 21 years old, Gianina had already received both her master's and bachelor's degrees in communications. As a
Division 1 college athlete on the rowing team, Gianina focused her thesis on why male college-athletes aspire to play their sport professionally more than female-college athletes.
Join us on Tuesday, February 12th at 7pm EST on Slack.
Don't forget! To join the conversation, you must be a Her Agenda Insider. Click here to join the community today!