#PowerHour With Jade Driver & Cassie Petrey How We Got Backstage: Challenges & Successes Of Building Our Business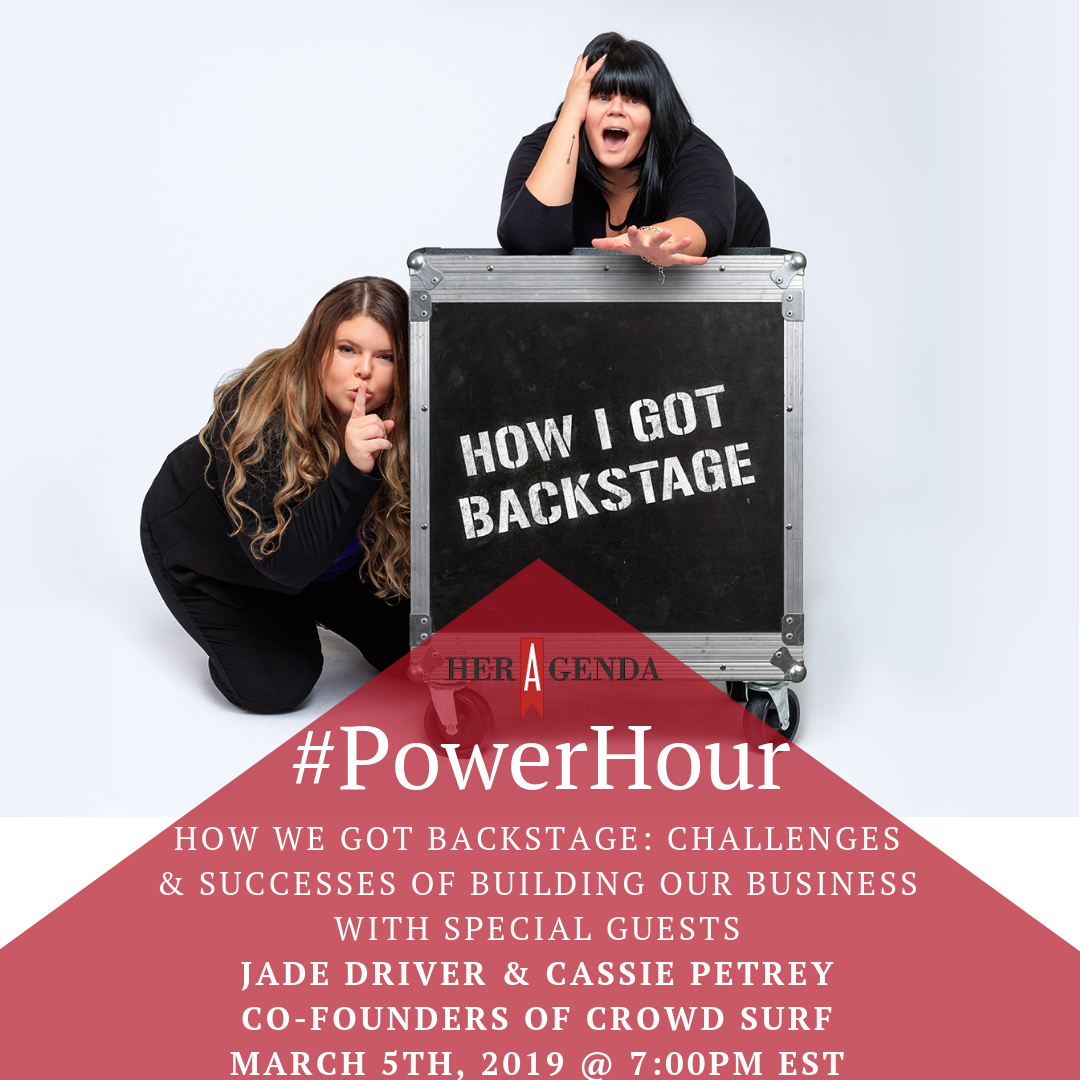 VENUE: Slack! (Her Agenda Insiders)
Have you ever wondered what it's like to found a business with your best friend? To break into the music industry? Or the opportunities and challenges of starting your business? Co-founders of Crowd Surf, Jade Driver & Cassie Petrey do. Join us at our next #PowerHour on March 5th, 2019 at 7PM EST on the Her Agenda Insider Slack channel to hear more about their journey - from their revelation at their college town hang out spot to working with artists like Britney Spears and The Backstreet Boys!
Cassie and Jade decided that even though they'd have
to build the ladder of the music industry, they were up for the challenge on creating a route for getting to that dream job. In that moment, they decided that Crowd Surf had to exist, in the most bootstrapped way possible...with the tiny bit
of college loan money they had left.
As teens, they ran various street teams and fan sites for the artists that
they loved, simply because they loved the artists and wanted to do everything
they could to thank them for the amazing music they were making. There were
no boundaries or limitations when it came to supporting the artists they loved.
Article continues below advertisement
When the company was founded in 2007, daily tasks consisted of accepting
MySpace friends, trying to figure out how to leverage Facebook when it was a
closed college network with no public figures, or setting up a Twitter account for
superstars like Luke Bryan and Blake Shelton.
Their company now has a 50 person team, four offices, and a collective social
footprint of approximately 1 billion followers amongst all of the accounts the
company oversees. Needless to say, they learned how to roll with the
punches, evolve their services as the music industry's landscape has changed,
and turned Crowd Surf into a full-blown marketing services agency. They do it
all, providing catered and specialized marketing services to a roster of massive
stars such as Backstreet Boys, Britney Spears, on top of managing Max &
Harvey the #1 Musical.ly stars in the UK with over 5.9 million followers and AJ
McLean (of Backstreet Boys) alongside legendary manager Johnny Wright.
We'll learn more about what's up next for these digital czars, in the ever-changing world of the music and marketing industries. You won't want to miss this amazing chat!