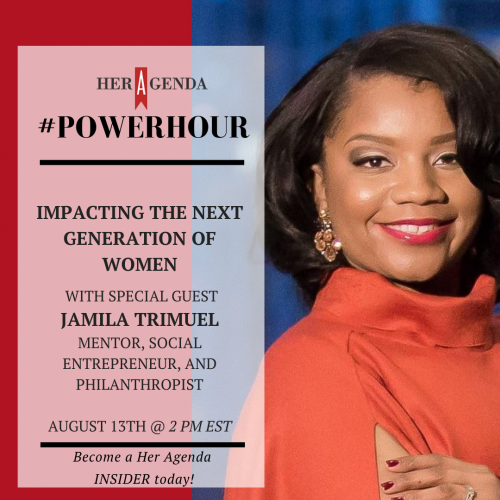 #PowerHour With Jamila Trimuel: Impacting The Next Generation of Women
By
Her Agenda Staff
Aug. 12 2020, Published 8:00 p.m. ET
VENUE: Slack (Her Agenda INSIDERS!) - subscribe to join the chat
Get Tickets
Learn More About Our Special Guest, Jamila Trimuel

As a mentor, social entrepreneur, and philanthropist, Jamila Trimuel has over ten years of experience in strategic planning and community engagement for nonprofit organizations. Jamila is a Broad Residency alum, a highly competitive leadership program that places participants in high-level managerial positions to help transform our public school systems.
Jamila is the product of the South Shore community on Chicago's southeast side. She attributes a large part of her success to her parents and thanks them for fueling her grit and desire to pursue her passion at all costs. Jamila was recognized as Northwestern Memorial Hospital's Humanitarian Award winner in 2012. She was also recognized as a Change Agent and invited to the United State of Women Summit hosted by the White House in 2016. In 2017, she was recognized by Chicago Scholars for their 35 under 35 Award and received Rush University's Hidden Figures Award. Jamila was one of the 100 community leaders from Chicago (500 in total around the world) invited to attend the inaugural Obama Foundation Summit in 2017. She also won the Coaches Award at the 2018 Social Venture Partners (SVP) Fast Pitch competition for Chicagoland nonprofits.
Article continues below advertisement
Jamila has a Bachelor of Science in Community Health from the University of Illinois Urbana-Champaign and a Master of Science in Health Systems Management from Rush University. She also holds a Masters of Education in Educational Leadership from The Broad Center for Management of School Systems. In addition to the Broad Residency, Jamila graduated from several prestigious leadership programs including the Schweitzer Fellowship and the IMPACT Leadership Development Program founded by the Chicago Urban League and the University of Chicago. She is also a Kellogg Executive Scholar from Northwestern University. In addition, she is a Licensed Minister at New Life Covenant – Southeast under the leadership of Pastor John F. Hannah. Jamila resides in the South Loop community with her husband, Damien.
Civic Engagement Advisory Council (Core Member) - Office of the City Clerk
Illinois Council for Women and Girls - Founding Steering Committee Member
Greater Bronzeville Neighborhood Network - Workforce Development Steering Committee Member
Coalition for Urban Girls - Steering Committee Member