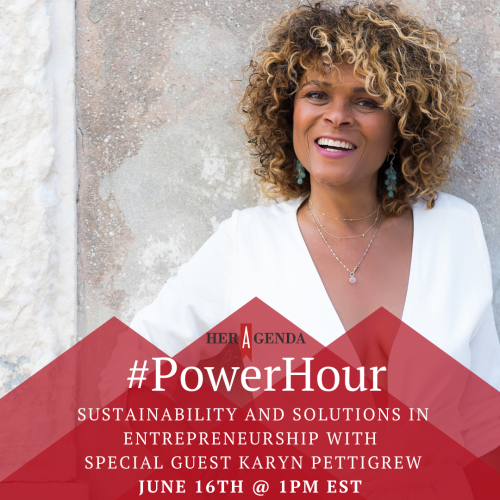 #PowerHour With Karyn Pettigrew: Sustainability and Solutions in Entrepreneurship
By
Her Agenda Staff
Jun. 15 2020, Published 8:00 p.m. ET
VENUE: SLACK (HER AGENDA INSIDERS!) - SUBSCRIBE TO JOIN THE CHAT
Get Tickets
Entrepreneurs create solutions to problems and this founder is working to make travel easier.
For our next #PowerHour, we host Karyn Pettigrew, founder of ZoeGoes to discuss how she decided to launch her business and what her entrepreneurial journey has been like. As someone who created her company based on sustainability and a solution to traveling lighter, we wanted to know how decided to put the two together.
Our convo with Karyn isn't all about her new business. It's about discussing the road to getting there with the Her Agenda INSIDERS.
From the White House to women's shelters, Karyn Pettigrew has inspired, refreshed and transformed dozens of businesses and thousands of lives internationally through her consulting, coaching, training, speaking, media appearances and book.
Using intuition and over 20 years of corporate marketing and entrepreneurial
experience, Karyn has an uncanny ability to cut through to truth using both
hemispheres of the brain. Karyn is moving entrepreneurs and business leaders beyond blind spots - the things you can't see or don't recognize are keeping you from living your extraordinary life.
Through her proprietary process called the Soul's Code to Business, passionate, creative individuals and the organizations they run, are guided to clearly articulate and leverage the strengths they already possess to create unique, indispensable and highly sought-after businesses.
Karyn has led organizations such as Peoples Energy, the Illinois State Lottery, Quaker Oats and Fashion Fair Cosmetics through a variety of marketing, communication and corporate strategy initiatives. She has run her coaching business, Beyond Blind Spots, LLC for the past 15 years before launching her sustainable women's travel line.
Want to talk to this amazing business woman? Join the conversation on 16th! You must be a Her Agenda INSIDER to join the conversation. Become an Insider today for access to Power Hour chats, exclusive discounts, perks, and job opportunities only available to our community!