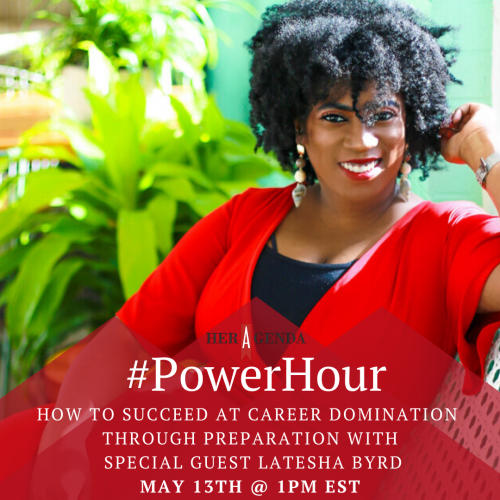 #PowerHour With Latesha Byrd: How To Succeed at Career Domination Through Preparation
By
Her Agenda Staff
May 12 2020, Published 8:00 p.m. ET
VENUE: Slack (Her Agenda INSIDERS!) - subscribe to join the chat
Get Tickets
For our next #PowerHour, we host Latesha Byrd to discuss what you can do to prepare to take your career to the next level. From everything to resumes, LinkedIn, interviewing, and everything in between, we're going to discuss actionable ways to get the results you want.
Career Designer Latesha Byrd is going to share her best practices for strategizing when it comes to your career with the Her Agenda INSIDERS.
As a career designer, speaker and consultant, Latesha Byrd - Founder and CEO of Byrd Career Consulting, is on a mission to help minority professionals turn their dreams into careers that will allow them to live life on their own terms. Her work is centered at the intersection of career empowerment and life visioning. She founded Byrd Career Consulting, a Consulting agency that provides Resume Makeovers, LinkedIn Makeovers, Interview Coaching and Executive Career Coaching. She partners with professional organizations, nonprofits, universities and corporations to deliver keynotes and workshops centered around people engagement and upward mobility, and provides coaching, with a range of clients across all industries, helping clients achieve upwards of $80k Salary increases. As a Google Digital Coach for Charlotte and Raleigh/Durham, she leads the effort on providing digital workshops and networking opportunities to minority small business owners. She's also an Adjunct Faculty at the North Carolina A&T State University, and a Certified Life and Career Coach. Latesha has been featured in Forbes, Money Magazine, Vogue Business, XO Necole, and Black Enterprise. She also hosts a weekly career advice podcast with Living Corporate, The Link Up With Latesha and monthly career segment with NBC Charlotte.
Want to join the conversation? You must be a Her Agenda INSIDER to join the conversation. Become an Insider today for access to Power Hour chats, exclusive discounts, perks, and job opportunities only available to our community!