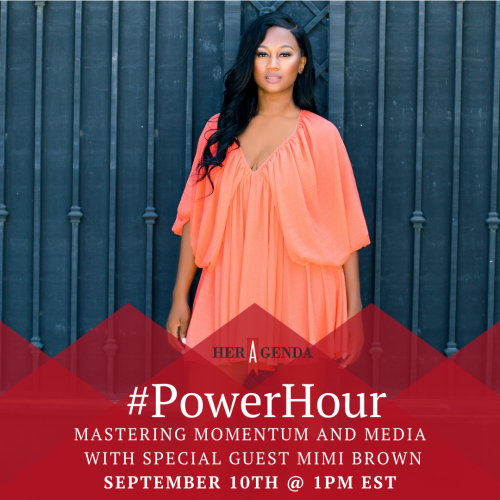 #PowerHour With Mimi Brown: Mastering Momentum And Media
By
Her Agenda Staff
Sep. 9 2020, Published 8:00 p.m. ET
VENUE: Slack (Her Agenda INSIDERS!) - subscribe to join the chat
ADDRESS: Slack (Her Agenda INSIDERS!) - subscribe to join the chat
Get Tickets
Join us for a chat with Mimi Brown to talk about mastering momentum and media. This is the perfect chance to learn more about working in media and tips on what it takes to continue to level up! Mimi's background says it all and we're excited she's joining us to drop some gems.
Mimi Brown is the host of FoxLA's Culture Conversations, a digital show launched by the station in the aftermath of George Floyd's murder. She interviews nationally recognized lawmakers, activists, and others working to bring equality and racial justice to our country.
Mimi also works on FOX 11's signature show, Good Day LA, producing daily segments highlighting the latest in local and national news, entertainment, fashion, and fitness.
Mimi began her journalism career 14 years ago as a red carpet reporter for US Weekly Magazine, where she covered the Oscars, the Grammys, and movie premieres, interviewing celebrities whose names you know. Mimi is also the host of the podcast, "Becoming Dope with Mimi Brown."
She holds a Bachelor's Degree from Howard University and a Master's Degree in Broadcast Journalism from American University.
Mimi currently volunteers with several local community groups, mentoring young people and offering career advice. She is also a proud member of Alpha Kappa Alpha Sorority, Incorporated.