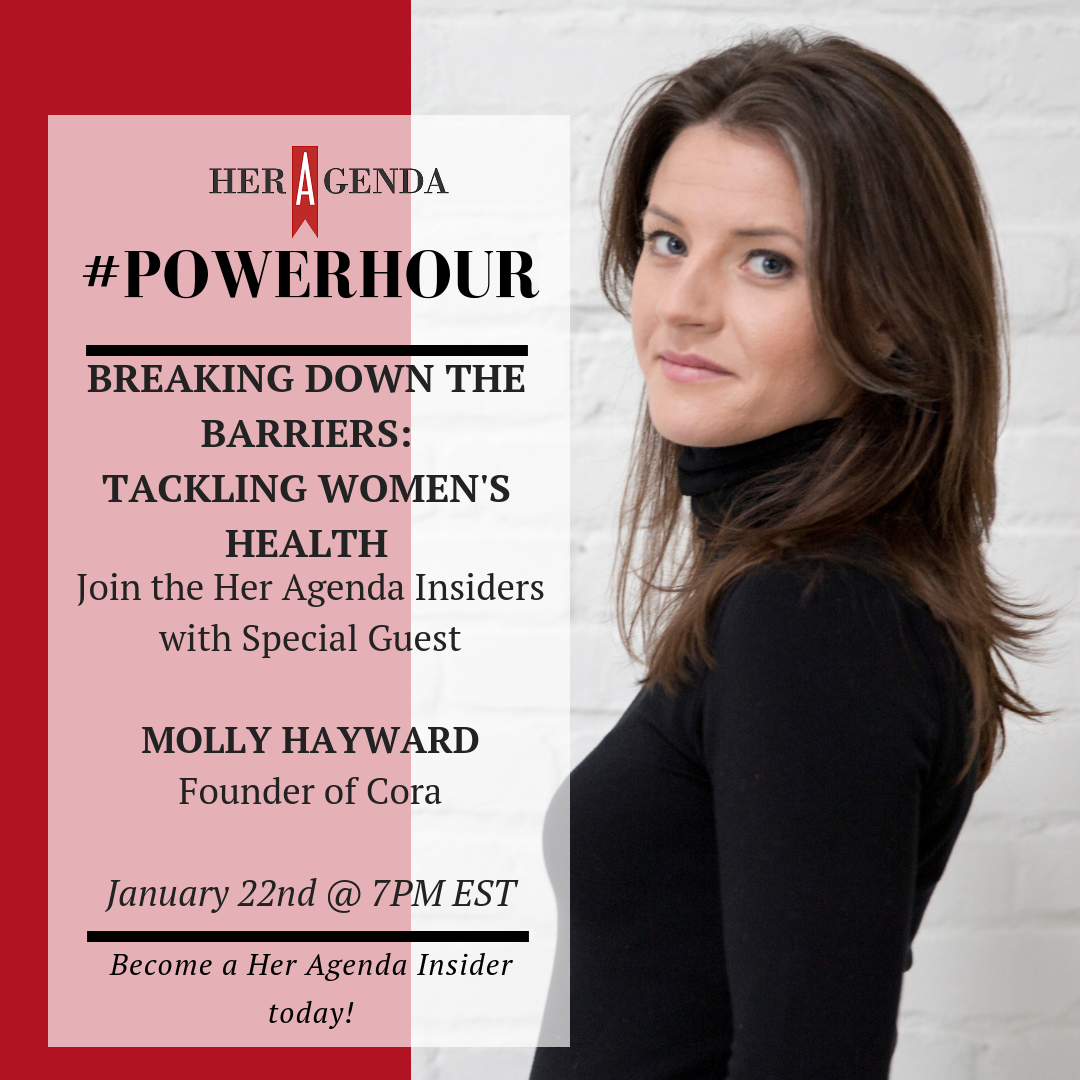 #PowerHour With Molly Hayward: Breaking Down The Barriers - Tackling Women's Health
By
Her Agenda Staff
Jan. 22 2019, Published 7:00 p.m. ET
VENUE: SLACK (HER AGENDA INSIDERS!) - SUBSCRIBE TO JOIN THE CHAT
The time for us to break down conversation around women's health is now. Barriers to access to menstrual products, and stigma talking about our health still exists - although has been getting better in recent time. Have you ever wanted to have a conversation about this in an open, intimate space? This Power Hour is just for you. Join the Her Agenda Insiders as we host Molly Hayward, Founder of Cora to speak on "Breaking Down The Barriers: Tackling Women's Health". This special chat will take place on January 22nd at 7PM EST on the Her Agenda Insider Slack channel!
Molly Hayward is the visionary Founder of Cora, a brand giving women a modern method for managing their periods. With innovative and healthy organic products, a modern user experience, and sustainable menstrual products given to girls in developing countries for every monthly supply sold, Cora represents the smart, sophisticated, and conscious woman of today and is transforming the experience of womanhood on a global scale. Molly was the first entrepreneur in the now-trendy menstrual management space to establish a modern, socially conscious brand, presenting the issues of healthier products and women's global social justice to the mainstream female consumer. At 29 years old, and recognized as a Forbes 30 Under 30, she has been featured in major media outlets and garnered awards for her innovative and holistic approach to elevating women globally through for-profit business. For more information, visit www.cora.life.
Did you know...a lucky chat attendee will win a prize pack from Cora? Make sure to tune in and participate in the chat for a chance to win :)!