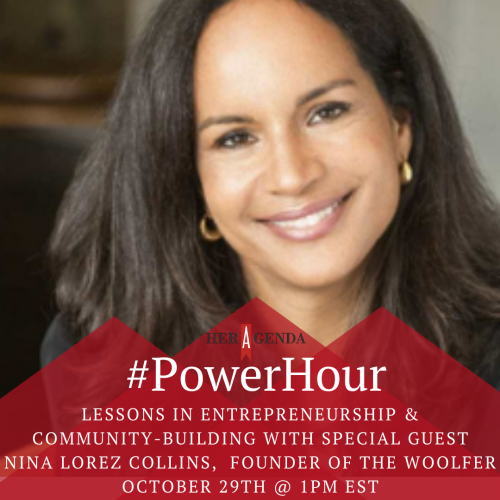 #PowerHour With Nina Lorez Collins: Lessons in Entrepreneurship & Community-Building
By
Her Agenda Staff
Oct. 28 2020, Published 8:00 p.m. ET
VENUE: Slack (Her Agenda INSIDERS!) - subscribe to join the chat
Get Tickets
Nina Lorez Collins. founder of The Woolfer, will be joining the Her Agenda INSIDERS on October 29th to chat about lessons in entrepreneurship and community-building. The entrepreneur and former literary agent who is based in Brooklyn and is a mother to four young adults, has created a vibrant community of women-centered on disrupting the taboo and social norms around aging.
Her community, The Woolfer, grew from a 2015 secret Facebook community that Collins started at the age of 46 called What Would Virginia Woolf Do? Her initial post about her perimenopause symptoms garnered such engagement that she developed a private forum where her friends, typically well-read, super savvy feminists, could gather and talk with candor about the joys and indignities of aging. The community struck a nerve, and within a few years, it grew to more than 32,000 women around the world coming together to discuss age-related topics. With the natural progression of the group, Collins launched her Raging Gracefully podcast series, released her first book, What Would Virginia Woolf Do? And Other Questions I Ask Myself As I Attempt To Age Without Apology, and launched impactful virtual and IRL events.
Article continues below advertisement
With such an amazing background, we definitely wanted Nina to come to share her expertise with our group of entrepreneurs, leaders, and community-builders!
More About Nina Lorez Collins
For many, the prospect of being a woman "of a certain age" is daunting. While Nina Lorez Collins can relate to this notion, she has consciously chosen to embrace the mantra of raging gracefully, which is also the name of her popular podcast.
Collins has channeled her multifaceted career as a founder, writer, life coach, and speaker and to bring together a vibrant community of women dedicated to disrupting the taboo and social norms around aging through her social media platform, The Woolfer. Dedicated to women over the age of 40, the thriving international community of 5,000 members with a reach of 25,000 people, discuss everything from lipstick to incontinence, feminism to the latest Netflix series, erectile dysfunction to Empty Nesting, and everything in between.
Article continues below advertisement
In 2017, she renamed the group to The Woolfer and moved it off of Facebook to a branded, subscription-based ($35/yearly) app, which serves as a safe space where women are supported, understood, and challenged. "I decided that we're really a club, let's just leave [Facebook] and see what happens," says Collins of her move to an evolving branded platform.
Born in New York, Collins has developed her passion for community into becoming a leader in female empowerment, feminism, aging, menopause, divorce, parenting, sex, and relationships, among other subjects. She draws inspiration from the extensive literary work of her late mother, writer/filmmaker/playwright Kathleen Collins, whose estate she oversees. "My mother died when she was 46. When I turned 46 and was starting to go into menopause, I no longer had her as a model and I really wanted other women's voices to help me," Nina notes. "In some ways I created a group [The Woolfer] that would mother me, and they really do."
Collins has a BA from Barnard College. Drawing from her experience with the loss of her mother, she completed her master's degree in Narrative Medicine at Columbia University. "I've always been interested in women's stories and the lives of women as well as how people deal with death, divorce and aging — transitions of loss," she says. "The Woolfer has unexpectedly been this interesting culmination of all of my interests and skills. It has been the most organic experience of my life." Collins is also an IPEC certified life coach.