#PowerHour With Ruth Ann Harnisch - Embracing What Is: Nobody Is Perfect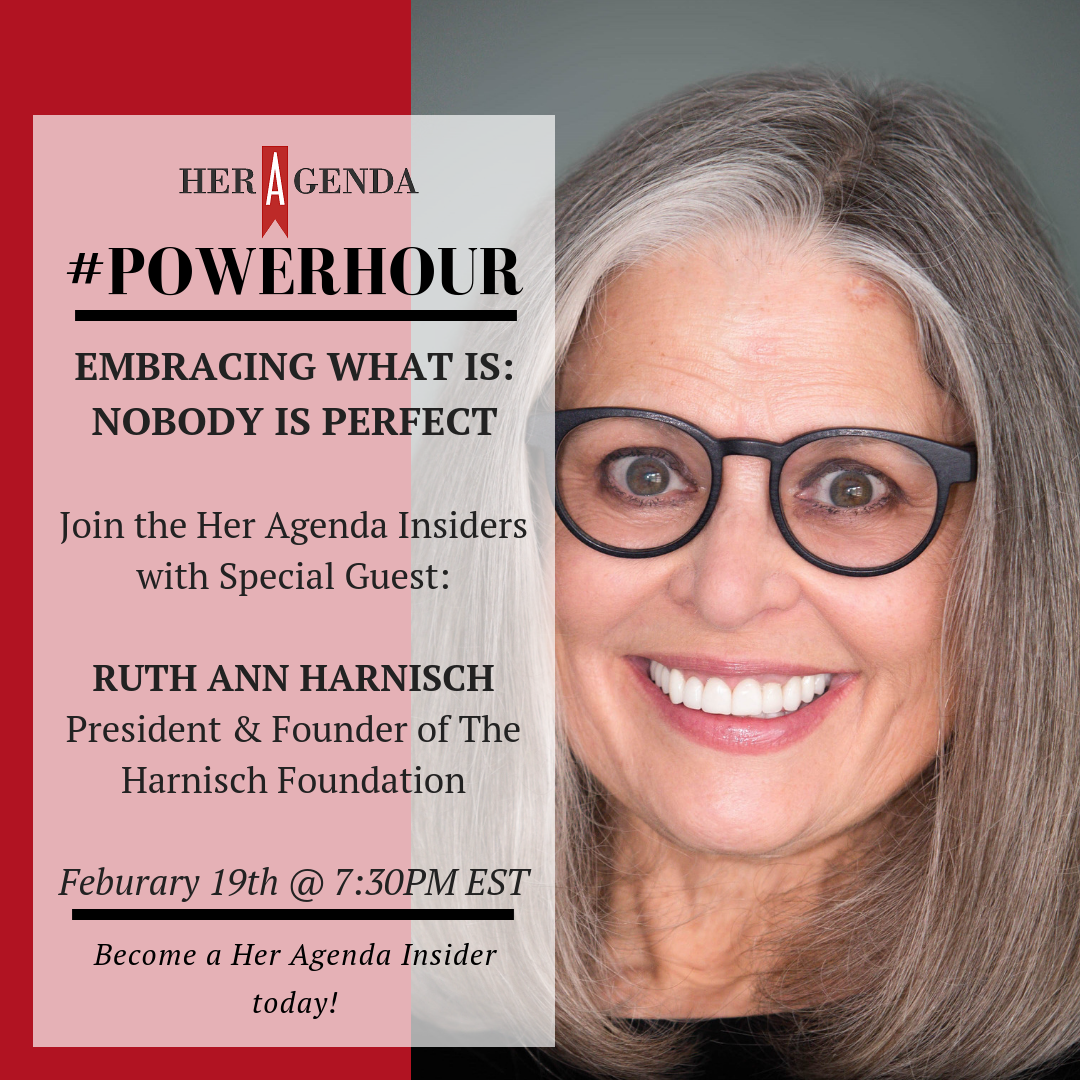 VENUE: SLACK (HER AGENDA INSIDERS!) - SUBSCRIBE TO JOIN THE CHAT
Get Tickets
Let's face it - perfection is a myth. Bettering yourself is something we should always strive towards, but there will never a perfect anything. According to Ruth Ann Harnisch, if you're holding out for the perfect partner, the perfect investor, the perfect board member, the perfect anything, then you are playing a losing game, and perpetuating a cultural falsehood in which we expect people to be flawless.
Don't expect perfection in yourself, or anyone else, but do expect people to live up to their values. Most importantly, expect that of yourself. Ruth Ann's number one rule in life is to be trustworthy to herself so she can always count on herself even if everyone else lets her down.
On February 19th, 2019 at 7:30PM, Her Agenda Insiders will host special guest Ruth Ann Harnisch for #PowerHour. #PowerHours are virtual chats held for one-hour at the Her Agenda Insider Slack community.
There is nowhere Ruth Ann Harnisch would rather be than in the middle of a money conversation. Ruth Ann relishes the opportunity to offer her decades of experience as an investor, a donor, a producer, a writer, a performer, and a formerly-poor-now-rich person to create social change and help others find their own paths to fulfillment.
Article continues below advertisement
Ruth Ann believes "The Final Frontier of Feminism is Finance," and as a certified professional coach she has helped thousands of entrepreneurs, creative artists, scientists, philanthropists, journalists, executives and polymaths to unlock the chains that keep them from playing the money game to win. She invests in female-founded startups including The Helm and was an original investor in The Muse.
Ruth Ann is the founder and president of the Harnisch Foundation, now in its 21st year of working to create a fair, equitable and inclusive world by investing in effective leaders, communities, and organizations advancing intersectional inclusivity. Recently, TheHF created the original FunnyGirlsTM curriculum, teaching leadership skills to girls in grades
3 – 8 through improv and movement. Programs are underway with social justice forward partners, and a recent workshop for adults at TEDWomen.
Ruth Ann is a longtime supporter of the TED Conferences and a founding sponsor of the TEDFellows program. She is a major supporter of the Sundance Institute Women Filmmakers Initiative and underwrites the professional coaching offered to the Momentum fellows. TheHF supports a number of film-related nonprofits and projects designed to make storytelling more inclusive both behind and in front of the camera.
In 2018, Ruth Ann celebrated with the other members of Impact Partners as their documentary ICARUS won the Academy Award for Best Documentary. She was an EP of UNREST, shortlisted in the same Oscar category.
Ruth Ann is a trained Crisis Text Line volunteer counselor since 2015 and encourages you to visit http://crisistextline.org to become a counselor, and text 741741 if you need to get through a tough moment.
You won't want to miss this amazing chance to hear from Ruth Ann on the Her Agenda Insider Slack Channel! Become a Her Agenda Insider to access the conversation.