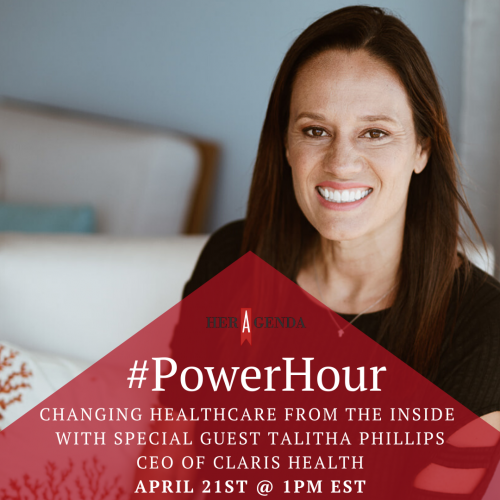 #PowerHour With Talitha Phillips: Changing Healthcare From The Inside
By
Her Agenda Staff
Apr. 20 2020, Published 8:00 p.m. ET
VENUE: Slack (Her Agenda INSIDERS!) - subscribe to join the chat
Get Tickets
Claris Health CEO Talitha Phillips runs the Los Angeles-based community non-profit that has served neighborhoods across Los Angeles for over 43 years. Claris Health's mission is to equip and care for individuals and their families regarding their sexual health choices, including before, during and after pregnancy. They provide free of charge and affordable medical care services, as well as peer to peer support.
Talitha was originally a patient of Claris Health while she was in college at Pepperdine University and has now been leading the organization for 18-years. At the age of 23, she became the Director of Claris Health and now she's the CEO.
With all eyes on healthcare for so many reasons, we're glad to talk to Talitha!
For our next #PowerHour, we host Talitha Phillips to discuss "Changing Healthcare From The Inside." We will learn how this CEO made her way to the top, her mission for Claris Health, what challenges she faces in the healthcare industry, her life as a doula, and her thoughts on current issues plaguing the healthcare system. We'll also tackle these questions and any that you have for this month's special guest!
Want to join the conversation? You must be a Her Agenda INSIDER to join the conversation. Become an Insider today for access to Power Hour chats, exclusive discounts, perks, and job opportunities only available to our community!