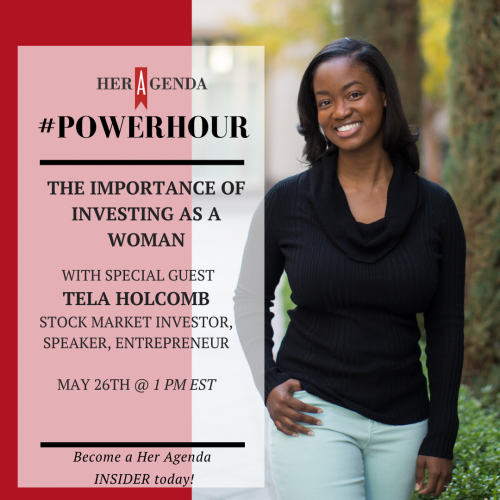 #PowerHour With Tela Holcomb: The Importance of Investing as a Woman
By
Her Agenda Staff
May 25 2020, Published 8:00 p.m. ET
VENUE: Slack (Her Agenda INSIDERS!) - subscribe to join the chat
Get Tickets
Have you considered investing in the stock market but you're not sure where to start? Are you afraid to invest because of everything going on right now? Are you already investing and interested to know more strategies about making the right decisions? Then you don't want to miss our next #PowerHour chat with Tela Holcomb.
Tela Holcomb, stock market expert and creator of Trade Your 9 to 5®, is quickly becoming America's favorite stock market educator. In 2009, as a single parent and Air Force veteran, Tela started learning how to invest in the stock market. By 2013, she more than doubled her retirement account and retired from a 9 to 5!
Through her culturally responsive approach to teaching the stock market,
Tela has helped tens of thousands of people all over the country learn how
to make money in the stock market.
Through her program, Trade Your 9 to 5®, Tela teaches burnt out employees how to trade their 9 to 5 in the stock market. With one Freedom Catcher made (a student that has reached financial freedom) and hundreds more on the way, Tela is on a mission to help more women live a life on FIRE (financial independence, retired early).
We're so excited to learn more about Tela and her mission! Want to join the conversation? Join the Her Agenda INSIDERS today!