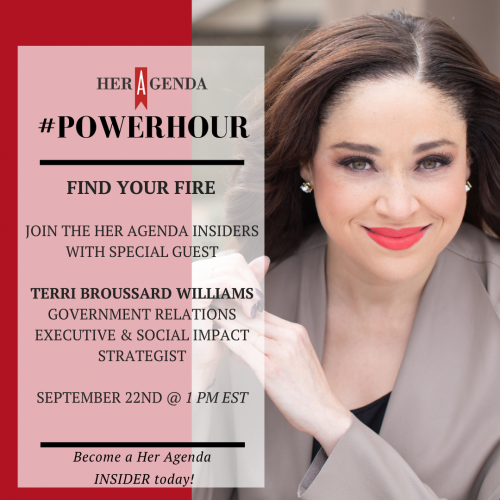 #PowerHour With Terri Broussard Williams: Find Your Fire
By
Her Agenda Staff
Sep. 21 2020, Published 8:00 p.m. ET
VENUE: Slack (Her Agenda INSIDERS!) - subscribe to join the chat
ADDRESS: Slack (Her Agenda INSIDERS!) - subscribe to join the chat
Get Tickets
Feeling burned out this year? Feeling lost on your path? Join us on September 22nd as the Her Agenda INSIDERS chat with Terri Broussard Williams to discuss how to "find your fire" and keep it! Everyone always talks about pursuing your passion and making a change, so we're talking to Terri to see exactly what steps we can take to reach that destination.
More About Terri
Terri Broussard Williams believes leaders turn moments into movements. Throughout her accomplished career as a broadcast journalist, press secretary for a US Senate Candidate, philanthropist, lobbyist and non-profit executive, Broussard Williams has turned public and community service into a professional art-form that has positively impacted millions of lives.
For nearly seventeen years, Terri served as a government relations executive for the American Heart Association. Her journey at this organization realized her dream of creating significant, community-shifting outcomes in her home state, and later to surrounding states. She counts some of the most significant pieces of legislation passed as her most distinguished accomplishments, including The Louisiana Smoke-Free Air Act, a game-changing career milestone she experienced at the flourishing age of 28.
Article continues below advertisement
Broussard Williams received her bachelor's degree from Louisiana State University. Terri is a graduate student at The University of Pennsylvania studying Non Profit Leadership with an expected graduation date of May 2020. Terri holds a diversity and inclusion certificate from Cornell University and is a graduate of the social impact strategy executive program at the University of Pennsylvania where she currently serves as a teaching fellow. She also serves on several boards including the Annette Strauss Institute for Civic Engagement and The Association of Junior Leagues International among others.
In addition to her leadership as a lobbyist, Terri is focused on paying it forward – encouraging and building up others who strive to create meaningful and groundbreaking change through her blog, movementmakertribe.com and new book, "Find Your Fire."
As a professional speaker and podcast host, Terri discusses politics, philanthropy, women's empowerment, diversity and inclusion, as well as leadership issues.