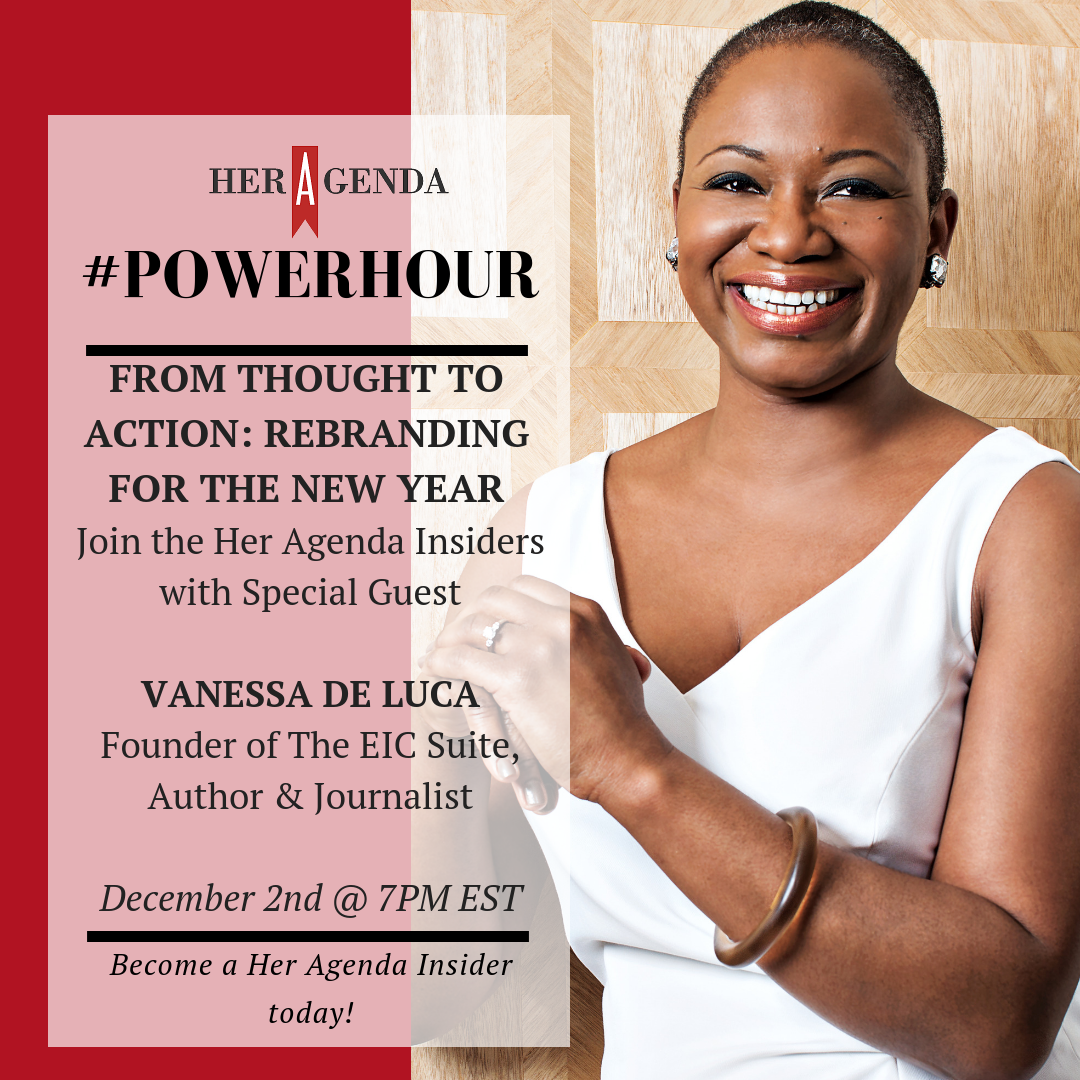 #PowerHour With Vanessa De Luca: From Thought To Action - Rebranding For The New Year
By
Her Agenda Staff
Dec. 2 2018, Published 7:00 p.m. ET
VENUE: SLACK (HER AGENDA INSIDERS!) - SUBSCRIBE TO JOIN THE CHAT
Get Tickets
On Sunday, December 2nd at 7pm, join the Her Agenda Insiders for a #PowerHour with Vanessa De Luca on "From Thought To Action: Rebranding For The New Year." We will be chatting about setting yourself up for success for 2019, and what it takes to turn wishful thinking into steps toward the future you want. Join us to get insight from Vanessa on how to hit the ground running, to ask her questions about her accomplished career, and hear more about her upcoming book! Also, one lucky Insider will win a pre-ordered copy of The EIC Suite for participating in the chat.
Vanessa recently founded The EIC Suite, a community where women can learn how to become the Editor-In-Chief in their professional and personal life. She recently served as the Editor-in-Chief of ESSENCE magazine. Where she oversaw the editorial vision and content creation across all platforms, including the magazine, digital, social, video and live experiences.
Previously, her background focused on content strategy, planning and writing. She served at publications such as Glamour and Life, designing and executing editorial content
strategy. As a trusted leader in all of her roles, she assessed the market, ideated new ways to achieve growth, built and cultivated strong teams, and reinvented a brand.
An award-winning journalist and co-author of the bestselling beauty and empowerment
book, Tyra Banks Beauty Inside & Out, she has been featured guest on several national
television networks, including NBC's TODAY Show; CBS This Morning; MSNBC's
Morning Joe, AM JOY and PoliticsNation; CNN and more. Vanessa has a B.A. from Harvard University and an M.S. from Columbia University Graduate School of Journalism.