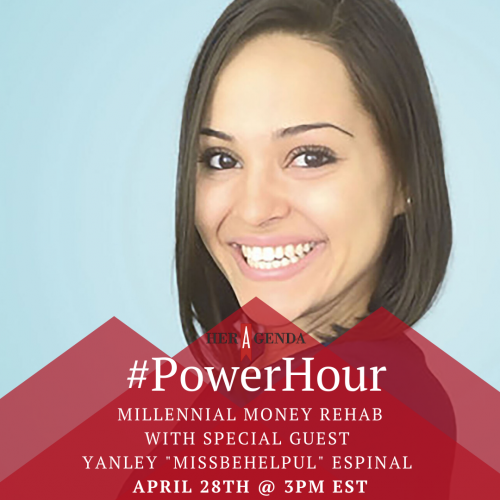 #PowerHour With Yanely "MissBeHelpful" Espinal: Millennial Money Rehab
By
Her Agenda Staff
Apr. 27 2020, Published 8:00 p.m. ET
VENUE: Slack (Her Agenda INSIDERS!) - subscribe to join the chat
Get Tickets


For our next #PowerHour, we host Yanely "MissBeHelpful" Espinal to discuss how millennials can rehab their finances in the current climate. Yanely will share her advice on what you can do now and what you can do in the future to help gain financial stability no matter where you are.

Yanely Espinal was born to Dominican immigrant parents in Brooklyn, NY. She attended Brown University on a full scholarship and went on to receive her master's degree in Teaching. After two decades of school, she still can't believe that she never had a class about making smart money choices! Now, she's on a mission to help you learn personal finance in a fun and relatable way!

Yanely combined her love for teaching with her passion for financial literacy, creating a unique YouTube channel called MissBeHelpful for college students and young professionals to learn about credit cards and credit scores, budgeting, student loans, saving and long term investing in the stock market. She works full-time in the non-profit sector at NGPF.org and frequently facilitates financial literacy workshops at schools and companies throughout the northeast. You can follow her on social media @missbehelpful or reach her directly at missbehelpful@gmail.com.

Want to join the conversation? You must be a Her Agenda INSIDER to join the conversation. Become an Insider today for access to Power Hour chats, exclusive discounts, perks, and job opportunities only available to our community!