She Is Me: Ladies First Virtual Seminar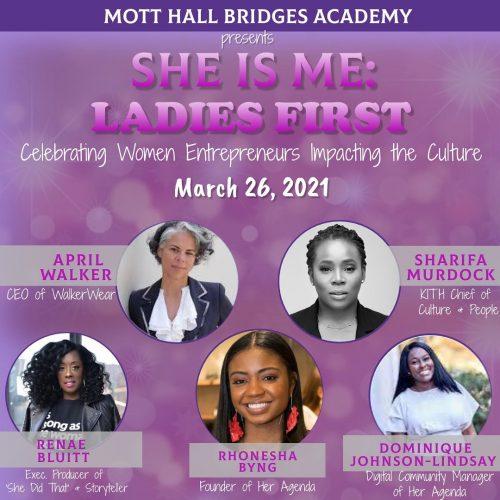 Mott Hall Bridges Academy will host their very first She Is Me: Ladies First virtual seminar!
The girls will engage in dynamic conversations with phenomenal women entrepreneurs who continue to show up and do the work that represents our young Black & Brown Girls!
They will also be honoring Congresswoman Ayanna Pressley, Esi Eggleston (COO of Unilever), Simone Jordan (Head of Community Commerce of Sundial Brands), Pat Sumpter-Davis (Founder of @curlsforgirlsinc), Natasha Gaspard (CEO of Mane Moves Media), Ebonee Davis (Activist & Supermodel), & former Assemblywoman Tremaine Wright (Co-Sponsor of the CROWN Act) with Awards of Excellence for their trailblazing work, for showing up daily & impacting the culture that our girls will one day take over!
Our guest speakers Ms. April Walker, Sharifa Murdock, Renae Bluitt, Rhonesha Byng & Dominique Johnson-Lindsay will also engage in conversation with our girls about their path that led them to the work that they do and love.