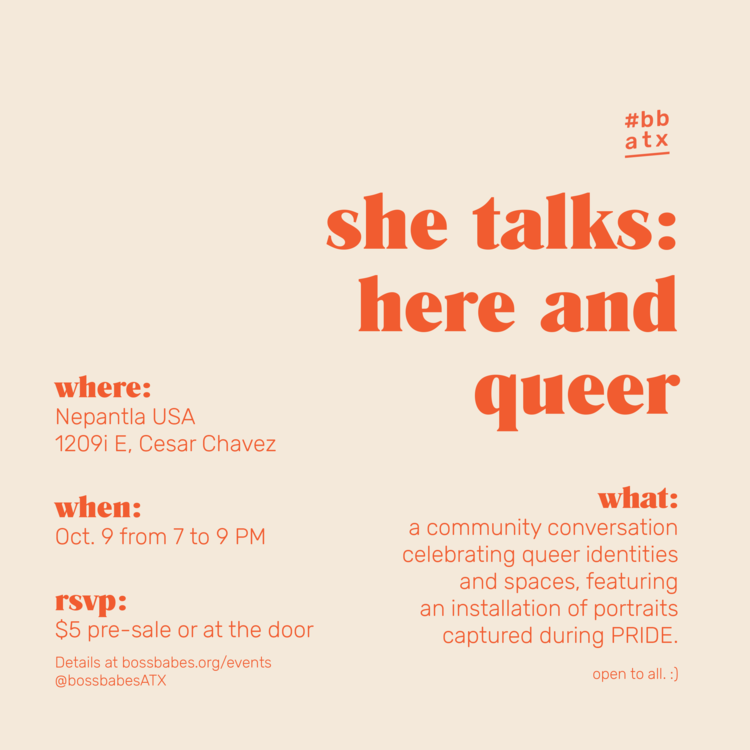 She Talks - Here and Queer: Austin
By
Her Agenda Staff
Oct. 9 2018, Published 8:00 p.m. ET
ADDRESS: 1209 E Cesar Chavez St, Austin, TX 78702, USA
Get Tickets
Produced by #bossbabesATX, SHE TALKS is an ongoing discussion-based personal and professional development series, tackling topics from finances to intersectional feminism.
In this SHE TALKS session, #BBATX Project + Ops lead Illyana Bocanegra will be joined by a panel of community members and thought leaders to discuss queer identity and the ways we can use language, art, poetry, dance and storytelling to create community spaces. The talk will also feature a re-installment of portraits taken during our PRIDE 2018 collaboration with Unbounded Agency (they're beautiful 🌈).
PS: For Fall 2018, all of our events will serve as a drop-off site for "VOLUME." In case you missed it, through November 15, #bossbabesATX and Chulita Vinyl Club are building a pop-up library in San Marcos, Texas, titled "VOLUME," to preserve our community's influences and history. And you are invited to donate of vinyl records, zines and prints! Add to VOLUME's collection, and bring your own donation on down to our info table at this SHE TALKS. Learn more about VOLUME here.
Illyana Bocanegra of #BBATX, the moderator
Illyana Bocanegra is a queer Latinx documentary video maker working in Austin, Texas and the project and ops lead for #bossbabesATX. Her involvement in the queer community comes with providing visibility and a space for self-expression.
Article continues below advertisement
Anita Obasi with Unbounded Agency
Obasi is the founder and Principal of Unbounded Agency, a firm in Texas that specializes in creative strategy and event curation. The agency takes special consideration towards projects that create visibility around traditionally underrepresented demographics, including LGBTQ and POC communities.
Alicia Weigel with interACT
Alicia Weigel is a policy, advocacy and campaign strategist for the progressive movement—changing the legislative landscape for marginalized populations in Texas and beyond. Her work as Policy and Advocacy Director for Deeds Not Words contributed to various state-level laws and city ordinances against sexual assault and human trafficking. In this role, Alicia traveled the country to speak on panels and at conferences, to lead corporate workshops in gender equity (Google, Facebook, etc.) and to train hundreds of high school and college students in legislative advocacy. Alicia also serves as an advisor for interACT, which employs legal and media strategies to advocate for the human rights of children born with intersex traits like her. Through this work and managing the campaign for the first out trans-woman candidate for City Council in the city of Austin, Alicia is committed to fostering intersectional advocacy in the LGBTQIA+ community and beyond.
Sarah Marloff from Qmunity
Sarah Marloff has been the Austin Chronicle's Qmmunity Editor for nearly three years and has been writing for the paper's news, film, and queer section since 2013. Sarah has dedicated her time at the Chronicle to making the alt-weekly as queer as humanly possible. A self-taught journalists with more than a decade of experiences, Sarah's writing, which primarily focuses on ending rape culture, HIV advocacy, queer rights, and spotlighting queers and women in entertainment, has appeared in newspapers, magazines, and blogs on both coasts, including Washington D.C.'s City Paper and AfterEllen. When she's not buried under a pile of deadlines, Sarah also throws events for queer women, trans folks, and the nonbinary community under Where the Girls Go ATX – a labor of love she picked up in D.C. as part of the queer blog and events promotion group Where The Girls Go. Recently, she's taken on the role of moderator for queer panels having run one for this year's Staple Independent Media Expo and Austin's aGLIFF Film Festival last month.