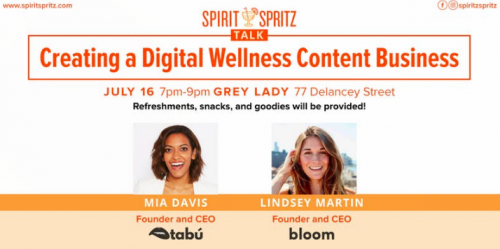 Spirit Spritz Talk: Creating a Digital Wellness Content Business
By Her Agenda Staff

Jul. 15 2018, Published 8:00 p.m. ET
ADDRESS: 77 Delancey St, New York, NY 10002, USA
Spirit Spritz Talk series are here – our initiative designed to educate and empower aspiring creative entrepreneurs through panels and workshops!
Join us for our second panel discussion on Creating a Digital Wellness Content Business with Mia Davis, founder of tabú, and Lindsey Martin, founder of Bloom. Mia Davis worked at Salesforce prior to founding tabú, a sexual and mental health platform that partners with doctors and experts to create fun and interesting content. On the other hand, Lindsey Martin helped Kayla Itsines build her marketing channels and grow her massive following before founding Bloom, a website where people can discover simple and approachable wellness through curated content on fitness, nutrition, beauty, and lifestyle.
Article continues below advertisement
The event will take place at Grey Lady in Lower East Side. Followed by the panel, you will have the opportunity to network with the the speakers and fellow attendees. Refreshments, snacks, and goodies will be provided.
How to come up with good wellness content and concepts
How to organically drive web traffics and increase social media followings
How to use analytics to improve marketing strategies
How to monetize through brand partnerships and affiliate marketing
And more!
Have any questions? Please feel free to reach out to us, we'd be happy to answer all of them!