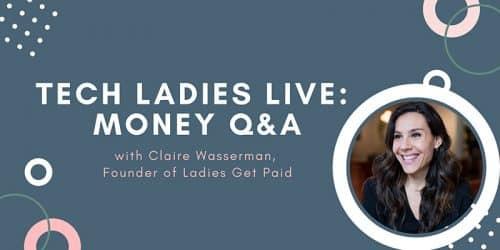 Tech Ladies Live: Money Q&A with Claire Wasserman
By
Her Agenda Staff
Mar. 16 2021, Published 8:00 p.m. ET
Get Tickets
Bring all of your money, career, and negotiation questions as Claire Wasserman, Founder of Ladies Get Paid, joins us for a lively conversation and Q&A on Wednesday, March 17 at 4 pm EST
Spots are limited. Kindly RSVP soon if you plan to attend.
Claire Wasserman is an educator, author, and founder of Ladies Get Paid, a global community that champions the professional and financial advancement of women. She is also the host of John Hancock's podcast, Friends Who Talk About Money. Claire has traveled the country teaching thousands of women how to negotiate millions of dollars in raises, start businesses, and advocate for themselves in the workplace.
Tech Ladies connects you with the best opportunities in tech. We connect companies with the best techmakers. Above all else, we're a community that supports each other.