The Big Ask Live: Hosted By Lucinda Cross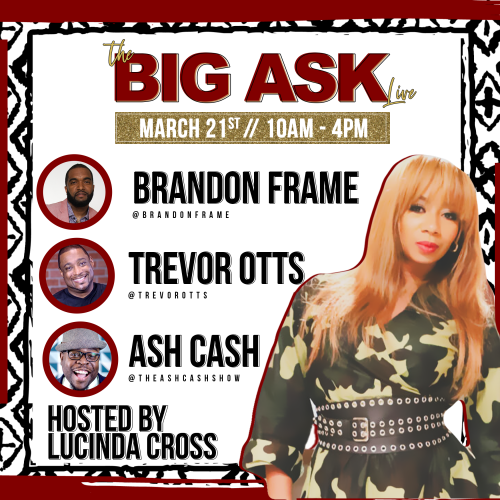 ADDRESS: 2116 Adam Clayton Powell , NY NY
Get Tickets
Use code heragenda2020 for $30 off
Could it be that you are not asking the right questions?
Could it be that your ask is not clear?
Could it be that you are not living in the land of "more than enough" because you're not clear of the who, what, and how?
It is time for you to get crystal clear on who you are and what you desire. The Big ASK Live will place you in a room full of people that will provide you on the spot support and results. If you are willing to put aside your fears, doubts, insecurities and open up yourself to the Power of Asking I guarantee your life will never be the same. The Big ASK Live is about you coming for what you want and believing that everything you need is in the room.
Imagine a room full of people all showing up to serve you. You walk in the door, and there is a seat at the table with your name on it. Everyone greets you and welcomes you to the table. They all begin to serve you. Some have gifts, and some have opportunities, some have answers to your prayers, and some are there to be of support. They are coming from all backgrounds, networks, and expertise waiting to fulfill your biggest ASK with no strings attached.
That is the energy and the atmosphere of The Big ASK Live. A room surrounded by people who are the most influential minds. The Big ASK Live is the place where you'll find tried and true answers to your questions. The attendees and participants at the Big ASK have already accomplished what you desire to do; and are there specifically to give you advice, support, and how-to and what-to-do insight.
Use code heragenda2020 for $30 off