The Lady Project Summit 2017, Featuring Keynote From Her Agenda Founder Rhonesha Byng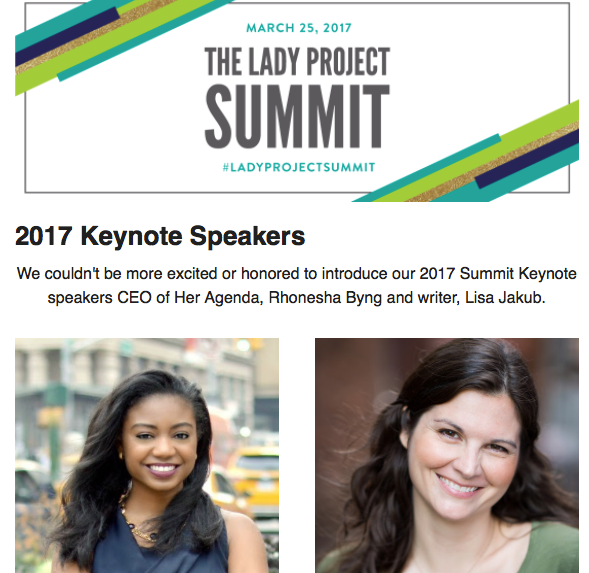 VENUE: Veterans Memorial Auditorium
ADDRESS: 1 Ave of the Arts, Providence, RI 02903, USA
Join The Lady Project Summit for the fifth annual Lady Project Summit on March 25 at The VETS Memorial Auditorium in Providence, RI!
The Summit brings together over 300 driven, entrepreneurial women for a day filled with inspiring speakers, professional workshops and so much more.
Check out ladyprojectsummit.com for a list of our amazing workshop leaders and descriptions, panelists, partners, full schedule and more.
Article continues below advertisement
After our closing speaker, the After Party starts! The After Party, sponsored by Women Count, powered by Citrin Cooperman, and styled by Champagne & Ink, with treats from Easy Entertaining, drinks by Chloe Wine Collection & Narragansett Beer, and more special surprises throughout the night - you don't want to miss it! At the After Party, you'll get your limited-edition Summit tote bag packed with goodies from our sponsors, Lady Project members, Mailchimp, MOO, SoulCycle, and more!
Check out the full schedule of the day here.
Fun activities between workshops and panels include headshots by Lady Project photographer Story & Gold, special Moo "thank you" station, learn more about the Girl Scouts and stock up on cookies, donate new or used business clothing to Year Up and more!
The Lady Project Summit is generously sponsored by Mailchimp, Women Count, Powered by Citrin Cooperman, MOO, Chloe Wine Collection, Narragansett Beer, The Dean Hotel, Champagne & Ink, New Harvest Coffee Roasters, Upserve, Easy Entertaining, Ellie's Bakery, Hint Water, Story & Gold, Jillian Gebhart Home, Polar Seltzer, They're Using Tools, Craftland, The Confetti Bar, Rentals Unlimited, Whova and Granny Squibb's Iced Tea. Find a list of all sponsors here. Thank you!
Tickets are $225 and HER AGENDA READERS can take $25 off their ticket with their unique discount code: HERAGENDA.
Attendees should stay tuned for more info on special (and free!) events on Friday, March 24 and Sunday, March 25 including special brunches, fitness classes and a pre-Summit happy hour. Keep checking this page- we'll be updating the schedule with more events!