The Riveter Summit 2019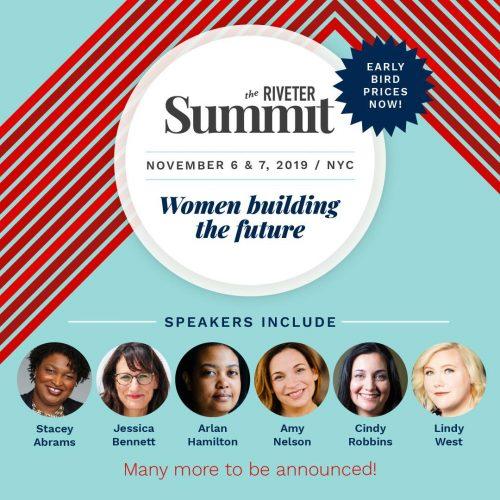 ADDRESS: 440 West 15th Street New York, NY
Get Tickets
2020 is a year of great consequence for women and equality. We're in a position of incredible power to lead the way to a better tomorrow for everyone. And we must be intentional about how we leverage that power — and activate it for the good of all. Roll up your sleeves. We're building the future.
The Riveter Summit: Women Building the Future is your platform for information, inspiration and — most importantly — activation. Our inclusive community will gather for keynotes from speakers like Stacey Abrams, Lindy West, and Amy Nelson, and more intimate breakout sessions built to stoke our collective power to transform society — and our lives.
Use 50% off promotional code: HERAGENDA19 to get your tickets TODAY!
Get Tickets Here: https://theriveterco.regfox.com/the-riveter-summit
Kibi Anderson
President, Red Table Talk
Heather Barmore
Senior Advisor to VoteRunLead
Rozy Boswell
Head of Partnerships at AllVoices
Karen Cahn
Founder & CEO of iFundWomen
Glynda Carr
President & CEO, Higher Heights for America
Ally Coll
President and Co-Founder of the Purple Campaign
Tiffany Dufu
CEO & Founder, The Cru
Sarah Feingold
Co-Founder, The Fourth Floor
Gloria Feldt
Co-Founder and President, Take The Lead
Ashley C. Ford
Writer & Host
Alexis Gallivan
Head of Global Impact, eBay
Jen Hatmaker
New York Times Best-selling Author and Host of the "For the Love" Podcast
Meena Harris
Head of Strategy & Leadership, Uber
Ilyse Hogue
President of NARAL Pro-Choice America
Katya Libin
Co-Founder & CEO of HeyMama
Article continues below advertisement
John Lippman
CEO, Book of the Month
Rakeen Mabud
Director of Research and Strategy at TIME'S UP
Glynnis MacNicol
Writer and Author of No One Tells You This: A Memoir
Marty McDonald
Founder of Boss Women Media
Lauren McGoodwin
Founder + CEO of Career Contessa, Host and Author
Emma Mcilroy
Founder and CEO of Wildfang
Susan McPherson
Founder and CEO of McPherson Strategies
Alicia Menendez
Author, "The Likeability Trap"
Karen Appleton Page
General Partner, B Capital Group
Hitha Palepu
CEO of Rhoshan Pharmaceuticals, Investor, Author
Rosette Pambakian
Investor and Advisor
Jennifer Pierotti Lim
Co-founder and Executive Director of Republican Women for Progress
Monica Ramirez
Founder, Justice for Migrant Women
Jennifer Romolini
Author & Editor
Malika Saada Saar
Senior Counsel on Civil and Human Rights, Google
Ann Shoket
Author of The Big Life
Rachel Sklar
Founder, TheLi.st
Latham Thomas
Best-selling Author, Founder of Mama Glow
Nina Vaca
Chairman & CEO Pinnacle Group
Karen Wilkins-Mickey
Director, Diversity & Inclusion at Alaska Airlines
Lindsey Taylor Wood
Founder & CEO of The Helm
Use 50% off promotional code: HERAGENDA19 to get your tickets TODAY!
Get Tickets Here: https://theriveterco.regfox.com/the-riveter-summit