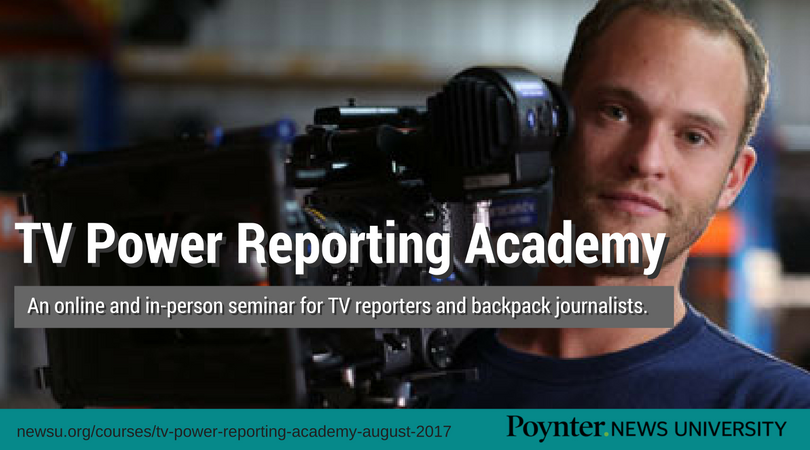 TV Power Reporting Academy
By
Her Agenda Staff
Aug. 21 2017, Published 8:00 p.m. ET
In the online seminar, Poynter's Al Tompkins will guide you through weekly live discussions and feedback on your work. You'll also come to Poynter on Sept. 8-10 for three days of in-person coaching from Poynter faculty and your colleagues.Travel to and from St. Petersburg and your hotel is on your own, but we have arranged for discounted hotel accommodations.
When you're done, you'll have a toolkit full of new skills and a road map to move your career ahead.
Week One: (Live online class on Aug. 22 at noon)
Finding the lead and focus of your story
Story shapes; What goes first, and why
Building to the big surprises
How breaking news writing is different
Article continues below advertisement
Week Two: (Live online class on Aug. 29 at noon)
The eight BIG motivators to make every story more interesting
Building memorable characters
How to write in active voice every time (and why it matters to your journalism)
How to avoid clichés and muddy modifiers
Capturing soundbites that sing
The importance of natural sound
Article continues below advertisement
Week Three: (At Poynter Sept. 8-10)
What every MMJ/VJ reporter needs to know about photojournalism, lighting, motion, sequences, action/reaction and your camera
How to be a Story Idea Machine (never be without a pitch)
How to "Think Critically" and get beyond announcements, fake claims and spins
The Tough Calls Toolbox: practical ethics when you are tight on time
How to use FOIA laws and public databases to find stories others miss
How to be a mobile and social media superstar and drive viewers to your stories
How to talk with kids, crime victims and other vulnerable people
30 Minutes of Fame - In person focused feedback on your work including on-camera performance as well as journalism and storytelling content
Amazingly cool online tools and apps (learn to capture 360-degree interactive photos, build edited videos on your phone, produce animated gifs on your phone and more. Every tool is free and takes less than two minutes to use.)
How to be a social media superstar
How to effectively move your TV reporting to online
Article continues below advertisement
NOTE: (You are responsible for the travel arrangements and costs. the tuition does not cover those costs)
Week Four: (Live online class on Sept. 19 at noon)
In this TWO-hour session, we will focus on stand-ups and teases. You will submit examples of stand-ups and teases and the seminar group will offer feedback on your work.
Article continues below advertisement
Week Five: (Live online class on Sept. 26 at noon)
Your road ahead: you will interview your bosses to get insight on how you can grow in your newsroom and organization.
You will draft a plan of action to move your career ahead. We will be right there with you.