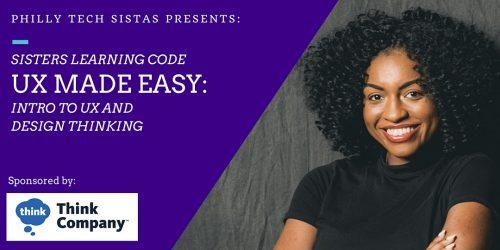 UX Made Easy: Intro to User Experience & Design Thinking
By
Her Agenda Staff
Oct. 23 2020, Published 8:00 p.m. ET
Get Tickets
The field of User Experience (UX) design is becoming more popular, and each year the demand and salary for positions in this field continue to increase. That is why the time is now for you to be equipped with the knowledge you need to excel in it!
This course, geared towards women of color, breaks down the process of design thinking in digestible steps, with relatable and interactive exercises that will keep you engaged and allow you to put your knowledge into practice.
At the end of the workshop, you'll be given an optional exercise to complete that you can add to your portfolio.
Think Company is a UX and development consultancy that provides design and technology leadership to help companies create a cohesive user experience across complex systems—at every touchpoint between people and your organization.
Philly Tech Sistas is an organization aimed at helping women of color gain technical and professional skills in order to work, thrive, and move up in the tech industry throughout Philadelphia.