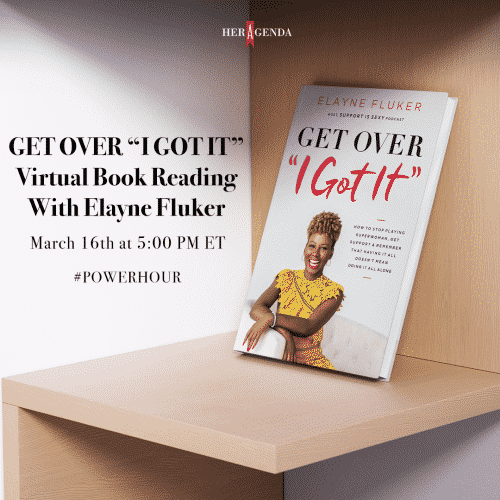 Virtual Book Reading With Elayne Fluker
By
Her Agenda Staff
Mar. 24 2021, Published 8:00 p.m. ET
Get Tickets
Elayne Fluker is a leading voice in helping unapologetically ambitious women learn how to embrace support as a superpower for success and fulfillment. Her new book will be released by HarperCollins Leadership on May 11, 2021.
She has been a speaker at global brands, organizations and institutions, including LinkedIn, the United Nations, the Women's President Organization, New York University, Spelman College, Columbia University, Howard University, The National Association of Black Journalists, the Essence Festival, ColorComm, digitalundivided and INBOUND, and she has been a featured guest on the Today show, Nightline, Inside Edition, Extra, CNN, VH1, Sirius XM Radio and more.
Article continues below advertisement
Elayne is the CEO of Chic Rebellion, a content and consulting agency that helps dynamic Black women build their thought leadership, elevate their brands and grow their businesses. In 2019, Elayne created the online learning platform, SiS.Academy, that features video workshops and courses that she facilitates with women leaders who teach their expertise to help other women navigate business, leadership and personal development. Most recently Elayne was named a "Founder of Change" for SiS.Academy as part of the America Express "100 for 100" program featuring 100 innovative Black women entrepreneurs. In addition to hosting the Support is Sexy podcast for women entrepreneurs and interviewing more than 500 diverse women entrepreneurs around the world, Elayne is also in production for her new television show, The Elayne Fluker Show, which will highlight innovative and inspirational Black women entrepreneurs — who are currently the fastest growing segment of entrepreneurs in the United States.
More About The Book: Get Over 'I Got It'
Too many ambitious women strive to accomplish all their goals alone, leading to dangerous levels of stress and anxiety. Learn how a strong support network and meaningful connections are crucial not only to your long-term success, but to your peace of mind.
Today's women are ambitious and excelling in every way. But many still believe that asking for help along the journey is a sign of weakness, ignorance, or incompetence, so they go it alone.
Article continues below advertisement
Author and podcaster Elayne Fluker believes this mindset is partially responsible for the increase in suicide rates for girls and women and the reason so many women end up depressed, overwhelmed, isolated and unfulfilled. To combat this alarming trend, Fluker helps women learn how to build their own networks, make meaningful connections, and understand how even some of the most successful women in the world, like Oprah Winfrey and Spanx founder Sara Blakely, had tremendous support networks that helped them achieve their dreams.
Shares the lessons Fluker learned throughout her own struggles with learning how to ask for and accept support.
Provides anecdotes from women professionals, interviews with health professionals, and current research demonstrating the tangible ways women can ditch the dangerous go-it-alone philosophy.
Offers proven, real-world ways for women to embrace the proven health and career benefits of a stronger-together approach.
Ultimately, this book helps women overcome their psychological hurdles to asking for help, giving them a surefire strategy—and the confidence—to seek support. They'll then be positioned to join other women's support networks, uplifting them in a way that will transform both individual lives and communities.