WarnerMedia x Sistas In Sales presents #WomanOfWonder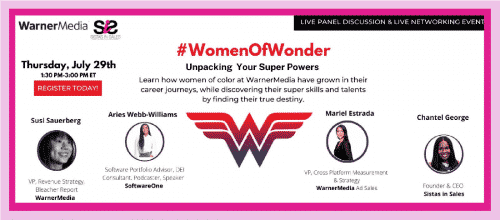 Get Tickets
Join the Sistas In Sales partner event with WarnerMedia.
Sistas In Sales is a global organization committed to the development, support and growth of black and brown women in sales.
Learn more about WarnerMedia:
At WarnerMedia, our commitment starts with you! As a company of storytellers and journalists we have a responsibility to make sure we have a collection of voices and people whose stories reflect and connect with the global audiences and communities we serve.
WarnerMedia, and its suite of brands like Warner Bros., CNN, HBO Max, HBO, TNT, TBS, Cartoon Network, Adult Swim, Boomerang and many more, have long been committed to equity and inclusion as moral and business imperatives. It is essential that our content and creative partners reflect the diversity of our society and the world around us. Together with other production companies, networks, guilds, unions, talent agencies and others in the industry, WarnerMedia is committed to greater inclusion of people of color, women, the LGBTQ community, those with disabilities and other underrepresented groups in greater numbers both in front of and behind the camera.
There really has never been a better and more exciting time to join WarnerMedia. For more information on how to join our company and our commitment to diversity and inclusion, please click here.