10 Social Media Apps You Should Make Room For In Your Phone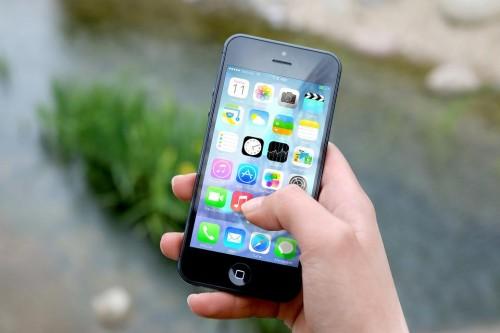 In a perfect world, we would all love to have our content strategically planned out in advance. The selfies on fleek, our snaps hilariously captioned, and tweets sitting in our BufferApp cue ready to receive all the retweets and favorites. But with the speed of the Internet, that isn't always possible (if you don't have the right processes and social media apps).
If you're anything like most working professionals I know, you spend a good chunk of your time texting, tweeting, snapping, instagramming, and checking email on the go. We rarely stay still long enough to catch our favorite shows live on TV anymore, which leaves little time for the simultaneous creation, scheduling and analysis of content.
Good thing you clicked into this post. Below are the list of apps I use regularly to keep my channels updated. These apps are so awesome, they are worth sacrificing some iPhone storage space for. #ThankMeLater
Social Media Apps:
Article continues below advertisement
Canva
Even if you don't have graphic design knowledge, Canva can help you create great visuals. With an app for the iPad and a desktop platform, it makes Photoshop unnecessary. This graphic design tool comes with templates and layouts sized for all our favorite social media channels, and makes it easy to create engaging content that is high quality and properly sized. The templates are also helpful if you are stuck and need some inspiration on what to create next.
BufferApp
Hootsuite is a popular scheduling tool, but unless you are doing some listening and monitoring, you could skip the complicated dashboard and go with Buffer. (I do teach you how to use Hootsuite in my job search bootcamp, however.) With Buffer, you can take the guesswork out of manually spreading out your posts overtime. Buffer feeds your content into a cue that will automatically space out messages throughout the day with a preset calendar. You can also use the analytics tab to see how well each individual message is performing. This will give you insight on what content works well for your audience and allow your social media channels to be updated with fresh content while you are off doing other things.
Article continues below advertisement
Iconosquare
Iconosquare allows you to manage your Instagram account from your computer. It will have you wondering why in the world you've been torturing yourself going through comments on Instagram and taking screenshots of photos you want to save. You can like and save photos, respond to comments, monitor hashtags, and check your analytics in one place. Iconosquare saves you time and helps you build your following faster than any iPhone keyboard would ever allow.
Sumall
Reporting can also be made easy with the SumAll dashboard. You can run weekly, daily and monthly reports where you can see all of your channels and hashtags at a glance in one screen. You don't have to run individual reports for each channel or be clueless about your hashtags' performance. SumAll brings it all together in an appealing format.
Full disclosure, I work for SumAll, but the free app is essential for me when I have a busy week and can't dive into our reports. A quick glance at the app and I can get a sense of how I'm doing on social media for the week or that day with various stats for Twitter, Facebook, Instagram and Google Analytics.
Article continues below advertisement
WordSwag
If you have ever wondered how those images with the beautiful typography overlays happen, it is probably thanks to the WordSwag app. This app allows you to instantly create beautiful shareable images with quotes, announcements or calls-to-action. You can set the background, the colors and fonts to your liking. In a few minutes, you can edit one of the templates to create a quality image that looked like a designer made it. Here is an example of a post, and it took me all of 1 minute to make.
Legend
Static images can get lost on Instagram. I wanted content that had more of a wow factor, and I became obsessed with creating videos. As usual, I knew there had to be an app for that, so I started searching. I googled for a solid hour trying to find a program, app or website that would allow me to create videos and GIFs with animated text. Legend finally appeared, and it's the ultimate app to create videos with moving typography. You simply plug in your text, choose an animation style, color combination, and background and the app takes care of the rest. When I launched the site on Friday, the announcement I made was with Legend.
Article continues below advertisement
CrowdFire
This app helps you manage your social media following more strategically so you keep a close eye on who follows you, who has unfollowed you and who doesn't follow you back. If you are interested in engaging potential followers, you can use the "Copy followers" feature to engage people who follow accounts similar to yours.
Periscope
A new favorite I'm getting into and learning tons about is Periscope. The live streaming app humanizes your brand and allows you to give your audience that insider access we all yearn for. Reality television is popular for a reason, and Periscope allows us to film our own little reality series right from our phones. It decreases the need for perfectionism since it's live, and allows you to test content and topics that your audience may be interested in. I did my first Periscope a few days ago on why I rebranded the site. I'll be hopping on once a week, so make sure you follow me: @EmmelieDeLaCruz.
Article continues below advertisement
IFTTT
If This Then That connects your favorite tools through recipes so that one action in a service triggers another action in a different service. An Instagram picture can be posted as a photo on Twitter, a blog post can be sent to your Buffer feed or you can get a text anytime someone uses a hashtag, to just name a few.
My favorite recipe is getting an email when someone posts on Instagram using our hashtag #thebrandingmuse. This allows me to engage with them right away and make our community feel connected. Buffer was gracious enough to put together a whole list of recipes for social media that you can check out here.
While running my business and working at SumAll I have relied on these free or cheap (and often underutilized) tools to make fun, dynamic content for my channels. What are some of your favorite apps?