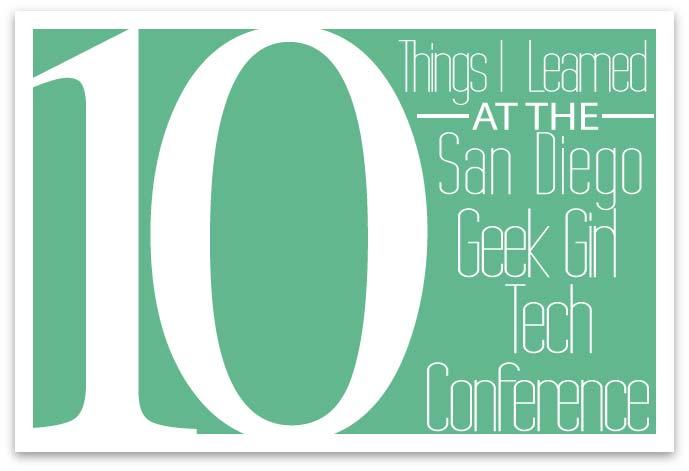 10 Things I Learned at the San Diego Geek Girl Tech Conference
By Sydney Love

Jun. 27 2014, Published 9:07 a.m. ET
In a recent interview with CEO & Founder of Geek Girl, Leslie Fishlock, I asked what obstacles she faced when creating her company. She responded, "I think the biggest thing is that there was nothing out there like it. Yes, there are tech conferences, but there was nothing that was geared towards women." Well, with annual tech conferences now held across the country, Geek Girl has earned its honorary title as "the largest Hands-On Tech Conference for Women" in Boston, Las Vegas, Cape Cod, and San Diego.
On Saturday, June 21st, 2014, over 300 women gathered for Geek Girl's second annual Geek Girl San Diego Tech Conference. After participating in workshops and panels revolved around business storytelling, Twitter, WordPress, LinkedIn, and mentorship, I definitely left with some new ways to take my tech knowledge to the next level!
And of course, I have to share this amazing experience with Her Agenda's readers. Here are 10 things I learned at the San Diego Geek Girl Tech Conference:
Article continues below advertisement
1. There Are Women in San Diego Who Are Excited about Tech.
It's one thing to surf the internet and read about all of the women-involved organizations in San Diego, but to actually experience it in person made it that more real. The most powerful part of the conference was the opening ceremony- to be seated in a room with other women with the same goal as myself. Whether you were there to learn more about tech or to be a resource for others, we all understood and desired to take part in promoting women in tech.
2. When It Comes to Storytelling, the Beginning Lies in the Ending
I had the great opportunity to share my story during the business storytelling workshop. Through my experience, I found myself struggling with the opening to my story. Where do I start? How much context should I include? Geek girls, Karen Dietz and Amber Brandner, had some great advice! Begin with the end in mind. Once you know what the message at the end of your story will be, you can decide what context to share.
Article continues below advertisement
3. There Are Companies That Offer Great Tools for Twitter
The first workshop I attended was "Twitter for the Engaged Business Owner," and although I don't use Twitter for business, I learned about some really neat tools! I have hundreds of interesting articles saved in my "favorite" tab that I would like to retweet, but the task can be tedious and overwhelming. Luckily, geek girl, Heather Gjerde introduced us to Buffer– a site that will schedule and post tweets for you! This site is definitely a timesaver.
I also learned about Hootsuite– a social media management site, which offers the same service as Buffer and more. While this site is geared towards helping businesses, it can also be useful for anyone who is interested in managing all of their social media accounts in one place. Schedule tweets and track analytics that is designed to be team-friendly. To Learn more, read "7 Reasons Why You Should Use Hootsuite."
Article continues below advertisement
4. The Difference between wordpress.com and wordpress.org
First of all, I didn't even know that wordpress.org existed! After doing some research, I found this article to be really helpful- WordPress.com vs. WordPress.org — What's the Difference? From what I can understand, wordpress.com is an easy-access website for the beginning blogger (like me); it offers a selection of pre-programmed tools such as themes and widgets. In contrast, wordpress.org is a software that provides the tools to build a blog from the ground up. Experienced bloggers have the freedom to incorporate the themes, plugins, and other features of their choosing.
5. What Widgets and Plugins Are and What They're Used For
I have seen both widgets and plugins listed on the WordPress dashboard, but I had no idea what they were for. So as soon I saw Debra Simpson's class, "Exploring Widgets and Plugins," I knew I had to go. I learned how to organize/create the information that can be shown on a blog's sidebar and was introduced to parts of WordPress that I had previously never dared of touching.
Article continues below advertisement
Once I got home, I started to play around with some of WordPress' features and dug a little deeper into what I had learned. Creator of Pixel Frau, Julia Sydnor, explains that a plugin is an application that is installed. It isn't a visual object that your viewers will see; rather, it gives you the tools to better run your site. In contrast, a widget is content that can be shown in your sidebar, such as a calendar or links to your other pages/sites. To make this concept even more complex, plugins and widgets go hand-in-hand, as installing a plugin can give you access to more widgets. Mind-boggling, right?
6. How to Improve Your LinkedIn Profile
Both the content and wording of our LinkedIn profile can easily mark us professional or non-professional. In the class, "Job Seekers: Learn the Secrets to Being Discovered by Recruiters," instructor, Valarie Sparks, shared some quick tips on how to clean up our LinkedIn profile and draw in recruiters. What is the most important part of your LinkedIn profile? Sparks believes that both your title and summary are the meat of your profile. Once you have those perfected, you're good to go! Also, make sure to include your contact info in your summary- it make it that much easier for people to connect with you.
Article continues below advertisement
7. You Don't Have to Code to Be a Techy
What do you think of when you hear the terms, "techy" or "geek?" Now, if you're thinking that you have to be a super smart, tech guru, we're about to enter some new territory. Whether they specialized in Microsoft, Photoshop, Google+, WordPress, social media, or programming, all of the women that taught workshops at the conference identified as geek girls. Because of this, in the panel discussion, "Mentoring our Future Geeks," Google+ Queen, Lynette Young argued that you don't have to code to be a techy; the tech world is more diverse than people realize.
8. Reach out to People Who Inspire You
Sometimes we can be too afraid to seek out mentorship from those that inspire us, because we think that they'll neither have the time nor the interest. However, In the "Mentoring our Future Geeks" panel, Heather Wilde shared an enlightening story about a man who had written to his favorite author and asked him to be his mentor. Surprisingly, the author responded and shared that he was the person to have ever asked! They've been working together since. If you have someone that you would love to learn from, reach out to them and ask! The worst thing they can say is "no."
Article continues below advertisement
9. Women Are Afraid of Techy Terms
This is so true! In "Mentoring our Future Geeks," Co-Managing Director of Girls In Tech, Christina Aldan, admitted that Girls in Tech has had to rephrase some of the names of their events. For example, rather than using the term "hackathon," they exchanged it for "design-a-thon." With this small tweak, Aldan shared that women are more likely to participate.
Embarrassingly enough, I too find the term, "design-a-thon," more appealing. However, when comparing the two terms side-by-side, I realized that they're basically the same thing! Yes techy terms can be scary, but I hope this doesn't stop us from learning how to code- especially when we have organizations, like Girls in Tech, to help us along the way!