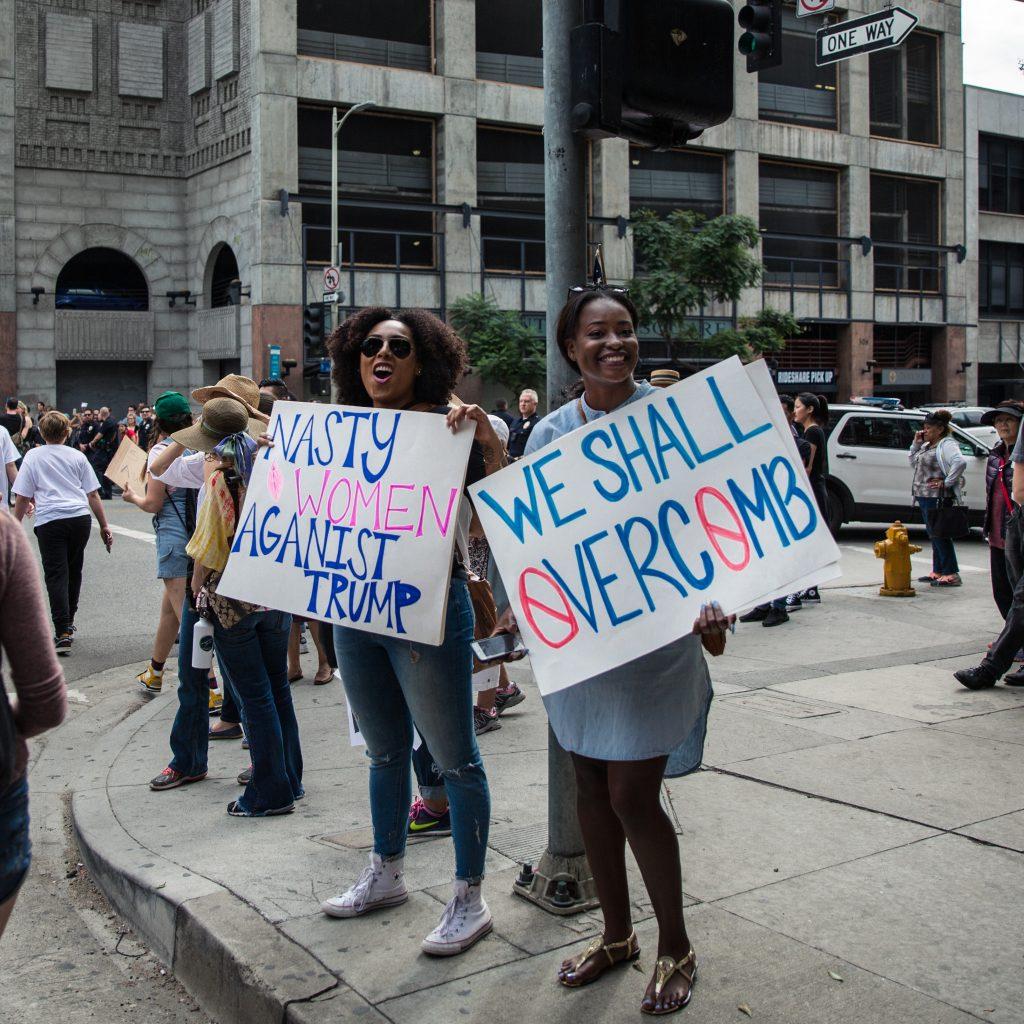 The 2018 Midterms: 8 Women Who Made History
By Didi Bedor

Nov. 9 2018, Published 6:04 a.m. ET
In the age of the #MeToo movement, equal pay for equal work, and the Women's March on Washington, many women have found ways to channel their anger into action. There was no bigger testament to the strength of women creating this change than when the nation took to the polls earlier this week. Most would say the results were nothing short of spectacular.
The midterm elections on Tuesday, November 6th were a knockout night for women in politics, with a record-breaking number of women on ballots all across the political spectrum and levels of government. For the first time ever, there will be a record 100 seats in the U.S. House of Representatives held by women.
1. Ilhan Omar
Article continues below advertisement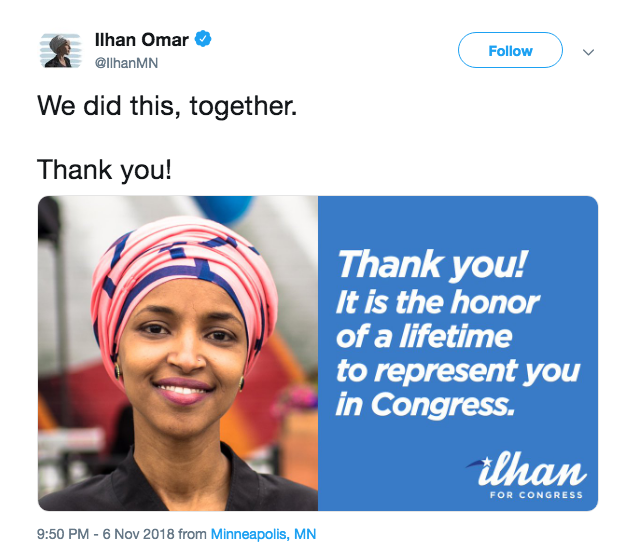 Article continues below advertisement
Omar, a Somali-American refugee and Democratic Representative-elect for the 5th district of Minnesota, won her election against Republican candidate Jennifer Zielinski Tuesday night. Omar campaigned on a platform that included a focus on issues like environmental rights, public access to quality education for all, and a single-payer healthcare system. With this victory, Omar becomes the first refugee and one of the first Muslim women ever elected to Congress, as well as the first woman of color ever elected to represent Minnesota in Congress.
2. Rashida Tlaib
Article continues below advertisement
Article continues below advertisement
The youngest of 14 and a born and raised Detroiter, Tlaib won her race for the 13th district in Michigan with 85 percent of the votes. She joins Omar by also being one of the first Muslim women ever elected to Congress. Breaking barriers is not new for the Democratic Representative-elect – she was also the first Muslim woman to ever serve in the Michigan state legislature when she won her race for State Representative in 2008. When she steps into her new role in January, she is hoping to focus on issues like raising the minimum wage to $15/hour, immigration reform, and debt-free college.
3. Sharice Davids
Article continues below advertisement
Davids is amongst one of the first Native-American women elected to Congress. Additionally, Davids is also a lesbian and fierce supporter of the LGBTQI community. She was a White House Fellow during the last years of Barack Obama's second term and became inspired to run after feeling disheartened by how she felt her community was being represented in Congress. Securing a seat representing the 3rd congressional district of Kansas, Davids plans to advocate for more tax cuts for the middle class, civil rights protections for those in the LGBTQI community and giving Kansans the opportunity to capitalize on wind energy.
Article continues below advertisement
4. Deb Haaland
Article continues below advertisement
With a victory over Republican candidate Janice Arnold-Jones, Haaland joins Sharice Davids as one of the first Native-American women ever elected to Congress. A member of the Pueblo of Laguna, both her mother and father served in the armed forces, meaning she and her siblings moved around a lot when they were younger. Haaland received both her undergraduate and law degrees from the University of New Mexico. During her time in Congress, she hopes to help overturn Citizens v. United, champion gender equality, and take on the NRA in the hopes of pushing gun reform forward.
5. Alexandria Ocasio-Cortez
Article continues below advertisement
Ocasio-Cortez made national headlines when she defeated Democratic incumbent Joe Crowley in the Democratic primary for the 14th congressional district of New York. Since then, she has traveled the country extensively campaigning for others within the party. On Tuesday, she won with a 64.2% lead over Republican candidate Anthony Pappas. At 29, her win makes her the youngest woman ever elected to Congress, a title previously held by Rep. Elise Stefanik of New York when she won the 21st congressional district seat in 2014. With this win and national spotlight, Ocasio-Cortez plans to work in Washington on clearing a path to citizenship for many undocumented immigrants, pushing for an assault weapons ban and ending our military involvement in Iraq, Afghanistan, and other countries within the Middle East and North African region.
Article continues below advertisement
6. Ayanna Pressley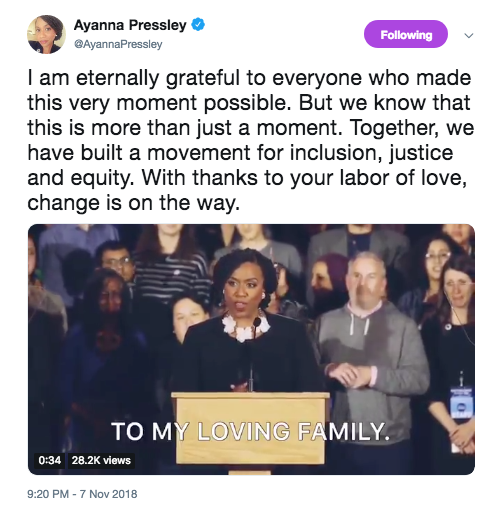 Article continues below advertisement
Pressley also stunned political insiders and attracted national attention when she beat out 10-term Congressman Mike Capuano for the 7th congressional district in Massachusetts. She later ran and won unopposed, becoming the first Black woman ever elected to represent Massachusetts in Congress. Born and raised in Chicago as an only child with an activist mother, Pressley learned at a young age the role and importance government plays in all our lives. With this new role, she plans to fight for reducing food desert zones in her district, building a multimodal transportation system to better connect her constituents around their community, and expanding voucher opportunities for more affordable housing.
7. Martha McSally and Krysten Sinema 
While this race is still too close to call, whoever wins the Arizona Senate seat replacing retiring Sen. Jeff Flake (R) will be setting history as the first woman to ever represent the Grand Canyon State in the U.S. Senate. Arizona is currently one of 20 states that have yet to elect a woman to the U.S. Senate.
Article continues below advertisement
8. Stacey Abrams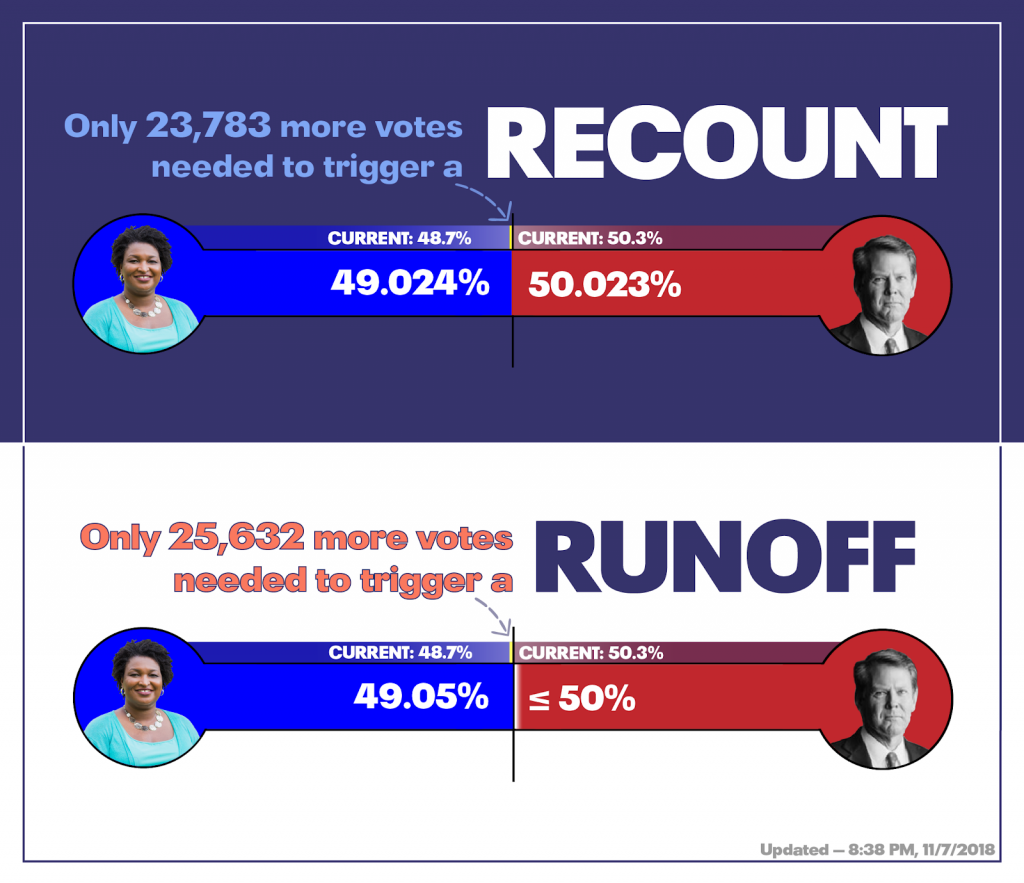 If elected, Georgia Democratic gubernatorial candidate Stacey Abrams would become the first Black female governor in U.S. history. Currently, her opponent Brian Kemp leads the vote count with 63,166 (50.3%) more out of the 3.7 million total votes that were cast. Based on the figures shown above, only 23,783 votes are needed to trigger a recount. With currently 25,000 votes still yet to be counted it is very likely that this could occur. While Abrams hasn't won yet, we salute her willingness to not give up and fight until the end. Abrams actions represent the embodiment of our philosophy of not taking no for an answer, fighting for what she deserves. "No one Ever Slows Her Agenda" in full effect.