3 Career Lessons From the Visionary Behind One Musicfest, Cynthia Charles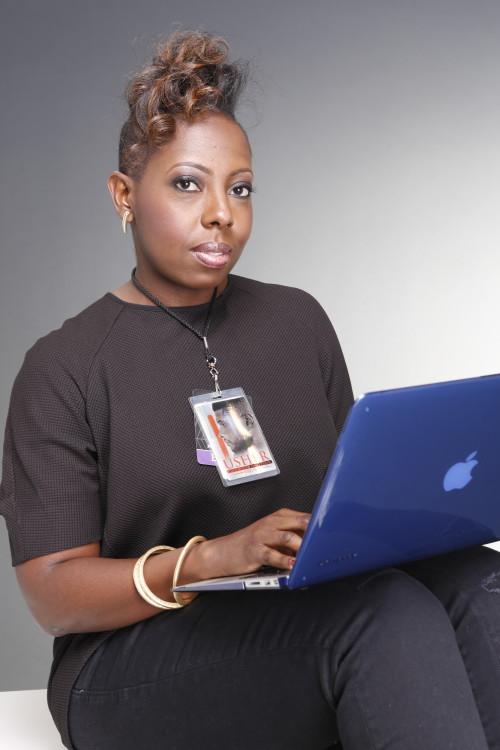 Highlighting over 100 local small businesses and visual artists, one of the visionaries behind this major fest is tour director Cynthia Charles.
In the beginning of her touring career, she began as a talent and media coordinator for the UniverSoul Circus. An ambitious woman and Jill of all trades, Cynthia maneuvered and showcased her talents to gain her position as festival director for One Musicfest.
"I started off working with the One Music Festival in 2012 booking and handling acts and talent, and as the festival continued to grow so did the role I played. We began booking larger venues and bigger acts resulting in a lot more going on; I saw the need to step up and assist, and I did just that," says Charles.
Cynthia has served as the tour production coordinator for artists such as Usher, Alicia Keys, Trey Songz, Ne-yo, R. Kelly and many more.
"I founded TCG Music Services in 2010, and I'm still in the process of figuring out what works best for me in regards to efficient time management," says Charles.
Having to wear many hats, Cynthia is responsible for visualizing all elements of the tour in order to anticipate everyone's needs.
"When managing my time, I have learned how to prioritize things. Although people may need favors or something done from me, I have learned how to say 'I'm having a very busy week, we have to take care of this at a future time' if it doesn't require my immediate attention," says Charles.
Article continues below advertisement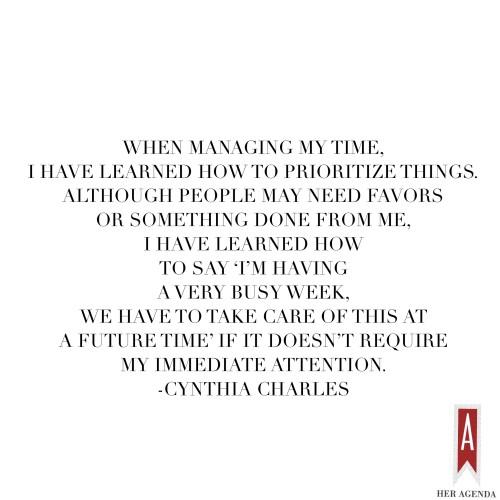 Balancing life as a tour director and entrepreneur, Charles encourages women entrepreneurs to put themselves out there for more opportunity.
"I always encourage people to have multiple revenue streams, not only to have a little extra money, but often times your side hustle allows you to hone in on skills your traditional 9-5 position may not provide you," say Charles. "Having a part time job, or something you do on a contract basis, in addition to your job, allows you to start a business without giving up all the income that comes with it, and you assume some risk to get an idea of what it's like running something of your own."
In an industry that promotes and thrives on relationships, Charles explains that the best connections are the one's sustained.
Article continues below advertisement
"When it comes to booking talent, I work with a lot of the agents I've had connections with before, so networking wise, I've done business with people I've built trusted, genuine relationships with along the way," says Charles.
As a trusted individual working in the entertainment industry, Charles explains 3 lessons she learned from her beginning stages of entering the workforce.
1. Take your entry level position serious, but not too serious.
"At the beginning of your career you aren't expected to know everything and be an expert in your first 3 months," says Charles. "Take the time to gather various experiences good and bad because a career is a journey, not a destination."
Article continues below advertisement
2. When searching for a job, seek those that are in your interest.
"When you are seeking a position, delegate yourself to things that fuel you so that when those things no longer fulfill you or that position is no longer growing you, you can move on," says Charles. "One thing I've noticed amongst career women is they stay in positions that are no longer fulfilling them out of fear of what's next; never be afraid to look for other opportunities in other fields, states, and countries because that will get you to the next step career wise."
3. Take the time to learn.
"It takes people a very long time to become experts in their field, and even when they do become experts, there is still so much more to learn," says Charles. "I encourage you to take the time to learn and the only way to do that is to make the time."
One Musicfest will take place at Aaron's Amphitheatre at Lakewood in Atlanta, GA on September 12th, 2015, with featured artists Lauryn Hill, The Roots, Janelle Monae, Sza and many more.