4 Benefits Of A Steady Mindful Meditation Practice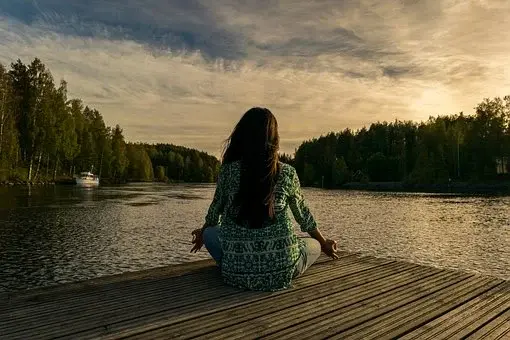 Our self-perception, focus levels, and physical ailments root in the mind. Daily situations allow our minds to race a mile a minute; it's important to make time to delay distracted thinking and reconnect with ourselves. This can be achieved through mindful meditation.
According to Very Well Mind, "mindful meditation is a mental training practice that teaches you to slow down racing thoughts, let go of negativity, and calm both your mind and body." Carnegie Mellon University neuro engineers, Bin He, studied Tibetan monks and found that those who practiced had success using their minds to control a mouse cursor compared to those who didn't. This study illustrates how moments of stillness allow us to handle tough situations with ease.
To help understand the power of mindful meditation, here are four benefits to incorporating it into your daily routine.
A Pathway To Healing And Improved Self Awareness
Work, home, and social needs consume us while our bodies cry out for rest. We allow external productivity to rule our day-to-day lives instead of tuning into personal needs. Meditation allows us to reconnect with our essence. From dance and yoga to free writing and journaling, it serves as a holistic approach to strengthening awareness and the mind/body connection.
Article continues below advertisement
Mindful meditation can be incorporated into our lives in a multitude of ways. A simple morning or night routine allows you to start and end your day with you as the focal point. Try making your bed and drinking a warm cup of tea or washing your face and journaling before bed, without checking your smartphones. Disconnecting from the outside world opens up space to understand your thoughts and feelings, embrace them and move in the world with clarity.
Article continues below advertisement
Managing Stress, Anxiety, And Depression
Harvard Medical School radiology instructor and Massachusetts General Hospital Martino's Center for Biomedical Imaging neurologist, Gaëlle Desbordes, used meditation as a method to manage her stress as a computational neuroscience graduate student at Boston University. She recognized the beneficial improvement to her mental state and decided to take a deeper dive into why meditation worked so well. She conducted a study in 2012 that "demonstrated that changes in brain activity in subjects who have learned to meditate hold steady even when they're not meditating."
Similar studies have been performed to test mindful meditation's effects on anxiety. A 2013 randomized controlled trial used 93 individuals with a diagnosed general anxiety disorder (GAD) to test if an eight-week manualized mindfulness-based stress reduction aids in improving anxiety symptoms. The study proved there were greater reductions in anxiety and an increase in positive self-statements. Mindful meditation does not cure mental health issues. It opens up channels that allow us to take control back from the thoughts that spend so much time controlling us.
Article continues below advertisement
Managing Physical Pain
In 2003, 37 year old Tibetan Lama Phakyab Rinpoche used meditation to heal his gangrene foot and leg. In about a year, Rinpoche could walk on his once infected foot, a foot doctors advised amputating when he first arrived in the United States. He used the power of meditation to perform a miracle in physical healing. An uncommon scenario with a valid point: mindful meditation can help manage the pain of physical ailments.
Long term stress can result in cardiovascular disease, menstrual problems, gastritis and much more. Meditation allows our brains to release endorphins throughout our bodies. A 2018 white paper study concluded that mindfulness shows positive effects for people with chronic pain from headaches, fibromyalgia and irritable bowel syndrome. Training your mind to help alleviate pain can work so many wonders.
Article continues below advertisement
Manifestation And The Law Of Attraction
We control our destinies through manifestation meditation. In terms of this discussion, manifestation is "something that is put into your physical reality through thought, feelings, and beliefs." Doing this through meditation allows you to focus on your goals and bring them into your reality. This meditative space leaves little room for negative self talk and self doubt, as these lower your vibration. The law of attraction requires that you move with positivity to raise your vibration and increase the power of your manifestation. Linda Duverné of lindaduverne.com states, "the believing part is the inner work…do you actually believe you're deserving of this? Are you worthy of it?"
There are many methods to manifest what you want and below are Greater Minds suggestions to successfully accomplishing it.
Relax
Focus
Open Your Heart
Visualize Your Desires
Embrace Your Gratitude
Manifest
If you're looking to manifest more money into your life, calm down your mind. Remind yourself that continuing to stress about a lack of funds lowers your attraction to it. Focus on the money you want and open yourself up to receiving it; the universe only rewards us with what we can handle and are ready to receive. Picture yourself receiving, holding and spending your large sums of cash. Express gratitude towards the current number in your bank account and put energy behind attaining more. Move with abundance and what you want will come to you with ease.
Article continues below advertisement
Mindful meditation reconnects us with our inner selves by limiting our attention to distractions. With patience and time, it helps foster an environment conducive to improving our wellbeing. If you feel overwhelmed, take a few minutes to slow down your mind and recenter yourself.