5 Black-Owned Face Mask Businesses To Support Right Now
By
Candy McClure
Feb. 4 2021, Published 2:20 a.m. ET
Though the pandemic began with old-school blue and white face masks, Black women around the country are changing what it means to be chic and safe, at the same time.
With COVID-19 cases on the incline around the country, the days of going mask-less continue to stray further from us. But, not to worry.
These five Black-owned businesses are showing us that wearing a mask doesn't have to clash with your style.
1. Taylor Jay
Taylor Jay is a brand that focuses on the elevated comfort and inclusion with every woman in mind. The founder, Taylor Jay herself, opened her first boutique at 23 years of age, and hasn't slowed down since. Not only is fashion and flexibility important to the Taylor Jay brand, but they know how important it is to be environmentally conscious as well. The Taylor Jay website vocalizes this through stating "We chose to make slow fashion because women empowerment can't happen without integrity and social responsibility."
Article continues below advertisement
2. Fil Doreé
Fil Doreé knows how important it is for masks to be fit just right for you. As a business based out of Brooklyn, New York, they take pride in their made to order masks. If you're unsure of what size is best for you, take comfort in knowing that Fil Doreé has you covered from nose to chin with their unique size chart. You can sort through their collection of masks and Ankara's on their website.
Article continues below advertisement
3. Shami Oshun
Shami Oshun is a brand that knows you should never settle for anything less than top-of-the-line material. Shami Oshun states that they work alongside talented seamstresses where a priority is to pay them fair wages. Shami Oshun is where authenticity, quality, and ravishing masks meet at one. You can find their exquisite designs on their website and Instagram.
Article continues below advertisement
4. Maraval Made
Maraval Made is an Oakland California based business that knows how important comfortability is, along with safety. According to the Maraval Made website, their masks are 100% cotton, breathable, double lined, and made with love. Maraval Made has delightful designs like their Food Print collection or even their Face Mask Lanyards.
Article continues below advertisement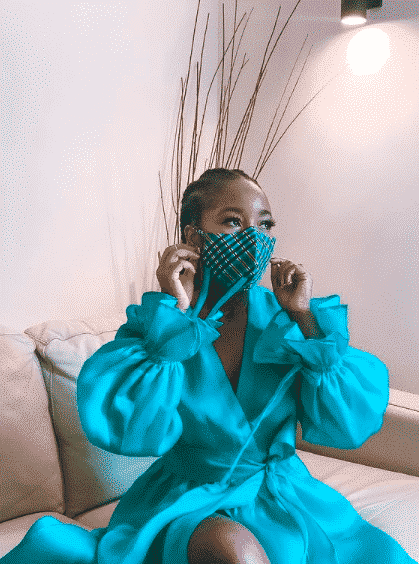 5. Saint Ola
Saint Ola is a business designed for the culturally diverse modern woman. According to the Saint Ola website, the brand was founded in 2017 and is based out of New York. Saint Ola states that their designs "balance traditional and contemporary aesthetics with the use of geometry and couture details." You can check out their lavish masks and designs on their Instagram and website.