5 Speeches By Women That You Need To Hear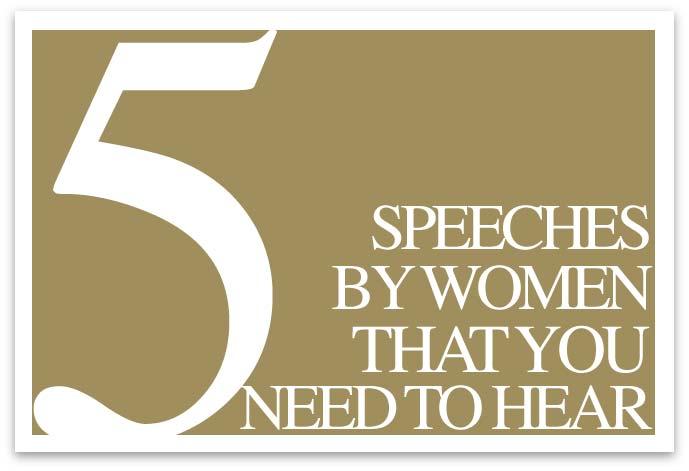 I own several anthologies of speeches. Nestled together on my bookcase, they are a wonderful source of inspiration and encouragement. But they are also a source of frustration: only a tiny minority of the speeches included in these anthologies are by women. There's normally one by Margaret Thatcher and one by Eleanor Roosevelt and… well, that's it.
I fear that the exclusion of women from these tomes shapes our ideas about who makes a fantastic speaker. And it's frustrating because women have made numerous, outstanding contributions to the history of rhetoric.
So, to celebrate International Women's Day (on March 8th), Her Agenda decided to make a list of what we consider the top five contemporary speeches, by women, celebrating women.
It was tough! However, we had to be very disciplined about who made the cut, and finally whittled it down to just five:
1. Speech to the United Nations: Malala Yousafzai
Education activist, Malala Yousafzai, was shot in the head by the Taliban on her way home from school in Pakistan. On her sixteenth birthday she made this brave speech to the UN to say that every child has a right to education. My favorite quote: "One child, one teacher, one pen and one book can change the world. Education is the only solution." I can't watch this without the hairs standing up on the back of my neck. This young woman is an inspiration to us all.
Article continues below advertisement
2. Women's Rights are Human Rights: Hillary Rodham Clinton
Love her or hate her, this was a seminal speech. And the UN Beijing Conference was a turning point in terms of the recognition of gender inequality worldwide and indigenous women's rights in particular. Throughout her career, Hillary Rodham Clinton has used her influence to raise the issue of gender inequality in the corridors of power.
3. Black Women in Hollywood: Lupita Nyong'o
Nyong'o made this speech at Essence Magazine's Black Women in Hollywood event last year. The award she accepted was in honor of her performance in '12 Years a Slave.' She speaks poignantly about her struggle to feel beautiful and her desire as a teenager to have lighter skin. She describes how she came to understand that her mother's words were true: beauty isn't an external thing, it comes from the inside. In a world where it sometimes feels like image is everything Nyong'o is an inspiration and a role model to all women who struggle to feel beautiful.
Article continues below advertisement
4. We should all be feminists: Chimamanda Ngozi Adichie
5. Speech against sexism: Julia Gillard
She's a controversial figure, but she had the courage to take Tony Abbott, Leader of the Opposition in Australia, to task over sexism in Parliament. Her speech was a rare, refreshing and gutsy attack on misogyny in politics. It's unusual to see this kind of performance delivered in a national legislature. But with women holding just 22 percent of parliamentary seats worldwide, maybe this is just the kind of speech that needs to be made more often.
Who are your favorite women speakers? Who would have made your top five list? Tell us in the comments or tweet us @HerAgenda.]