5 Tips for Building and Maintaining Wealth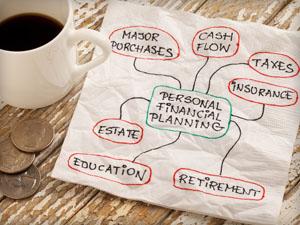 If you're anything like us, you probably read this headline thinking: 'wealth? what wealth? I could barely afford my lunch today!' Well, it's never too early to start thinking about how you'll afford lunch in the future. The answer is all in planning properly for retirement, the stage of your life when you're no longer working or receiving a weekly paycheck.
You don't have to be a millionaire to enjoy a comfortable retirement. In fact, if you start building your wealth today, you might be surprised at how much you can accumulate by the time you're ready to leave the work force!
Here are just five things to keep in mind when counting your coins.
1. Know Thyself
What are your greatest strengths? What are your biggest weaknesses? Surround yourself with people who will make up for your deficiencies. For example, if you're better with numbers than people, hire a team with great interpersonal skills to act as your "face." If you have a tendency to go over-budget, find a financial manager to keep your spending in check.
2. Find a Niche
Stick with what you know during your initial years of saving, investing and moving money around. Restauranteurs shouldn't put their funds into gold mining; gold miners shouldn't expect to understand the art of creating a successful burger chain. Everyone has their own specialties, and the easiest way to build wealth is to utilize your existing expertise.
Article continues below advertisement
3. Understand the Region
Wealth management in Dubai is entirely different from wealth management in Canada. Not only do laws, policies and procedures vary by the country, but the demographics of your business will be changed as well. This is especially important to remember when expanding your brand to the global market. When it comes to revenue, it pays to know the area.
4. Reject Unnecessary Risks
According to Donald Trump, "Sometimes your best investments are the ones you don't make." He also advocates "listening to your gut" during questionable business ventures. While it's true that you can make a lot of money through out-of-the-box thinking, your risks should always be calculated. If your instincts are telling you that something is a bad idea, don't move forward with the endeavor.
5. Have a Plan
Last but certainly not least, you should never do anything without a blueprint for success. Having clear-cut goals will ensure that all of your efforts stay focused and on-task. It will also allow for easier course correction if you realize that something isn't working. Preparation is everything when it comes to financial matters.
These are just five tips for building and maintaining your wealth. If you're serious about putting together a nest egg, these are the techniques that will help you grow and guard it until hatching time.