5 Ways To Prep For The Presidential Debates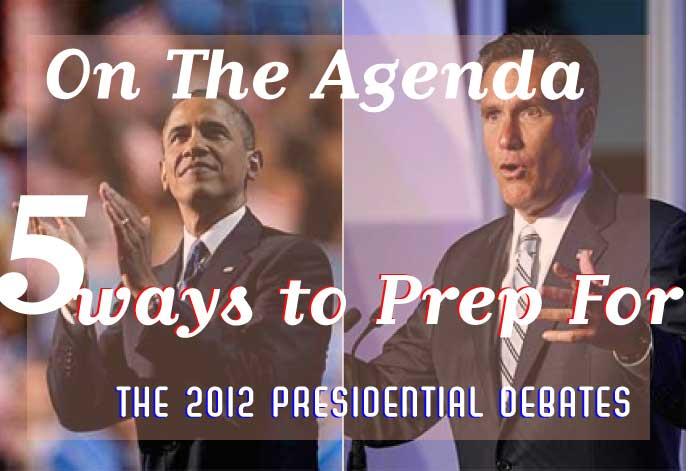 The presidential election this year is both a fascinating and pivotal time in the history of America, but for some us newly eligible voters rather unaware of how to follow a presidential election, all this "political stuff" can become rather confusing and overwhelming. No worries, this article should help prepare you for the four most important events before November 6 (Election Day!) that are right around the corner: the presidential and vice presidential debates.
Since 1960, when Nixon and Kennedy battled it out on the small screen for the first time, presidential debates have given each candidate, as well as the two major political parties (Republicans and Democrats!) the opportunity to showcase their vision for the future of America. Many critics have already stated that these debates will be critical in deciding if Barack Obama will win reelection, or if Republican presidential nominee Mitt Romney will take his place.
The structure of the debates is very simple, yet can vary depending on the debate. The first presidential debate on October 3 at the University of Colorado will be broken into 6 fifteen minute sections. In each section, the moderator of the debate will ask a question and allow 2 minutes for each candidate to respond. Throughout the 15 minute segment, the moderator will allow some time for some discussion of the question being asked.
Article continues below advertisement
The second presidential debate on October 16 at Hofstra University will be held in a town hall format. This means that citizens, in this case undecided voters, will be in the crowd asking questions. Each candidate will get 2 minutes each to respond to the question, and the moderator will have some time in between each response to facilitate more discussion. We should also mention that this will be the debate where CNN's Candy Crowley will be the moderator. She's the first woman to be given a role as a moderator of the presidential debates in 20 years (major deal!).
The final presidential debate on October 22 at Lynn University will be held in the same format as the first debate. Each debate will focus on general topics relating to domestic and foreign policy, as well as national security.
To help you prepare for these critical moments in the election, we've created a mini checklist of things you can do to stay informed about the debates, as well as other important news shaping the conversation of the election.
Article continues below advertisement
1. Follow political Twitter accounts such as @MarkHalperin and @TheFix, or any other accounts from this suggested list. Having important election news on the election on your timeline is a great way to integrate it into your everyday life and social media without much struggle.
2. Set your homepage on your laptop or home computer to the website of a major newspaper. You can choose from The New York Times, USA Today, or The Washington Post. Much like Twitter, it becomes a lot easier to pay attention to what is going on if it is in a place that you frequently visit. Setting it to your homepage will serve as a daily reminder to keep yourself updated!
Article continues below advertisement
3. Do your own independent research. A lot of times, both parties will do anything in their power to sway citizens into voting for them, including bending the truth to make the other candidate look bad. Because of this, it is important to make sure that you are doing your own research on each candidate and check the legitimacy of some of their past statements about the other candidate. There are plenty of great fact-checking websites out there that you can easily find. Also make sure that you research specific central issues, such as the ones in this AP article and how each candidate's visions might affect you.
4. Host your own debate watch party! This is such a perfect way to turn politics into something fun and educational. You can invite some of your close friends and family, make election-themed treats like patriotic cupcakes and cookies, or even have guests dress up as their favorite politician. Make sure that you facilitate a group discussion afterwards to allow for people to process what they observed and learned, as well as how that might affect their decision.
5. Get involved with a campaign. This one is an extra tip, but if you feel passionately about one candidate over another, try and see how you can get involved in supporting that candidates campaign. Both sides are always welcoming volunteers to help register new voters, spend time making phone calls to local citizens, or even drive the elderly and physically challenged to the polls on November 6. The options are limitless!
Let us know what your thoughts are after watching this week's debates! We want to know who you think came out on top, and which topics you think need more attention.