6 Tips to Empower Employees and Build a Strong Team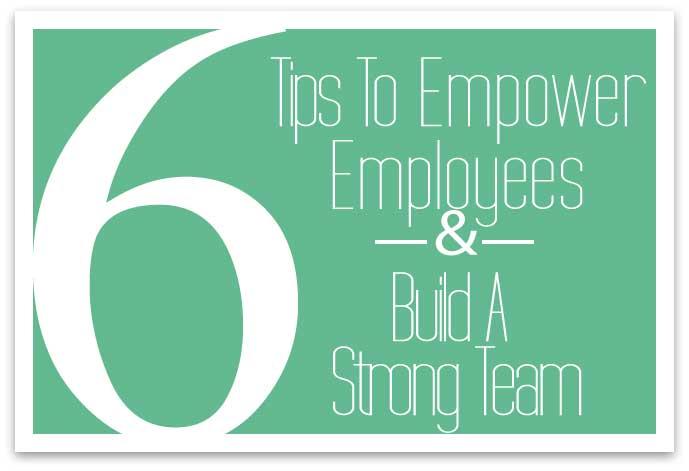 A leader is only as good as the team that surrounds them. Building up your staff so they can become successful contributors to the growth of the organization, is as equally important as your own performance in the workplace.
Typically, newly promoted team leaders won't have the option of making new hires or even expanding the existing team. They have to work with the talent they're given. This makes the team's development that more critical. However, if it were easy to empower employees, everyone would do it.
These 6 tips will help your team willing step up and happily help move the organization forward.
1. Recognize personal lives are important
Team members have families and personal lives. You can't expect your team to eat, sleep and breathe the company 24/7, so respect the time they are off. Also, put forth the extra effort to celebrate birthdays, weddings or other significant milestones in their lives. Be willing to help a team member in need outside of work if the opportunity arises. This helps build loyalty with your employees, which they tend to demonstrate towards other team members in the future.
2. Implement structure and processes
When the team achieves success in a specific area, attempt to implement a structure or process that repeats that success over and over. Creating and adhering to checklists or standard operating procedures (SOPs) will increase the efficiency and success of the team.
Article continues below advertisement
3. Recognize and acknowledge team member's efforts and successes
Acknowledge employees when they achieve a success or positively impact the team in an extraordinary way. Recognizing other's effort gives team members a sense of accomplishment and inspires other employees to go above and beyond their assigned responsibilities. It can be as simple publicly highlighting their accomplishment in a team meeting, presenting a certificate, or offering vacation time. Recognizing employee's efforts should make the team feel valued and inspire them to work even harder.
4. Encourage safe failure
It is natural to have a fear of failure. By human nature, most people prefer to avoid risks, especially in the workplace. However, a fear to fail in the office can stunt employees' growth and inhibit the company from exploring creative, new ideas and strategies. Create opportunities where employees can experiment with new ideas that doesn't expose the company to any risk, but allows them to learn from their failures and success. This will allow the team to feel comfortable thinking outside of the box.
Article continues below advertisement
5. Promote open communication
Gone are the days of the top-down communication structure within companies. The one-way communication, from management down to employees, prevents an opportunity to hear valuable feedback from people who are actually on the front lines. Regularly engage in open dialogue with your team, so they can feel comfortable sharing their ideas, feelings, observations or concerns. This will allow employees to have a greater sense of investment in and commitment to the company.
6. Trust your employees
What good is a team full of smart, hard working individuals if you don't trust them to execute the daily operations to achieve your vision and goals? A lack of trust in the team's ability to deliver and perform leads to micromanaging, which can prevent the team from moving forward. Establish check-in points, as this will allow you to trust team members to execute and act independently while still having some oversight of the process.
I'm always looking for new ways to build up my team, so how have you tried to empower your employees?