6 Ways To Stay Active At Work When You Have To Sit All Day Long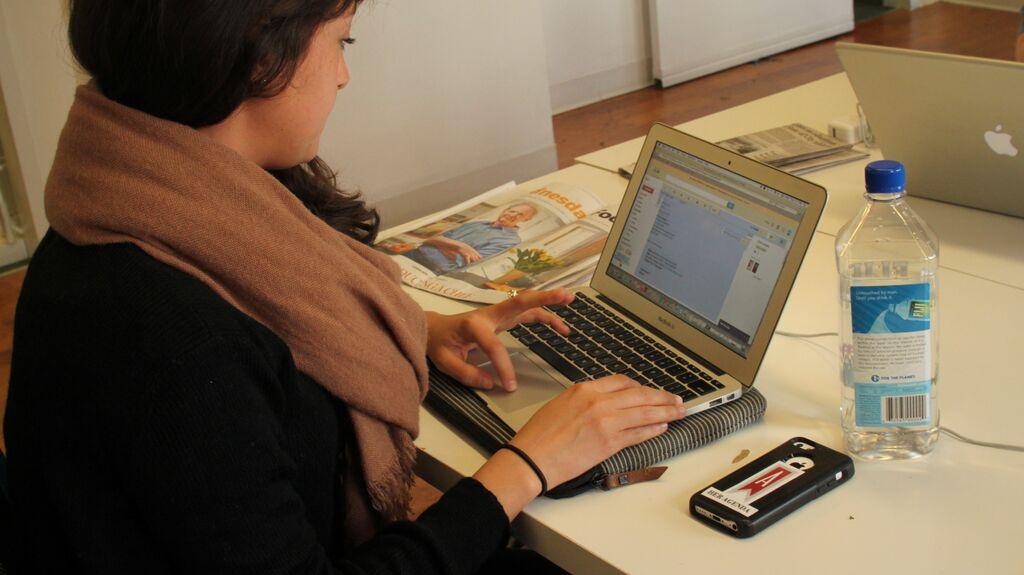 Working in tech or in an awesome remote job means that you have a TON of flexibility and freedom. But when you're the master of your own time and you can work all day with only the occasional doorbell interruption, it can be far too easy to realize you've been sitting in the EXACT same spot for 6 hours.
It is crucial to get up and move throughout the day.
And since jobs in tech, and especially remote or flexible jobs in tech, allow you to take control of your work schedule, you don't have to stay shackled to your desk like a typical 9-to-5 office worker might.
Here are some tips on how to start your day right when you sit all day long—and stay healthy at the same time.
1. Schedule some exercise.
Just like the vast array of other appointments that you have penned in your planner (or should I say, queued up in your Google calendar and synced to your phone), you'll have to make some room in your schedule to exercise if you're ever going to do it.
And if you're locked into your office from 9-5, you might try getting up an extra half hour earlier and doing some sit-ups or other exercise at home, strolling briskly around your neighborhood, or simply hitting the gym. If you know that you can sneak away from the office, a lunchtime exercise regime can give you a much-needed energy boost for the afternoon!
Article continues below advertisement
2. Try a standing desk.
Studies have shown that a flexible worker can be more productive than an office worker. Why? Fewer distractions (i.e., colleagues crashing into your cubicle to chat, a micromanaging boss constantly walking past your desk, etc.) means that you can maintain your focus and work steadily.
The caveat to that is that without any sort of interruption, you might find that you'll work for a couple of hours straight without getting up from your desk once. So if you work from home, and even if you clock-in to an office each morning, try a standing desk. Not only will it help you stretch your legs, but it's a much healthier way to work, reducing the risk of cardiovascular disease and certain cancers.
3. Walk during meetings.
Even in the most flexible workplace, sometimes you just can't take a break to shake it at Zumba. That's when it might be a good idea to try to make exercise work for you—literally.
Instead of planning meetings where you all gather in the boardroom and sit for hours on end, you can create walking meetings! If you work in an office, getting a few of your coworkers together and walking while you brainstorm can lead to great productivity and potential new ideas!
Walking meetings work for remote workers as well. If you work from home and need to be in a meeting that requires your input (but not shuffling through papers), you can lace up your sneaks and walk while you talk. And if you need to be on video, use a video hangout app on your phone.
Article continues below advertisement
4. Go the distance.
No matter where you work, you might find that you need some motivation in order to get up from your cozy chair.
If you work in a city, snag some hours in a coffee shop in the morning, then walk to lunch, or head to the library in the afternoon. And if your city isn't very walkable, try riding a bicycle to run errands. If even that's not an option, schedule time to stretch, walk up and down the stairs, or just walk around the block.
If you work in an office, choose destinations to walk to throughout the day. It might be going downstairs in your office building to score some Starbucks, or even just choosing the restroom that's farthest away from your cubicle. And taking the stairs, as opposed to the elevator, is always a healthier option.
5. Get on the ball.
Let's say it's one of those weeks that keeps you tied to your desk. As much as you'd like to get up and move around, you just can't. That's where a stability ball can come into play. By sitting on a stability ball (as opposed to an office chair), you'll need to engage your core in order to sit straight. That helps build up your abdominals, and help you gain better posture, too—all while sitting and doing your work.
Article continues below advertisement
6. Stay alert.
When you're hyper focused at work, it's easy to let the hours slip by. Only later on, when your back hurts from being hunched over all day do you realize that you need to get up more. If you simply forget to get up, you can try setting alerts on your computer to make you move. They should go off at least every half hour or so; you can stretch your legs at the low exercise end, or move around and get in some squats or other stretches for at least five minutes long. Your body—and your productivity levels—will thank you.
As studies show, exercising isn't enough to combat the damage done by sitting all day. By incorporating some (or all!) of these easy ways to sneak in some exercise during your workday, you'll boost your productivity, get on the road to better health, and, once you're functioning in tip-top shape, all that productivity could even score you a promotion at work!