7 Non-Traditional Ways To Give Back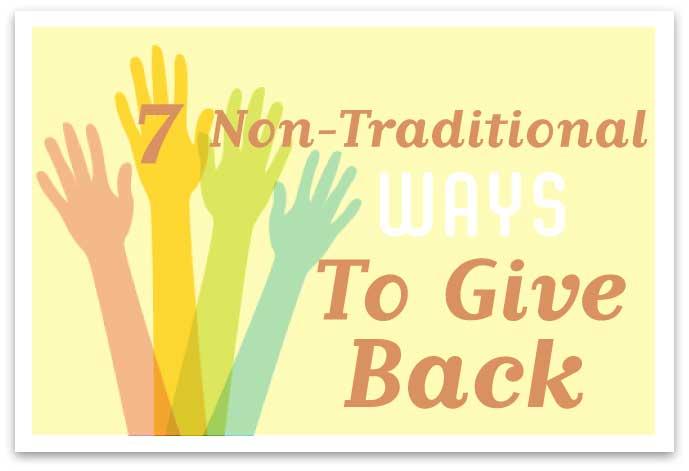 As Millennial women we tend to look for innovative ways to solve old problems. It is no surprise that Millennials have found an innovative approach to volunteerism and giving back to their community. In The 2012 Millennial Report, experts stated that 49% plan to volunteer in 2012 the same as 2011 while 41% plan to volunteer more in 2012 than in 2011.
There are plenty of national and local mentorship programs around the country. Mentoring is an easy way to make a positive change in a someones life. Check out the local boys and girls club, community centers and/or school for way to get involved.
Teach a class or share a skill.
If you have a skill or knowledge of a particular subject that your neighbors would benefit from teach a class at a local organization. Volunteer to teach an elderly neighbor how to use email.
There are many amazing organizations doing much needed work. A quick and easy way to support nonprofit work would be to simply educate your peers about a particular issue or program. Knowledge is the first step to action. Don't be afraid to talk to your friends and family about the good work your favorite nonprofit is doing. Use social media outlets to get the conversation started.
Solve a community problem.
Use existing skills and networks to find an innovative new approach to a problem. You don't have to be a nonprofit or within the public sector to see and problem and actively try to solve it. If you see a problem within your community solve the problem, don't wait for someone else to.
Most nonprofits don't have the luxury to hire private contracts or consultants to come in and help the organization expand or become more effective. If you are a graphic designer, writer or lawyer, volunteer your skills for the next campaign. Volunteer your time and skills to help make the nonprofit excel.
Attend/Host a benefit event.
Article continues below advertisement
Hosting a benefit/fundraising event for a charity or nonprofit is the perfect way to ensure that your efforts will make a big impact. Host an networking event and charge a cover giving the proceeds tithe charity/nonprofit. Get your close friends together for a benefit brunch and present on the issue you are advocating for.
Start a friendship group with a group of friends.
Every member gives an annual donation and collectively the group decides give to a charity. Friendship groups can also host fundraisers on behalf of the organization. This is a great way to make a big difference and have a support group for advocating change.
In the 2012 Millennial Impact Report, Researches reported that millennial 81% prefer to learn about volunteering opportunities through their peers. According to the report, the top 2 reasons preventing millennial from taking leadership is , lack of time and never been asked. I encourage millennial women to not wait for a grand invitation before volunteering for a cause and/or nonprofit you believe in. Many nonprofits appreciate extra help in the office and on the ground.
Research nonprofits in your community that aligns with your values. Visit their websites and learn more about ways you can lend a hand.
*The 2012 Millennial Report was organized by Achieve and sponsored by The Case Foundation. Achieve and Johnson, Grossnickle and Associates (JGA) gathered information from online survey, focus groups, and nonprofit professionals survey. For the study, Millennials were defined as anyone ages 20-35.