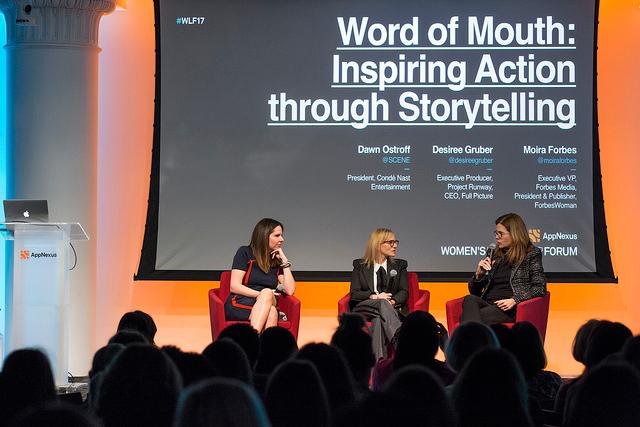 A Conference With Substance: The AppNexus Women's Leadership Forum
By
Rhonesha Byng
Nov. 15 2017, Published 1:52 p.m. ET
The AppNexus Women's Leadership Forum is a women's conference with substance.
Women's conferences are popping up with increased frequency all over the globe. Often, the criticism around women empowerment events is the lack of a call to action, or the exclusion of men creating an echo chamber. What good is all the inspiration if you don't have any idea what steps to take or access to resources to help you get started? Immediately walking into the AppNexus lobby the first thing I noticed is a giant wall that says Take Action.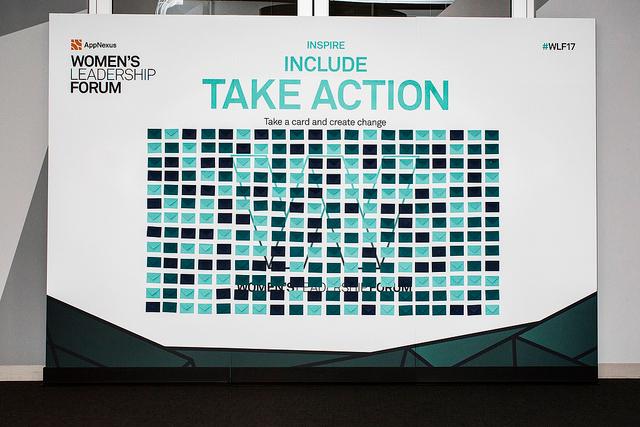 The wall was full of small envelopes with cards in them with specific actions you can take to move forward toward your goals or enhance your career in some way. From sharing a career lesson with a mentee, to nominating yourself for an award to following up on an email these little things add up to big moments of success. And I know first hand that women do not submit themselves enough for awards! Yes, believe it or not the selection committee doesn't scour the industry to find the best, they only choose from those who have been submitted, and you can submit yourself instead of waiting to be validated by someone else!
Article continues below advertisement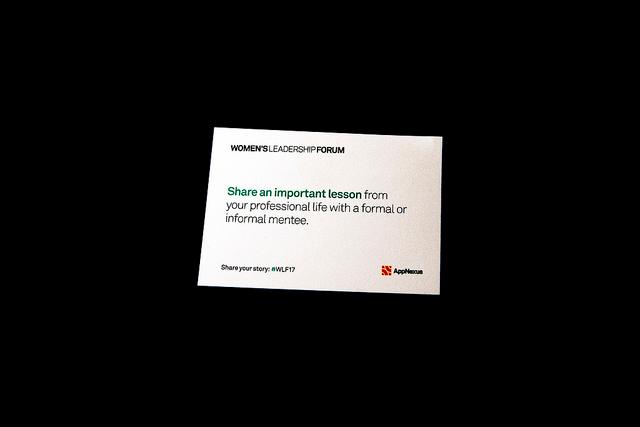 The conference agenda was purposeful. The day was divided into three sections: inspire, include and take action. Speakers included Reshma Saujani of Girls Who Code, Tiffany Dufu of Levo and Wade Davis (who was listed on the program as a feminist and former NFL Player). There were also a few speakers that I was not initially familiar with who I am now avidly following including the hilarious and super innovative Maysoon Zayid who is a comedian and disability advocate that has a sitcom coming out very soon.
Article continues below advertisement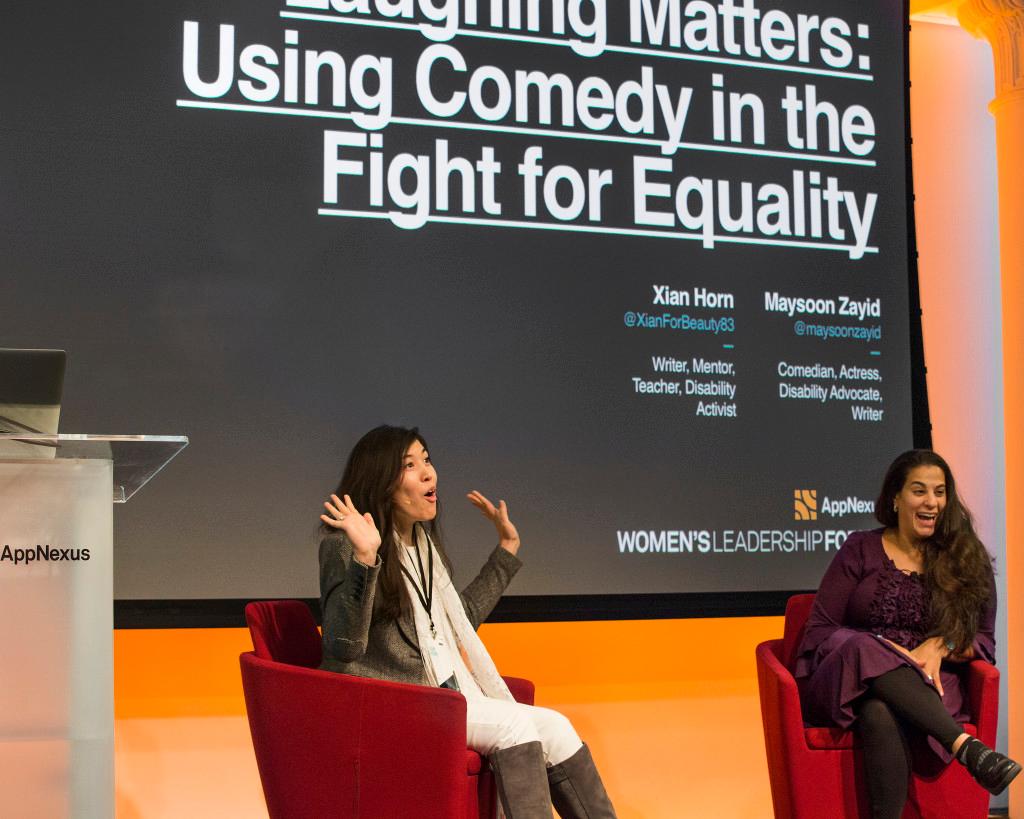 My favorite lesson from her talk, "If your goal is the message you won't be funny anymore. For me, my message comes through because my comedy is personal. I'm talking about me existing in America in Trump's Armageddon."
She added, womens rigts are human rights. Disabilities rights are women's rights and human rights. People with disabilities have the buying power of the entire country of China."
Article continues below advertisement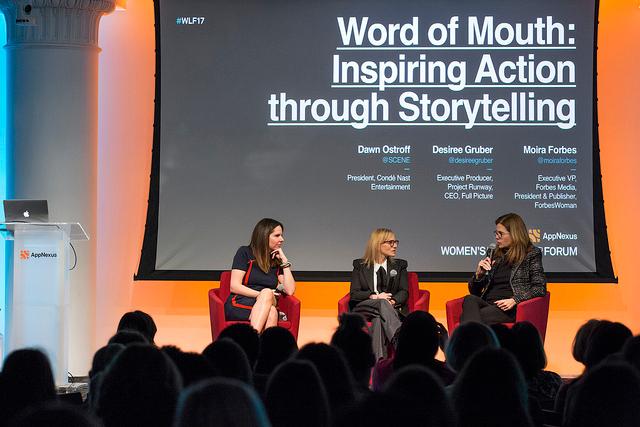 The narrative that emerged most prominent for me is that the personal is universal and you should own you truth and embrace your unique story.
"It's so important for people to really think about their own story and how they communicate their story," explained Dawn Ostroff the president of Conde Nast Entertainment.
Maysaloun Hamoud writer director In Between was the first to bring up the topic. "When you do own your truth, and you do the stories from your own particular point of view, it can be universal. And just in that way, you can really touch the people all over because we are human beings and we have all the same conflicts usually."
Article continues below advertisement
Tiffany Dufu admitted to having a "bad case of HCD, home control disease." A funny point but also something that forced her career, and her happiness to suffer. She decided to drop the ball on HCD and has since penned a book about it (which we all got copies of).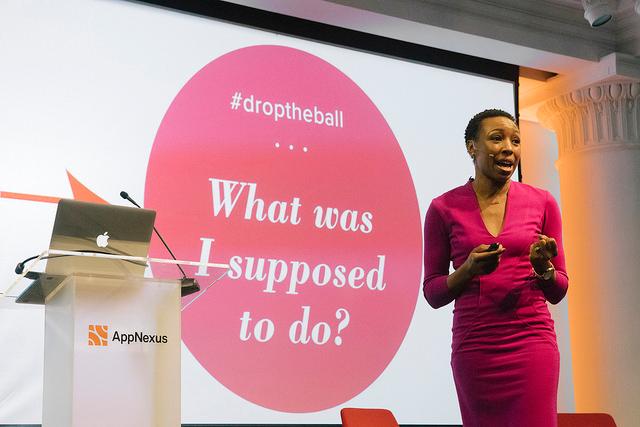 Article continues below advertisement
"I had to release these unrealistic expectations of who I was supposed to be," Dufu shared.
AppNexus CEO and co-founder Brian O'Kelley was present for the entire day and shared his passion for empowering women and why it's important.
"We raise our girls to be perfect and we teach our boys to be brave," shared Reshma in her talk titled You Cannot Be What You Cannot See.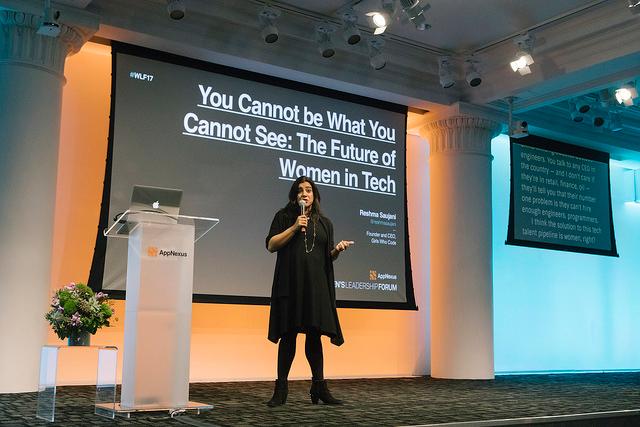 Article continues below advertisement
She pointed out a relevant concept that the differences in how we treat boys and girls even as young as babies carries over into our adult lives where for men you see rejection doesn't bother them. However, as women we've been raised to be perfect to be liked to be kind. We think to ourselves well if I can't get it perfectly right why even try? So even though Reshma does not code herself, she created her organization to address the need for girls to be equipped not just in a fast growing lucrative industry but according to Reshma, "the great thing about coding is it teaches imperfection."
"Once you start exercising your bravery muscle, you'll never stop​."
If you couldn't be there, don't worry! There's always next year and in the meantime, all the talks are now live on Youtube! Watch them below.
Article continues below advertisement
[This post is sponsored by MWWPR on behalf of AppNexus.]