A Five-Point Plan For Happiness Inspired By "The Happiness Project"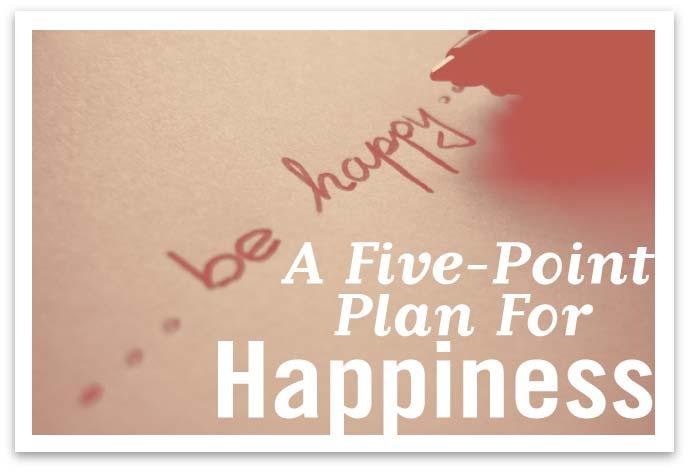 It's hard to believe that we're pretty much one month into the New Year!
A few months back while I was traveling on business, I picked up a book called "The Happiness Project" by Gretchen Rubin in the airport bookstore. Upon first glance, I figured that this New York Times Bestseller had to be about a young woman's account of how she disciplined herself to be happy for an entire 365 days. But after reading the first chapter, it turned out to be so much more than that.
Gretchen Rubin, a former law clerk-turned-author, wife and mother of two decided that she was tired of going through the motions day after day, and not focusing on the things in her life that she deemed most important. With this challenge, her overall goal was to discover ways in which she could become happier. From studying scientific theories to conducting her own social experiments with friends and loved ones, Gretchen takes us through her yearlong journey of finding happiness by changing her habits and overall outlook on life.
In order to do so, she created a list of twelve areas in her life she wanted to focus on and improve. Nicknamed the '12 commandments', each month was designated to a particular principle:
While I couldn't personally identify with all of Gretchen's resolutions, I appreciated how each one gave her the opportunity to reflect on her thoughts, feelings, words and actions in certain situations that she faced, and how she could ultimately react in a more positive manner. This realization in turn challenged me to choose five points of my own which would serve as the foundation for my personal happiness project for 2014.
Article continues below advertisement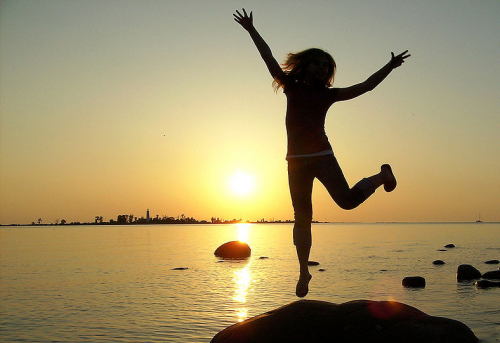 Article continues below advertisement
Since I was a young girl, I've always valued having a great core group of friends. To me, quality always trumps quantity — for I would rather have a few friends keep it 100 with me than to have tons of friends that say one thing when they really mean another. And even though at times we may have our disagreements, I am forever grateful for the sincere love and support my friends show me as I look to accomplish my personal goals. In the novel, Gretchen challenges herself to make time for her friends by showing up, remembering their birthday and being generous, all of which are essential components of a quality friendship. But for me, I want to take it a step further and really take this year as an opportunity to build another layer of trust with my friends. Communication is key with any relationship, and I want assure my friends (old and new) that the bonds we share are special, and deserve to be treated with the utmost kindness and respect at all times.
Article continues below advertisement
What millennial doesn't want to get their money right? The older I get, the less I want to stress about my finances, so this year I really want to establish some best practices in saving and living frugal. I have a serious itch to travel a lot in 2014, so I know for a fact that I'm going to have to change my spending habits and really adhere to my budget in order to make those dreams a reality. Gretchen makes a valid point by stating, "the way in which think about money is important to our overall relationship with it." In this chapter of her happiness project, Gretchen challenges herself to stick to a very strict budget, but also not to be afraid to 'buy happiness' every now and then. And I couldn't agree with her more! We have to remember to treat ourselves, because we're worth it.
In all things, I do my best to show gratefulness. From the man that hands me my newspaper every morning outside of the Metro, to my co-workers that help me brainstorm new ideas – to me, the words 'thank you' are the two most important in the English language. Without a doubt, I believe that gratitude equates to happiness. And while Gretchen doesn't directly allude to gratitude in her novel, she does mention how necessary it is to keep a contented heart and to always laugh out loud and share positivity. To me, each of those things encompasses the components of a grateful heart — one that is always going to look to the brighter side of things and never neglect the opportunity to learn something new about yourself.
Article continues below advertisement
Of all the chapters in this book, this is my absolute favorite — mainly because the author coins two of my own personal mantras: 'work smarter' and 'aim higher'. In this chapter, Gretchen challenges herself to basically overcome her fears of illegitimacy and asking for help. She also describes the time in which she took a risk in creating a blog in order to fulfill what she believed was her life's calling of being a writer. What I took away from her lessons was that in order to get to where you want to be, you have to be willing to invest in yourself, and look from where you are in order to truly appreciate your process. By enjoying the 'now', you won't have to time to worry about what's will come next. Be open to all feedback (both positive and negative) because it will be integral in your progression forward.
Article continues below advertisement
Finally, it's no secret that when you work hard, you have to play hard. Week after week, I can't help but notice so many of my peers living for the weekend…just for it to be only Monday morning. Conversely, some of us can have a tendency to be SO hyper-focused that we forget to let our hair down a little bit during our hectic work weeks. Gretchen advises that we take time to be a little silly and to have fun. Everyone's definition of fun is different, but I know for me fun can be as simple as dancing around in my room when I wake up in the morning. My goals for this principle are to take time to converse my colleagues more, and don't beat myself up for letting my mind wander a little bit. Recent studies show that daydreaming can actually make us smarter. This year, I also hope to tap into new hobbies that are not only enjoyable, but will also challenge me to think more strategically. You never know — your leisure activities may turn out to positively impact the way you work in and outside of the office.
And there you have it! My five-point plan of happiness for the New Year. If you're looking for a new book to read, I highly recommend "The Happiness Project". Gretchen Rubin's writing is completely relatable, and she gives a lot of great examples that made me want to take a step back and evaluate how I move throughout my daily routine. Best of luck to you all in 2014, and BE HAPPY!