A Look At The Impact Of 'A Day Without A Woman' On International Women's Day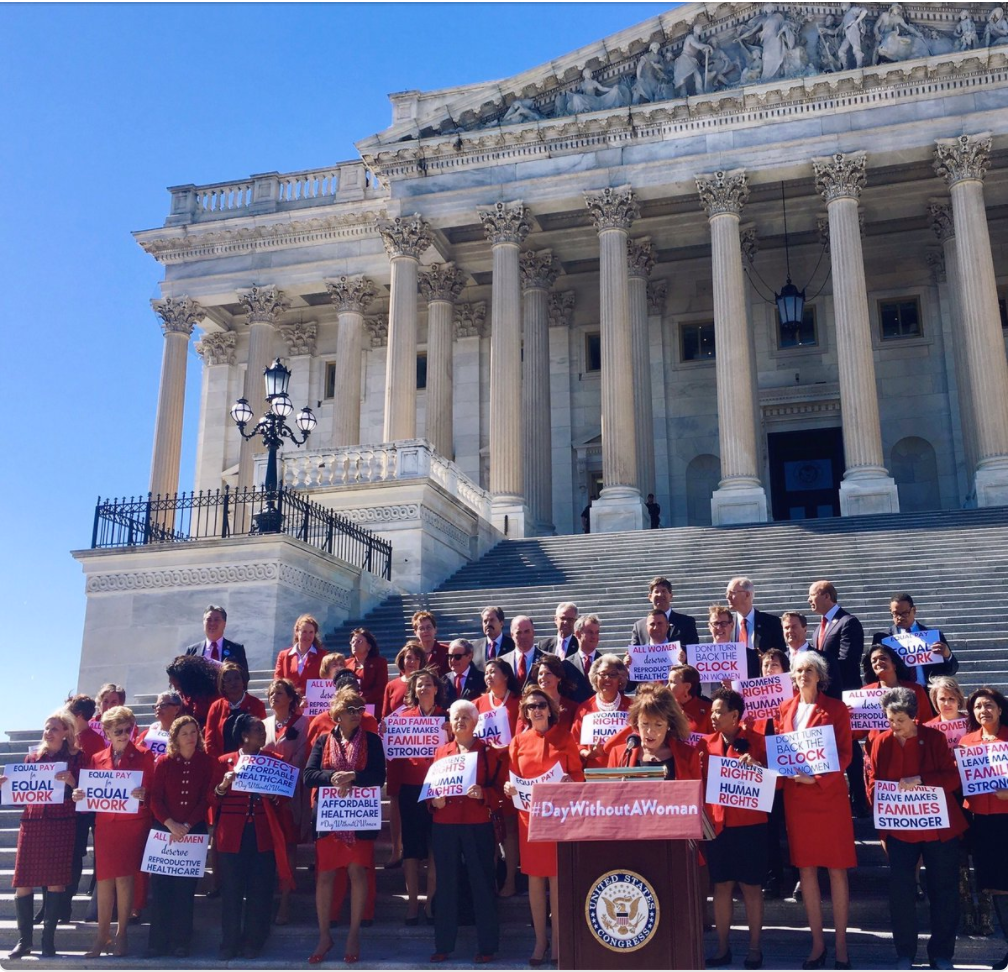 International Women's Day did not pass by unnoticed as thousands of women wearing the revolutionary color of red rallied in cities across the U.S.
Organizers of the Women's March called for Day Without A Woman, asking women to strike and refrain from paid and unpaid labor. The Women's March organization hoped that a strike would call attention to the economic injustices women face in the workforce and the "significance that women have in the US and global economies."
However, the social and economic impact of the strike is still unclear and up for debate.
Many women did skip work Wednesday in an act of solidarity and effort to shed light on the valuable work – unseen and seen- that women contribute on an everyday basis in society. And that should be applauded. However, the numbers of women who participated in the strike were a fraction of the mass of women that marched on January 21st.
A strike is a bold move made by a young organization such as the Women's March because strikes are historically much harder to execute than protests. The campaign for a strike on March 8th was slow to gain momentum and many voiced concerns that it would be too much of a risk for many women, especially working class women, to skip work for the day.
In response to these concerns, the Women's March organization recognized the difficulties many women would face in striking and offered alternative actions, such as not shopping and wearing red. So perhaps the numbers on the streets or the ones that skipped work for the day do not reflect the total number of women who demonstrated their support in other ways. It's also too early to tell if corporate businesses did suffer in response to Wednesday's Strike, but women do influence about 73% of all household spending.
Article continues below advertisement
Usually the purpose of a strike is to disrupt daily life so everything comes to a stop. If you want to measure the success of the Women's Strike this Wednesday in these terms, then the strike was not effective. But these were not the expectations of the organizers of the Women's March, as Linda Sarsour, co-chairwomen of the event said: "The object for us isn't that we hope to shut the whole economy down. We see this as an opportunity to introduce women to different tactics of activism."
So what did A Day Without A Woman accomplish?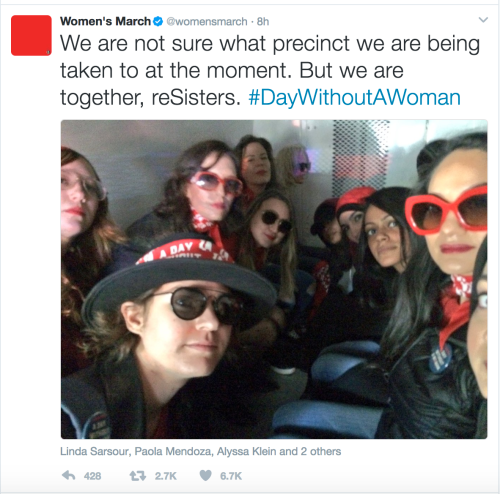 Article continues below advertisement
Roads were blocked. And leaders of the strike were arrested. Women gathered and rallied in Washington, DC, New York, Chicago and many more cities. Four public school districts were forced to close due to teacher shortages, including Alexandria City, Prince George's County and in Chapel Hill, North Carolina. Teachers who felt they couldn't participate organized 'Teach-Ins" and taught lessons on gender discrimination.
In California, many companies in the tech industry throughout Silicon Valley clearly stated they would not penalize women for participating in the strike, including Google, Facebook, Tumblr, and Airbnb. The CEO of a software company, called At Puppet, wrote a statement on Linkedin: "To the women of Puppet who wish to participate in the strike by taking the day off tomorrow or showing your support in other ways, you have my support."
Tinder donated 250,000 dollars to organizations like Planned Parenthood, Girls Who Code and UN Women. And Grubhub, a food delivery service app, is launching an initiative to raise awareness about the lack of women in leadership positions within the restaurant industry, stating that only one third of restaurant owners are women and only 20 percent are chefs.
Article continues below advertisement
In New York, State Street Global, a 2.5 trillion dollar company, installed a bronze statue of a fearless girl defiantly staring down Wall Street's famous bull. The managers of State Street are calling on partner companies to increase the number of members on boards who are women, planning to send letters to estimated 3,500 businesses to act accordingly.
In Washington, DC, around 10 Democratic congresswomen decked-out in red staged a walkout around noon, meeting a cheering crowd of supporters on the Capitol steps. The female Democrats who demonstrated support included Nancy Pelosi, Rep. Katherine Clark and Rep. Lois Frankel.
Article continues below advertisement
Many made speeches on issues ranging from reproductive rights, sexual violence, and the rights of transgender and immigrant women. They also encouraged women to run for office.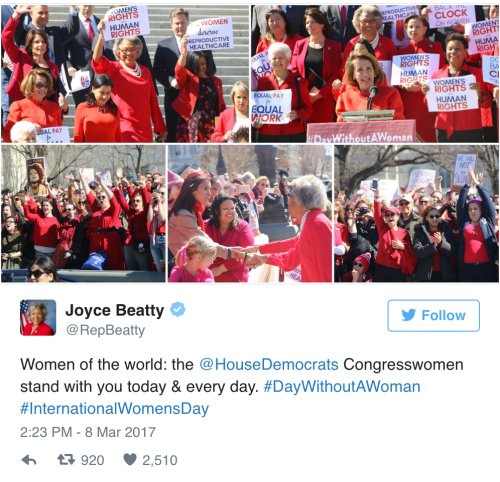 Article continues below advertisement
Perhaps more could of been accomplished if the Women's March organization provided more resources and opportunities for working class women to participate more actively that day by setting clearer parameters.
Emily Crockett in Vox suggests that instead of asking women to take off a whole day, organizers should have just asked women to leave work two hours early. In Iceland, for instance, in order to protest the gender pay gap, women collectively stopped working at 2:38 PM. Women activists in Brazil encouraged employees yesterday to hold discussions about gender discrimination in the workplace during their lunch breaks. Or perhaps the United States, like more European countries, need laws that legally support strikers.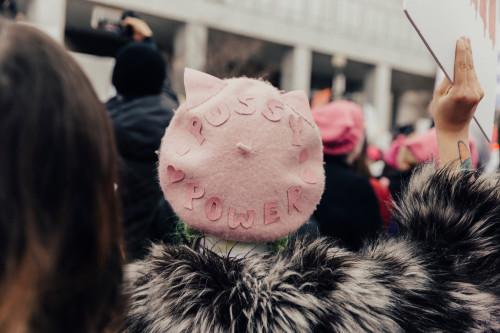 However, the Day Without A Woman became the most visible act since the March on Washington, demanding US businesses, public school districts and Congress to take notice.
The leaders of yesterday's strike show no signs of slowing down. As the march and strike prove, mass demonstrations and actions of solidarity grab attention and force society to have conversations and to think about the rights and opinions of others. This Wednesday's International Women's Day will be remembered. International Women's Day, as CEO Sanjay Mirchandani stated, "is finally being observed with much more than a commemorative image on Google's search page."