Beauty does indeed run skin deep for Hanahana Beauty founder Abena Boamah-Acheampong.
After 6 successful years at the helm of her skincare brand, the CEO is celebrating her anniversary, a rebrand, and overall growth. Her company most recently expanded into 450+ Ulta Beauty stores. The former school teacher now turned beauty entrepreneur, leaned into the power of her discipline to get to where she is in spite of any fear.
Learn more about her journey from educator to becoming an intentional leader within the beauty industry in our interview below:
Her Agenda: How important is it to you to bring Ghanaian traditions to the States?
Abena Boamah-Acheampong: If I'm being honest, I don't think it's about the importance of bringing it, but it's more so acknowledging it within the beauty space in general, and where things come from. As there are Ghanaians, there are certain traditions or certain things that are just happening because Ghanaians are here. I don't want traditions not to be acknowledged for where it's coming from.
Her Agenda: What was the transition like from your previous career as a teacher to becoming an entrepreneur?
Abena Boamah-Acheampong: As a teacher, you get summers off, I just didn't come back, you know what I mean? [laughs]. There was a time for everything. Everything ended in time. I think the decision-making for me felt a bit easier because it just felt like 'Okay, well, things are done. Now it's time to move on to a new thing.'
Her Agenda: As a Ghanaian, it's no surprise that most of our parents fully support specific careers (ex: Doctor, Law, Engineering, etc.) How did you find the courage to go after a career that's out of the usual expectations that African parents have for their children?
Abena Boamah-Acheampong: My grandma was a teacher. So that was why ever since I was a kid, I always thought that teaching was something that I wanted to do. Education is really big in my family. I originally wanted to be a brain surgeon. I took a chemistry class and was like, 'Um, No' [Laughs]. When I went to college, I studied education, psychology, and math. I feel like I set my parents up for 'this is the pathway I'm going to take' but when I switched over to entrepreneurship, they really encouraged me, if I'm being honest. My dad's the one who even gave me the name Hanahana. They've always been very encouraging. I feel like most of our battles sometimes are in choosing a way to do things with the brand, versus maybe what they foresee. But because I did those "checkboxes" of still going to grad school, still doing all these different things that worked.
Article continues below advertisement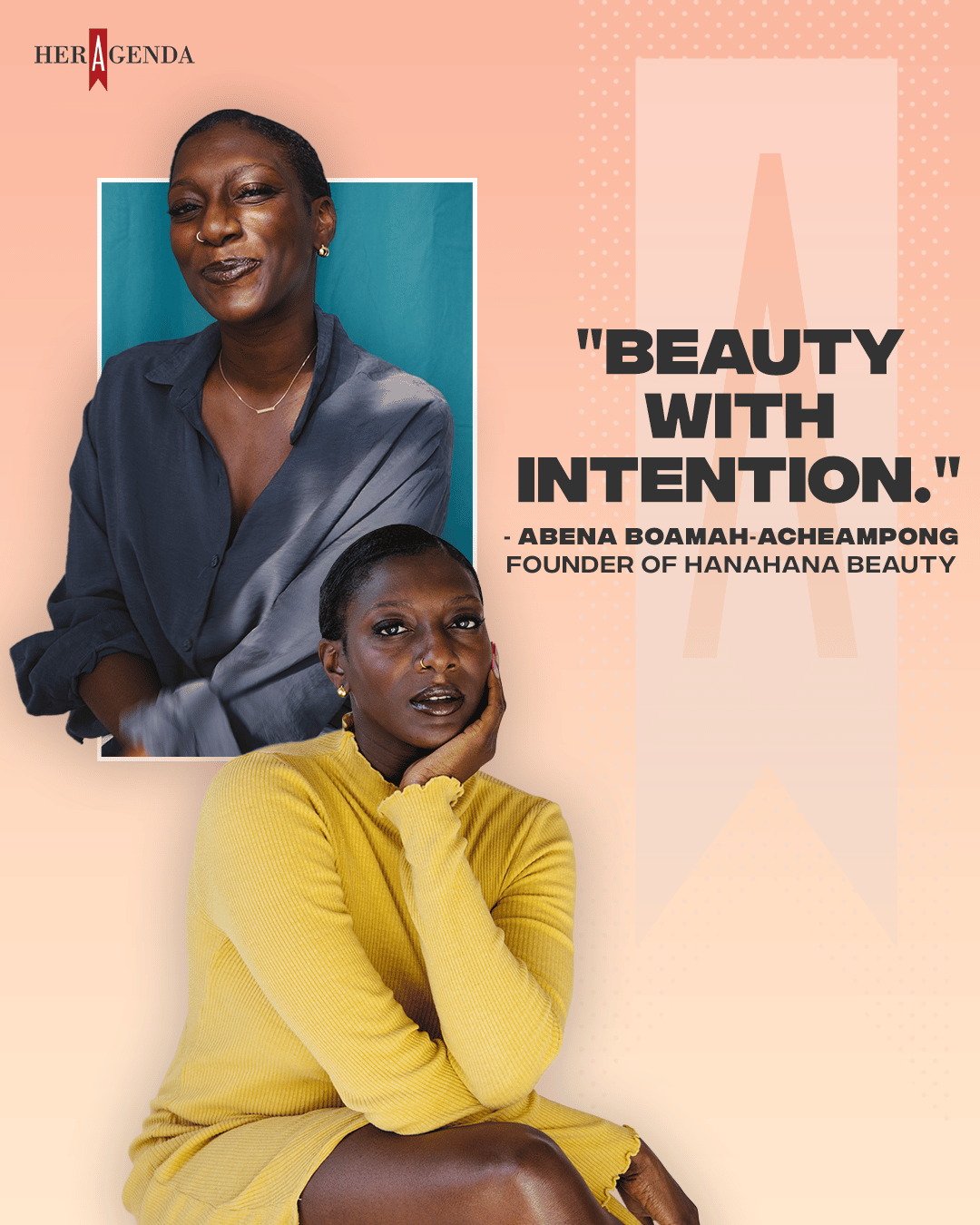 Her Agenda: What is it that you want consumers to know about Shea butter? What are its benefits?
Abena Boamah-Acheampong: Shea butter is such a multi-use product. I want consumers to know that Shea butter is utilized in many beauty products, not just the Shea body butters themselves. It's a very multifaceted product. From its fatty acids that have some moisturizing components, to being a really healing product. They used to call it 'golden butter' because it literally was a healing product for a lot of people. They didn't have to add anything for people that have eczema, sensitive skin, or in general, didn't want to have dry skin. There are a lot of different benefits to it that help be either the main ingredient or a supporting ingredient.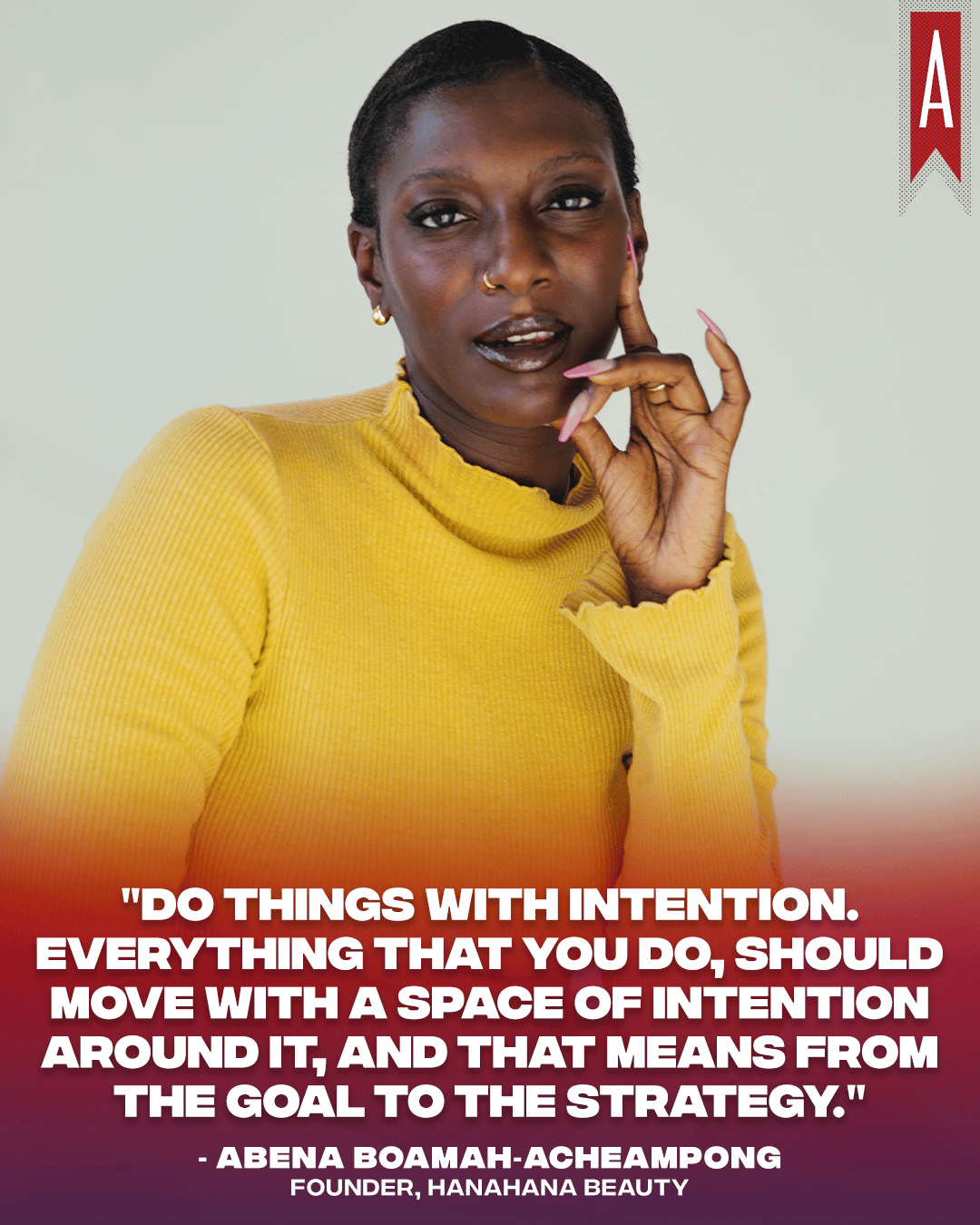 Her Agenda: At what moment in time did you bask in your growth within the company and feel 'Wow! I really did that?'
Abena Boamah-Acheampong: I think about it every day! [Laughs]. I'm like, 'Okay, this is really what you're doing right now at this time.' Even this past year with Ulta, it was like 'Wow, you are really in Ulta!' Every growth period, I [say to myself] 'Okay, you made this decision to be an entrepreneur, how do you continue to move and navigate through this space? And how do you continue to grow and scale intentionally?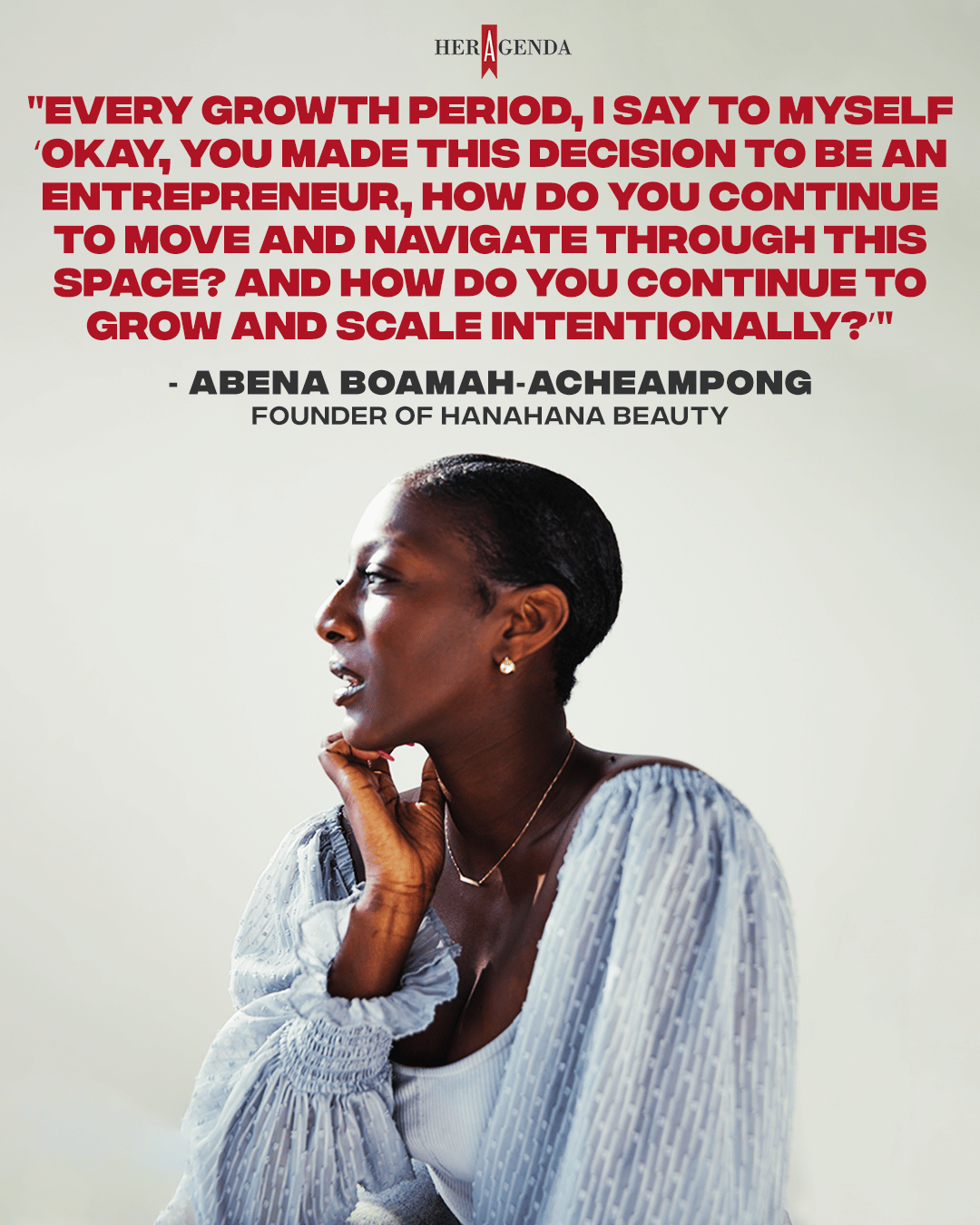 Her Agenda: What is your favorite beauty practice when using your product?
Abena Boamah-Acheampong: Ah! Getting out of the shower, and taking the time to moisturize right out of the shower on damp skin! I love that. That's my favorite feeling. I also love just being able to put on the Shea and add a fragrance to it. It's that combination, the layering of things. I love that aspect. My favorite thing to do right now is my full shower body routine with Hanahana products. We're working on some shower products right now.
Her Agenda: I see the passion and excitement on your face as you talk about it. I love that! What is your motto?
Abena Boamah-Acheampong: My motto and Hanahana's motto is beauty with intention. Do things with intention. Everything that you do, should move with a space of intention around it, and that means from the goal to the strategy. There should be a level of intention. You don't want to move loosely through things. That's why we say we like beauty with an intention for Hanahana too because there should be intentionality in everything that we do.
[Editor's note: This interview has been edited for length and clarity.]