Amy Peterson, is without a doubt, a champion of empowering women. Her passion for helping others and living next to Detroit's most well-known shelter led Peterson to one of her greatest accomplishments, Rebel Nell.
When given the opportunity to hear the women's stories and challenges, Peterson used her background in law and business to create a social enterprise. As CEO of Rebel Nell, Peterson has created a jewelry company with a purpose. She employs women with barriers to employment to help them transition from a life of dependence into one of self-reliance.
From her previous career working for the Detroit Tigers, and R.I.S.E., an organization that empowers athletes through social impact, Peterson uses her expertise to empower women in Detroit. She believes that employment paired with financial literacy, business education, and wellness is an opportunity for women to create their own pathway to success. She is on a mission to prove the return on human capital, by building a company that is profitable and has a tremendous impact on the women that they serve.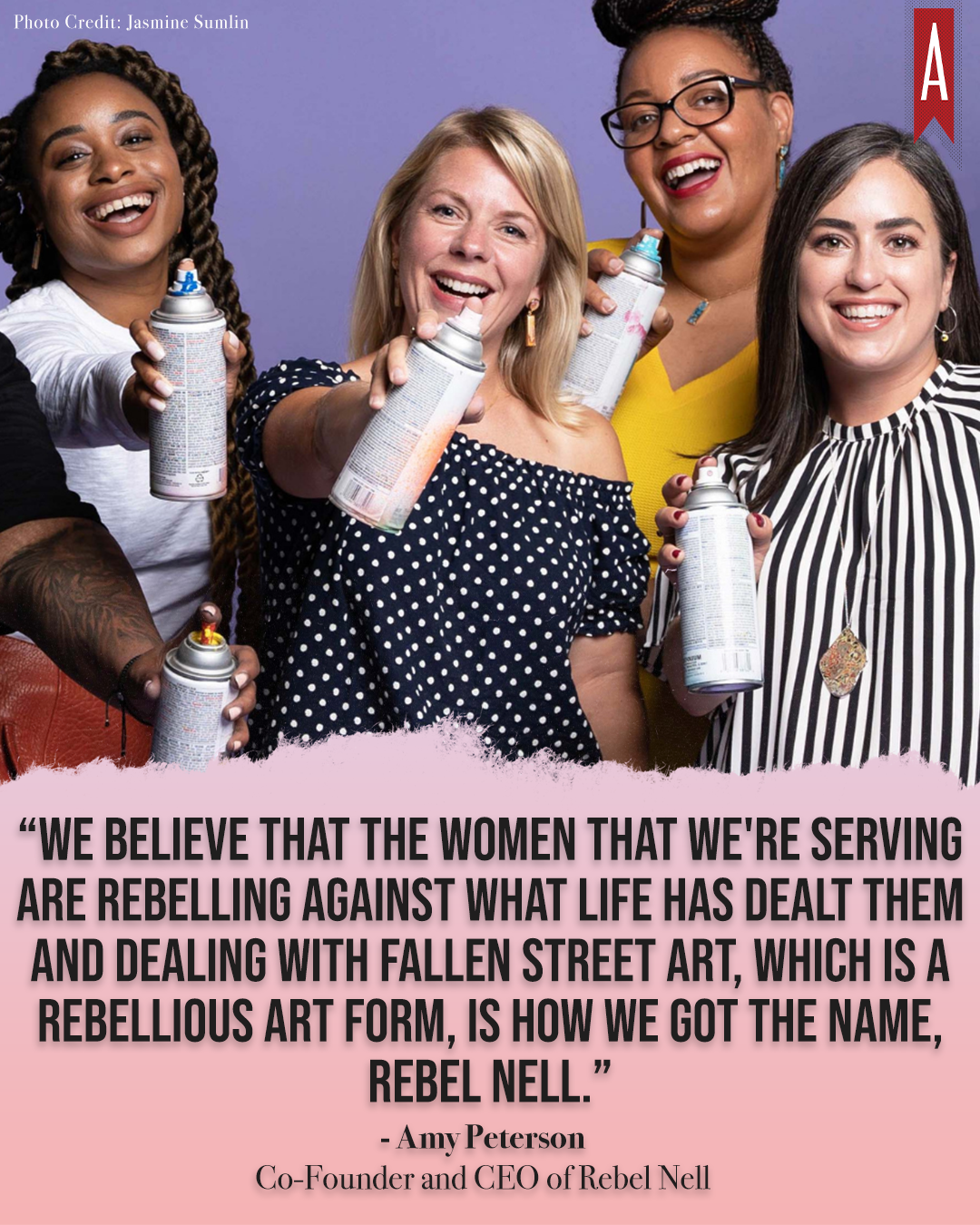 Her Agenda: In your early career, what attracted you to law? Did you have a specific concentration?
Amy Peterson: I was really attracted to law because I wanted to be in baseball. I wanted to be the first female general manager of a Major League Baseball team, and I wanted to have a well-rounded mind in order to compete in a very male-dominated space. So getting a law degree was important for me for that reason. I wanted to be able to understand contracts. It's interesting when you go to law school, law school really teaches you how to think. You don't really specialize until you get out of school and you find that job, get in good practice, and that's when you can become highly specialized in an area. I was fortunate to take some sports law and contracts classes to help me get an understanding of the world I wanted to be in.
Article continues below advertisement
Her Agenda: How has your law background shaped your current position at Rebel Nell?
Amy Peterson: We do a lot of partnerships and collaborations, that's really important to our brand. A lot of the knowledge of how to negotiate those contracts, what they should look like, and how to structure collaborative opportunities has been an advantage for me. By no means am I an expert in everything. But I do think what law school teaches you is how to spot issues. For example, 'okay this area right here may require a contract, or we may need more legal protections.' You may not know exactly what those are, but you get that understanding of the world a little bit better. And that really helps to navigate with Rebel Nell.
Her Agenda: R.I.S.E. is an amazing organization. Can you describe your most memorable achievement during your time there?
Amy Peterson: My favorite part about working with R.I.S.E. was the work that we did to encourage voter registration, particularly with athletes. They have such a strong voice and encouraging them to amplify it to inspire their fan base to vote was the best.
Her Agenda: Why baseball? Why sports? Were you an athlete?
Amy Peterson: I was. I played sports and I was very close with my grandfather who loved baseball. My dad also shares this love of baseball, so it was a really happy memory for me as a kid. I would go to the games, I was keeping score of the games back when most kids weren't even paying attention. I would sit there with a little scrapbook and keep track of the game and I loved it. I love the strategy behind the game.
When I was thinking about careers and what I wanted to do, I really wanted to be in sports. I loved the idea of understanding a player acquisition side. 'How do you determine the value of the player?' That fascinated me. I really wanted to be a GM, and now my life has gone completely away from it. But, I certainly was grateful for the eleven years that I spent working in baseball.
Article continues below advertisement
Her Agenda: How did you know you wanted to transition from R.I.S.E. and the Tigers to Rebel Nell?
Amy Peterson: R.I.S.E got me closer to having an impact on social justice and I was motivated by that. At the time, I was living right next door to a well-known shelter in Detroit. I got to know the women really well. But working baseball is really tough, especially being a woman. It was not the most empowering or supportive environment for what I wanted to do. So when I was living next door to the shelter, 'I was like, 'whoa, these are incredible women. They left challenging situations in search of a better opportunity for themselves and their families.' I was going through my own challenging situation and thought, 'what if we start a business that was just solely for women?'
I just did it because I really, truly believe in uplifting and empowering women and providing career opportunities for them. That's what really started the shift. First Rebel Nell was going to be a passion project, something I did because I love the city of Detroit. But then, it became all I was thinking about. I was like, 'What if we did this for Rebel Nell? What if we could hire more women?' Then it became the "internal tug." This thing where we have it, but we ignore it a lot. We don't listen to what it's telling us. There's a very powerful message that comes from our gut. So finally, I was asking myself 'what would it be like if I could do Rebel Nell full-time?
Her Agenda: What were the barriers when first launching Rebel Nell?
Amy Peterson: I ran Rebel Nell for five years, part-time. When we started doing the fundraising aspect of things, a lot of funders wouldn't do an investment unless the founder was full-time. I would always get frustrated with that. I always thought, "how? This work is allowing me to have energy, but I have to still make sure I can provide for my family."
Now, I totally get it. I get it, you want someone to be fully invested and to be committed to the task at hand. I had to make sure I set money aside so I could personally go full-time. We also had started our conversations with funders about me going full-time. So, obviously, I had to honor that commitment. But then there's also this aspect of pure terror of having no idea what you're doing. You are walking away from stability. But I tend to not let my mind go there. I rather try and have failed, than wonder, "what if?"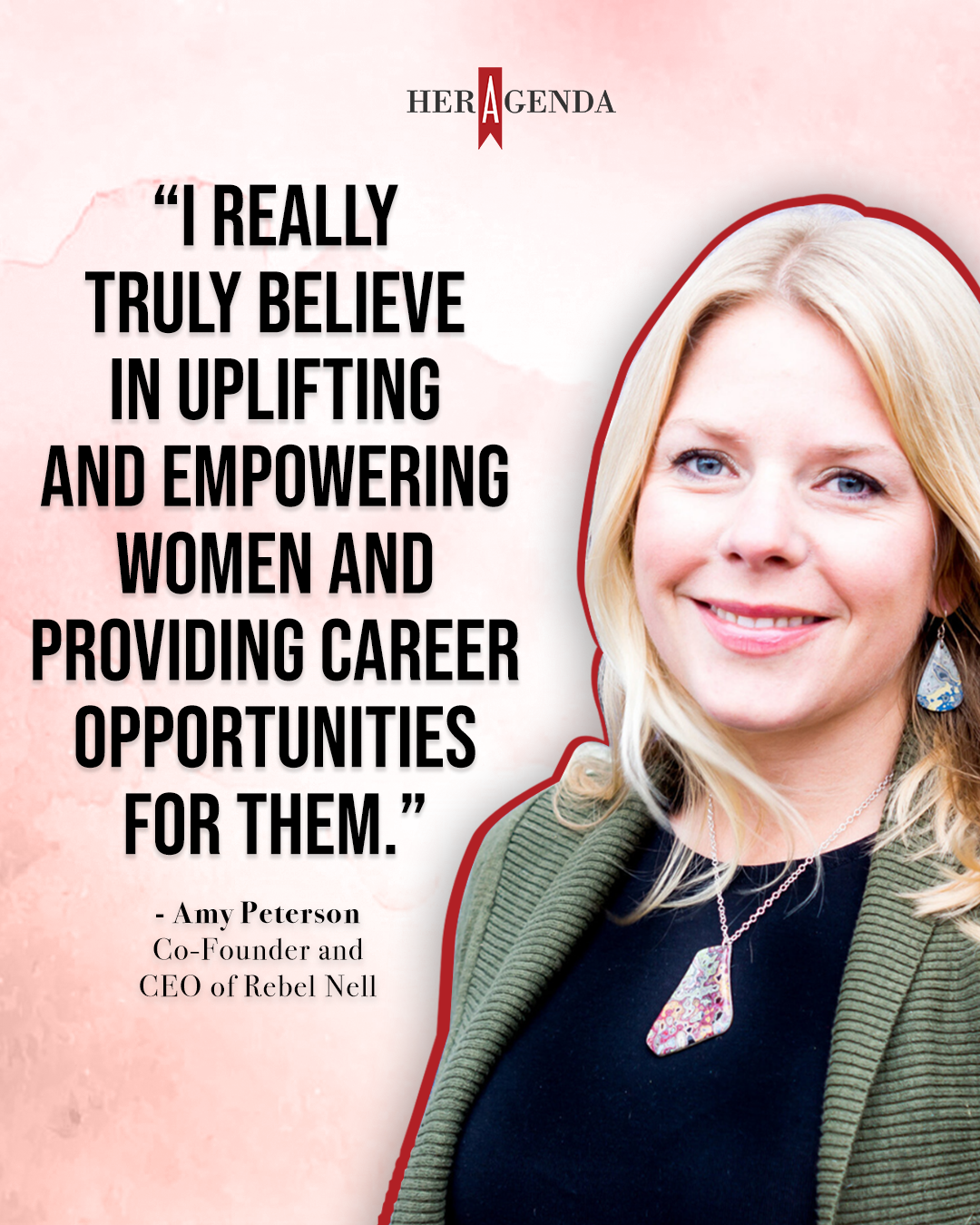 Article continues below advertisement
Her Agenda: When you were presenting Rebel Nell to investors, what was their biggest attraction to your brand and business?
Amy Peterson: To invest in a company like Rebel Nell takes a very special investor. We are not going to make you a boatload of money. I hope we make you some money. But for us, we're looking for people who are interested not only in our financial returns but a return on human capital. That to us is of equal importance. I really want to prove that [we] can be profitable and have a tremendous impact on the women that we serve.
To move the needle that costs money, that takes time. It takes patience, it takes a lot. We're not going to be the tech company that scales overnight and cashes out for a billion dollars. That's why it's hard for us to find investors, but it's also on the flip side, when you find the great investors who totally get it, it's a beautiful happy marriage because they're who you want to believe in you.
Her Agenda: Turning to the daily operations of Rebel Nell, not only are you employing women from Detroit's well-known shelter, but you are teaching them the manufacturing of jewelry. Did you have a jewelry manufacturing background?
Amy Peterson: I had no background in manufacturing. I had no background in making jewelry necessarily. I mean some beaded jewelry when I was in law school that helped pay for my education, my super side hustle. My business partner and I always say, to call ourselves jewelers personally is an insult to actual jewelers. But what we did do is we took a lot of time to learn and build out our process and learn to make items out of unique material. Everything we really learned, we did in-house. What is also really fascinating is we're in the capital of manufacturing, we are in Detroit. But there is also this kind of a gap between the big auto manufacturing and the small businesses.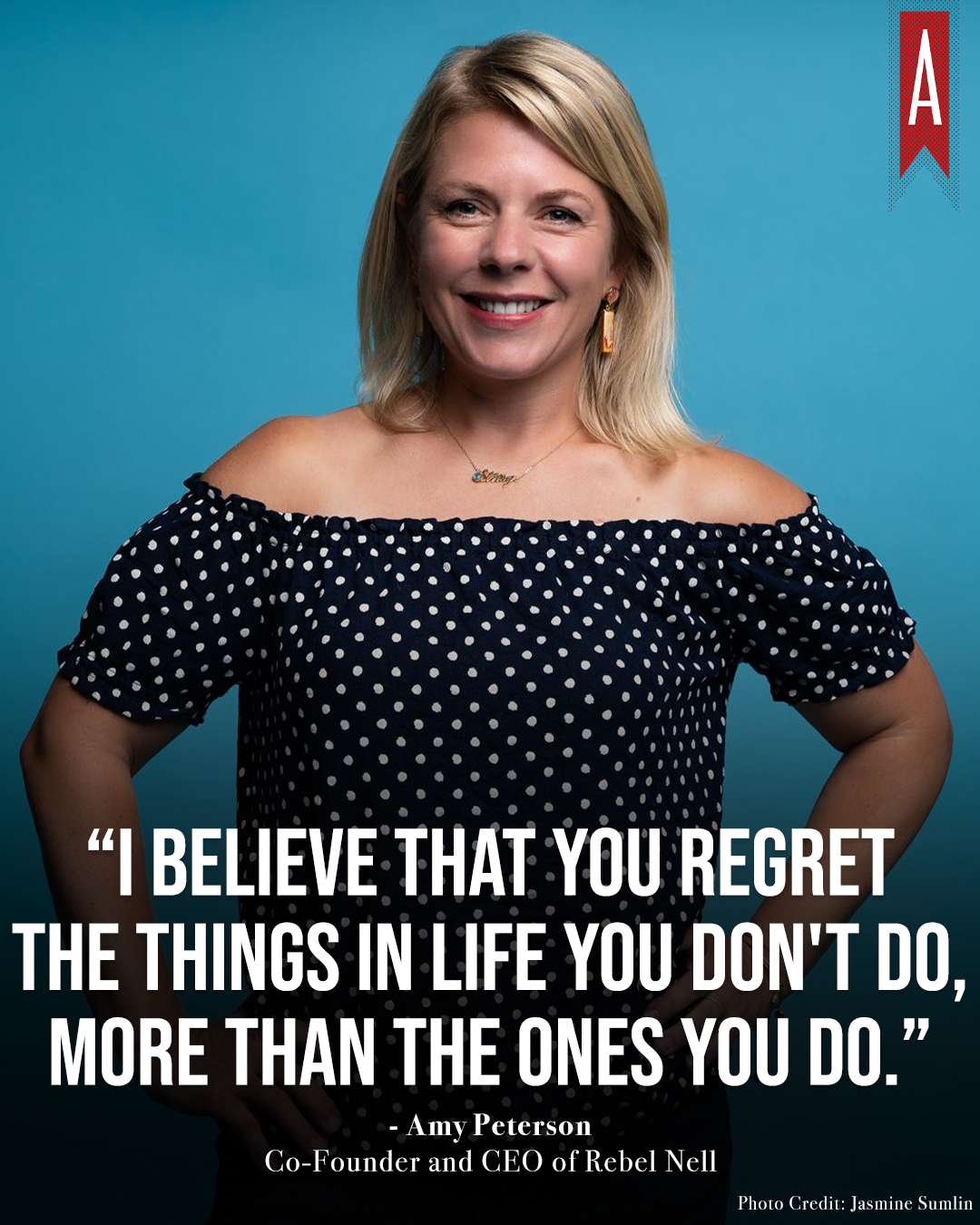 Her Agenda: Why the name Rebel Nell?
Amy Peterson: When we were coming up with our name, it was really important for us to have a name that was reflective of the work that we're doing. Not only for the jewelry but for the women we serve. My business partner and I both realized after several months to come up with a good name, that we shared the same love for Eleanor Roosevelt. She was an incredible woman, an amazing humanitarian, human rights activist, women's rights advocate - truly remarkable. What she was standing for the time and when she was seen for it, it was just so ahead of the time, and a lot of it's still really relevant today.
I had read a book about her that her dad gave her the nickname of Little Nell, and we thought she deserved a more kick-ass name and that's how we got Rebel Nell. We believe that the women that we're serving are rebelling against what life has dealt them and dealing with fallen street art, which is a rebellious art form, is how we got the name, Rebel Nell.
Her Agenda: When working with women from the shelter, what are tools are these women gaining at Rebel Nell? What other companies have they ended up working for?
Amy Peterson: What we do really well, with our non-profit that we helped launch, we partner with T.E.A. Teach, Empower, Achieve. We work together to really customize the program for each woman who comes in because everybody's different. Everyone has their own challenges, their own barriers, and you may not need to go through the same steps as somebody else went through. So the customer experience, I think, is what really sets us apart. So when they come in it starts off as Maslow's hierarchy of needs: food, water, shelter - how do we take care of those things first? The next step is now that you can breathe, we ask, what they want to do. We figure out how do we get them closer to that dream job. Then we help them eliminate the barriers that have been holding them back in the past. We do financial training, understanding budgets, business education, mindfulness, housing resources, and legal aid. For example, if their transportation has been a challenge for them, how do we get their driver's license cleaned up? How do we then start building your credit in order to help you get a car? That's just one example of the things that we do.
They're with us for about 18 to 24 months. Then the back half is career development. A lot of our placements have been all over because it's really based on the individual. But, home healthcare has been a big one for us because of the flexibility and many of the women that we hire are single moms. Some have entered the auto industry, some have entered entrepreneurship.
Her Agenda: What is your motto?
Amy Peterson: I believe that you regret the things in life you don't do, more than the ones you do.
[Editor's note: This interview has been edited for length and clarity.]