Ananda Lewis is not your typical media personality. Destined to make change not only on TV but in the real world, her strong presence has turned her into a powerful figure for making a difference.
From volunteering at a young age, facilitating a youth conference in Belize, to becoming a youth activist, every step brought Ananda closer to her purpose. Embarking on her journey through the realm of media, she initially made her mark on the thought-provoking BET series "Teen Summit." Her path then led her to MTV and subsequently to the creation of her very own syndicated talk show, solidifying her transition from aspiring media professional to a shining star in her own right. During her time as a host, Ananda discussed issues pertinent to American youth and the Black community. Along the way, she earned a number of awards from NAACP and was nominated for TV – Choice Personality, for three consecutive years, by the Teen Choice Awards.
In addition to her loveable, on-camera persona, Ananda's purpose has always been rooted in touching lives farther than she can physically reach. After being diagnosed with breast cancer, Ananda absorbed irreplaceable knowledge on health that she is determined to share with other women.
Her Agenda had the honor of speaking with the living icon on her health journey, the recent Strength Of A Woman Festival, and being a voice for the Black community.
Her Agenda: A lot of influencers and media personalities promote products or events, but I admire that you are focusing on health. Why is it important for you to choose to promote health?
Article continues below advertisement
Ananda Lewis: What I think is interesting about that is, it's another thing historically we [as Black people] have been blocked from. It's benefiting from our own voice. An influencer [is] anybody who can influence people. I would never tell you about something I don't use and love, and that really works for me.
I focus on health because I have had a pretty crazy experience now with breast cancer myself. I feel like when you have walked on a path or are walking on a path and, and you see a bunch of tacks that have been spilled on the ground and you step on one, you shouldn't let your pain go to waste. You should warn the people behind you that there are some tacks on this road. And tacks can be your own mistakes. Tacks can be anything, anything that you have either done, experienced, or now know about based on your own experience that will benefit somebody else to know about. And for me, that was getting a mammogram. For me, that was how to take care of yourself to prevent breast cancer. There are things that I know now from my journey that had I known 15 years ago, I probably never would have ended up here because prevention is the cure. Early detection is what I advocate for, for women, especially Black women to practice and especially Black women only because we die from higher rates of breast cancer.
Article continues below advertisement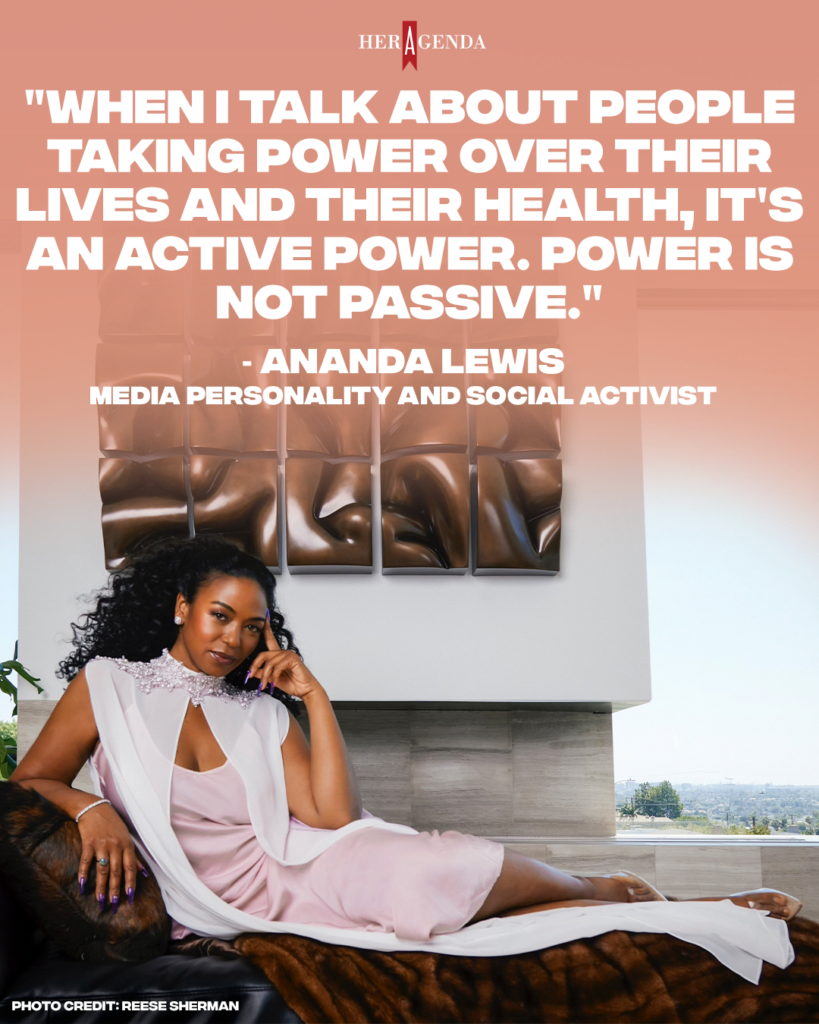 Her Agenda: I think a lot of people know what health insurance is and a lot of people know what the healthcare system is, but not a lot of people understand what health equity is. So in your own words, can you please explain what health equity is?
Ananda Lewis: Health equity is one of the biggest reasons I'm in partnership with Gilead right now, and that we're doing this Strength of a Woman panel. They're really committed to advancing health and Black equity. Health equity is equality in health care and access to health care, and not just care, but treatment. Not just like insurance, but actual medicines that can help you be healthier and can help you with whatever illnesses or things you're dealing with.
Article continues below advertisement
It's not always an illness we're dealing with, with our bodies, right? But for most of us, there is something we'd like to shift. And inequality exists for a lot of reasons, but the point is not to focus on the reason, but to fix the fact that there is inequality.
And that's what Gilead is really doing. And when I heard that, and they invited me to be a part of this panel, I jumped at the opportunity. I think it's wonderful to see a company as massive as them have such a stake in it and put so much real work behind their mouth.
Her Agenda: Can you please share some knowledge about the panels and what you are most excited about?
Ananda Lewis: There are a lot of panels, but the one that I'm on, is called Finding Your Faith: Healing, Hope, Breast Health, and More. And, it's really an opportunity to, give women a real understanding of the power they have over their bodies and of their health care and to talk about the intersection of that power and health and healing.
And faith can be different things for different people. We're going to get into all the different things that can be. Strength of a Woman, the conference itself, brings together amazing women of color from all over.
Article continues below advertisement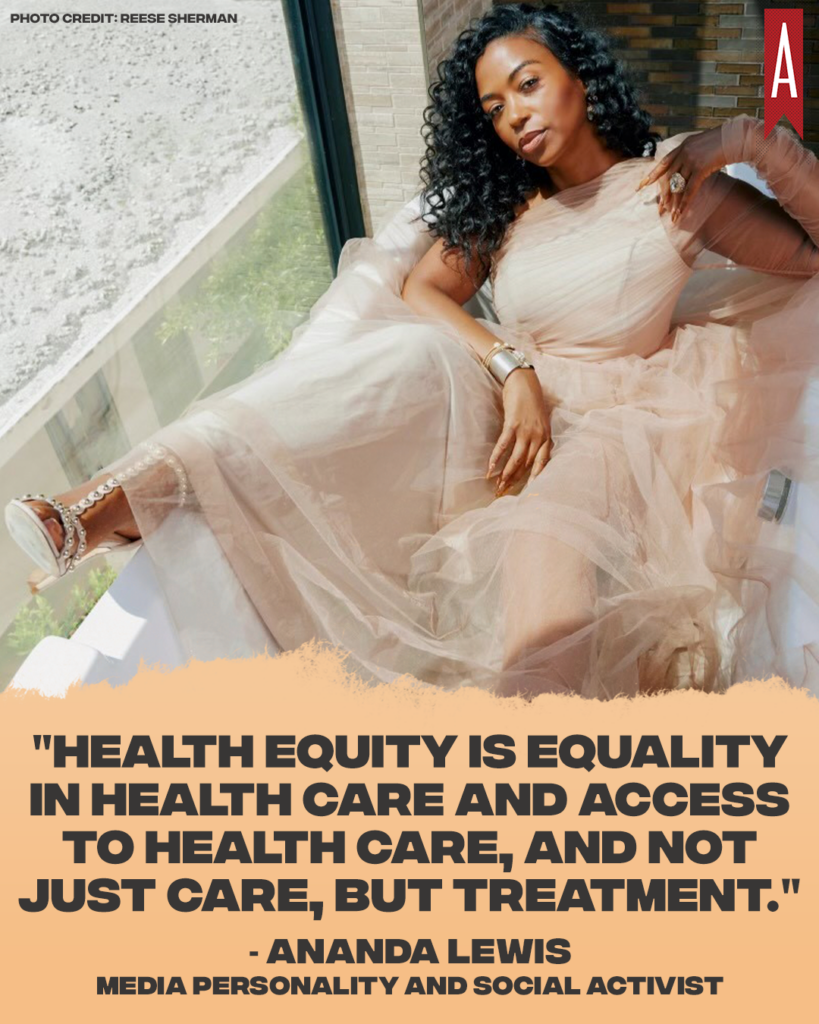 Her Agenda: I know you mentioned that you are big on faith and you will be incorporating faith within your panel. What role has faith played in your life as you've been fighting breast cancer?
Ananda Lewis: I still fight breast cancer every day. I'm not [in the] no evidence [phase] yet. I'm getting there though. Faith didn't start for me with the breast cancer journey Faith started for me with my grandmother, really, who was the main woman who raised me. I didn't understand at the time what it was, but I saw her, she would speak out into space, and she would say 'Give me the strength to push through this.' She was calling on an invisible force.
Article continues below advertisement
My perspective as a child, right, didn't understand it better then. She was calling on something I couldn't see. And then things would shift for her. And so I saw somebody actively showing their faith. [It showed me] I'm never without support, even when there are not other people physically, or visually around me. [There is] a piece of God within me. It's everything I need, strength and endurance. My job is to do my part, to dig it out, to use it, to have the discipline to do the things that matter for my health, both spiritually, mentally, emotionally, and physically, because our health is a huge wheel with a lot of cogs in it.
Faith for me was a big part of why I was able and am able to continue on this journey with as much tenacity as I have. I know that I'm not going to fail. My fear wasn't dying. Nobody gets out of here alive. What's standing in the way of you seeing [your blessings] and accessing them is probably something you are either doing or not doing. When I talk about people taking power over their lives and their health, it's an active power. Power is not passive.
Article continues below advertisement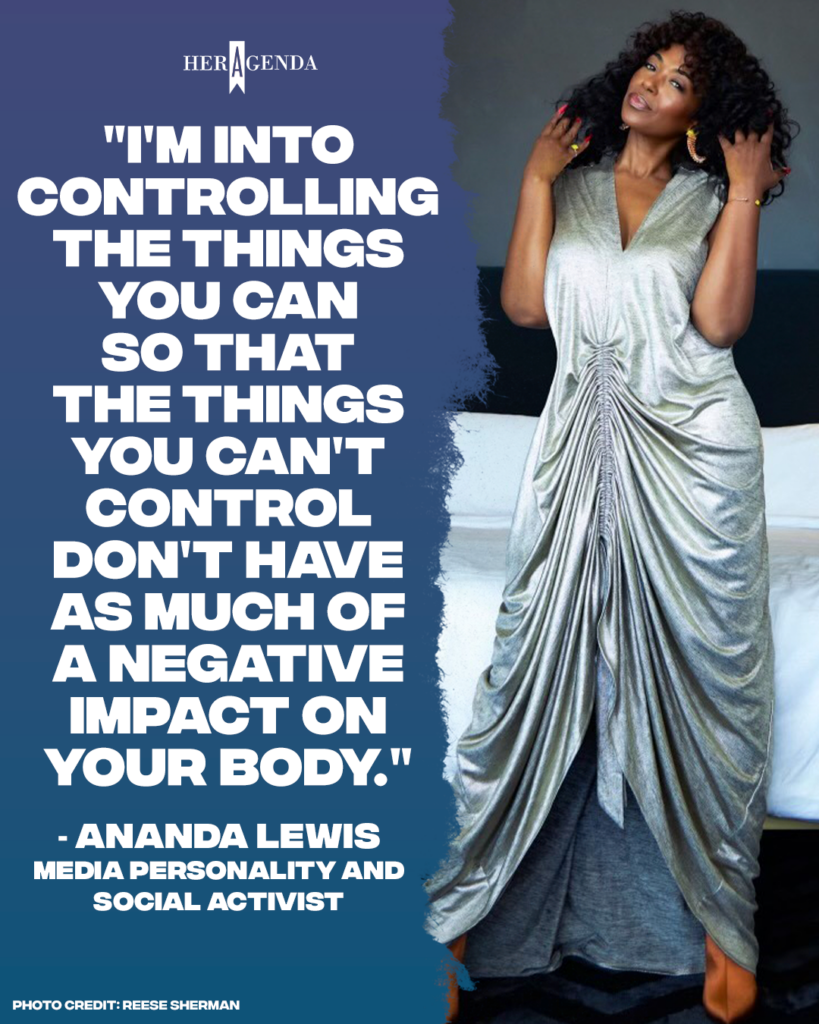 Her Agenda: What are some ways or what's one way that you believe people can prioritize their health on a daily basis?
Ananda Lewis: Education is fundamental. It is important to understand how this brilliant machine you're in [works] everything from nutrients getting into your body to waste getting out of your body. On a cellular level, if you're filled up with too much waste, it becomes toxic. What does toxicity lead to? It leads to disease. And so when we talk about avoiding these big pictures, we have to narrow it down and look at the little picture every single day. What are you doing? Are you breathing right?
Article continues below advertisement
Breathwork has become this fancy thing to say but the fundamentals of it are real. You don't even think about how many times you breathe a day. It's something your body does on its own but you have no idea how it works or why it's so important. We take for granted some of these real fundamentals. Some of those things you can't control. I'm into controlling the things you can so that the things you can't control don't have as much of a negative impact on your body.
I would also say that we underestimate the power and the value of sleep when it comes to our health and the quality of it. And there are some really shocking and eye-opening studies that connect a lack of sleep, like chronic sleeplessness, to breast cancer numbers. Those are very clear studies. Our bodies are designed to work with the clock of the Earth and the further away we get from that, you will see your health decline. So I've been sent on a journey to get back in alignment with the planet we've been given to live on and it's all God, in my opinion, all there is is God. So faith is never separate from any of that, in my opinion.
Article continues below advertisement
Her Agenda: I believe that mental health is just as important as physical health, but there's still a stigma around it in the Black community.What are some ways that you use to connect with your inner child and how do you practice self-care regularly?
Ananda Lewis: I have integrated an acceptance of the kind of child I was into my world. A lot of beautiful things about how I was as a child, but the whole reason we're not children anymore is that we're supposed to grow up and there are things you need to leave behind in your childhood.
For me, I don't need to go back and heal things. I need to move on from things. My inner child is probably still back there playing somewhere, cause I've grown through her and past her now. But, I integrate meditation a lot and I would define my meditation as mental breaks that I give myself where I make it silent.
Article continues below advertisement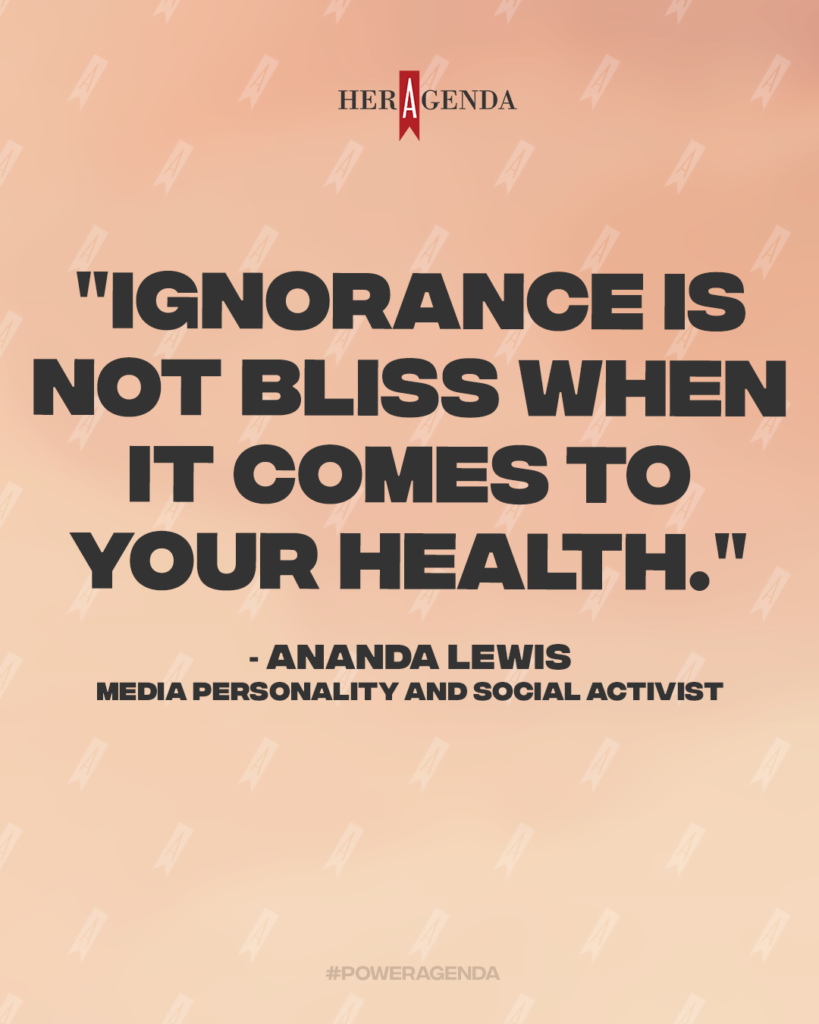 A lot of people say meditation now, but it's up to you the way that works for you to calm your brain. That's really what meditation's goal is, is to calm the brain. We're running nonstop. You would never run your car the way you run your body. No oil changes, the wrong kind of gas, never stopping it. You would never do that and expect it to still work. But we do it every day to our bodies and expect them to work. And the reason they do is because they're brilliant and they're designed to heal. But you find that when you do your part, your body can do its part even better. And so meditation just gives you a break.
Article continues below advertisement
Once you're out of childhood, it's all on you. It's your responsibility to take care of your body. And there are simple ways to do that. Exercise is important. We don't need as much exercise as we think we do, but some are very important. Why? Because your blood needs to flow. Your blood needs to pump. There are things that happen in your body that take movement.
It's important to go to your doctor's visits and, and be your own advocate. Ask for the tests you want. Since we're talking about Black women in health, they just reduced the age that they recommend you get a mammogram or start getting mammograms at 40. It's important to if you have a family history, start them at 35. Start them whenever you think is the right time to start them so you can stay ahead of it. And if you're having any symptoms, go to the doctor and get it checked out. Ignorance is not bliss when it comes to your health.