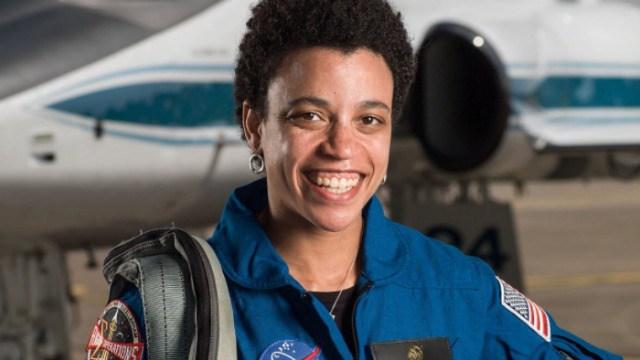 Are We Dreaming? Jessica Watkins Could Become The First Black Woman On Mars
By
Kathryn Kunkle
Jun. 19 2017, Published 12:57 p.m. ET
On Wednesday, June 7th NASA announced its newest class of astronaut candidates. Over 18,300 people applied – the most ever – and only 12 were selected, seven men and five women. Jessica Watkins is one of the five women candidates selected, and the only Black woman. This is the first time since 2013 that astronaut candidates have been announced.
During an interview with Blastr, Watkins shared that she always dreamed about becoming an astronaut. She majored in Mechanical Engineering at Stanford, because she thought she needed that major to become an astronaut. Watkins didn't love Mechanical Engineering, but she still had a love for space. She quickly realized that her passions were in Planetary Geology and changed her major. After completing her degree in Planetary Geology at Stanford, she got her Doctorate in Geology at UCLA.
Watkins' background and interest has been working on the Mars Curiosity rover, which is a huge Humvee-like vehicle that drives around Mars picking up samples and other items. It is quite possible Jessica Watkins could be assigned to the Mars missions in 2020, which would make her the first Black woman astronaut on Mars.
According to SPACE.COM, becoming an Astronaut isn't easy. Not only do applicants need a minimum of a bachelor's degree in one of the sciences, they are also required to pass a demanding physical exam and have a rigorous interview process. Through this process it is determined whether the candidate has what it takes, both physically and mentally, to become an astronaut.
Article continues below advertisement
Watkins' Ph.D. adviser at UCLA, An Yin, said she "runs super-fast as a member of the National Rugby Team and beat all my male students by a huge margin when we raced on a parking lot on a trip to the Grand Canyon." He also shared that, "She is extremely self-motivated, extremely hard-working, very focused and passionate about planetary sciences. She really makes me very proud as her Ph.D. adviser."
Now that Jessica Watkins is accepted into the Candidate program; the hard work has only just begun. She will have two years of basic training in which she will become a qualified scuba diver, have extensive swimming and survival training, receive Russian language training, and much more. After Candidate training ends, Jessica Watkins becomes an astronaut. It may take a few more years to be assigned and selected for a mission, after which she must then complete another two years of mission training.
When asked about the diversity among the other recently selected astronaut candidates, she shared that "The team at NASA is just an amazing group of people, and so to continue to bring in more diversity is just making NASA even more spectacular."
Article continues below advertisement
She believes that diversity will allow a wider range of skills and experiences, "I think the thing about diversity is that it allows for experiences that may not be exactly the same to bring different things to the table." Imagine a challenge in space – with diverse backgrounds the astronauts can solve the problem more efficiently and effectively.
When asked for advice in a future of STEM for young girls and women, she encouraged persistence. Watkins stated, "I think it becomes really important to stick with it even if it doesn't end up panning out the way you originally intended or it starts to get a little tough. That has really served me well throughout my life."
Article continues below advertisement
Watkins also shared the importance of having a mentor. "I would say get a mentor, preferably a female mentor, although male mentors are great as well… [they] help with that idea of persistence, having a mentor who can continue to push you and encourage you in a STEM field is really helpful."
The important lessons that Watkin's teaches us is that if you have an end goal, the steps you take may change but you can still get there with persistence. Sometimes life takes you in one direction, but another direction may actually be the final path to success. She also shows us that it is okay to try something else, if it makes you happier. Most importantly, Watkins proves that hard work is always worth it. You can make anything happen if you don't give up.
"Persistence pays off and the path may change, and the path for me definitely did change, but the goal didn't." @HerAgenda
"Persistence pays off and the path may change, and the path for me definitely did change, but the goal didn't," said Jessica Watkins. "And when one door is closing another is opening."