Artist Domonique Brown Is Taking Black Culture Depictions To The Next Level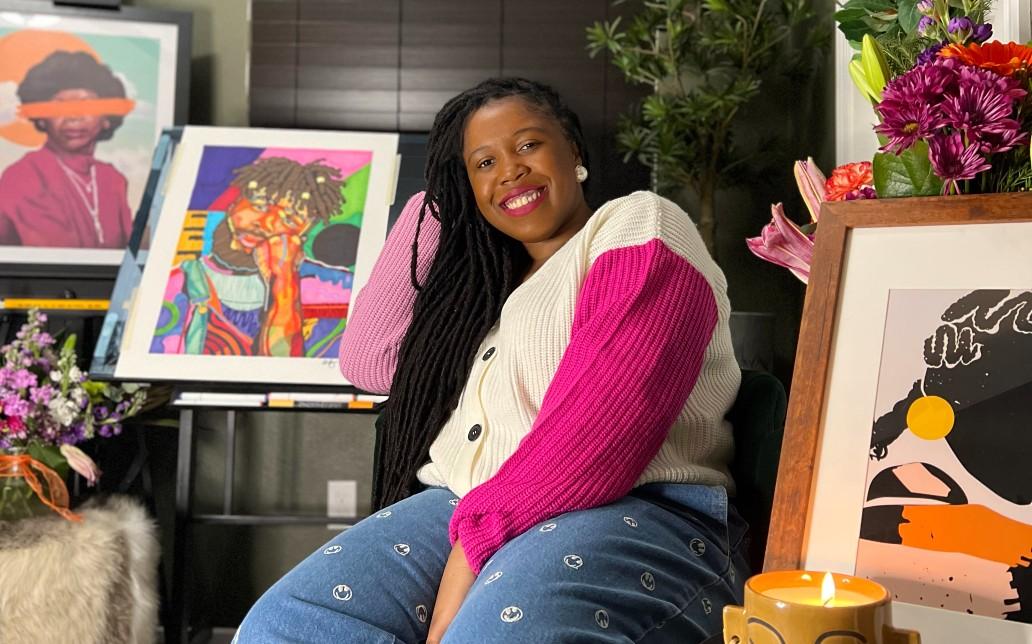 Using mixed media, canvas, colored pencils and the inspiration of events around her, Domonique Brown depicts Black culture, artistically creating portraits of some of the greatest historical figures in history. Her artwork truly took off at the height of the pandemic after an influx of support for her Etsy store following the unfortunate events that transpired around police brutality in the Black community.
"People became interested in supporting Black-owned businesses. I got propelled [to the point that] my own shop became bigger than I was expecting as a result," Brown recalls. With a mission to find a way to turn the emotional labors of pain felt widely by the Black community into a sign of hope through her art, she has amassed a following of 18,000 followers on Instagram. Her work has also be showcased by Forbes, Target, Airbnb, and the Los Angeles Times to name a few. She's flourished in art, all while still working a full-time job.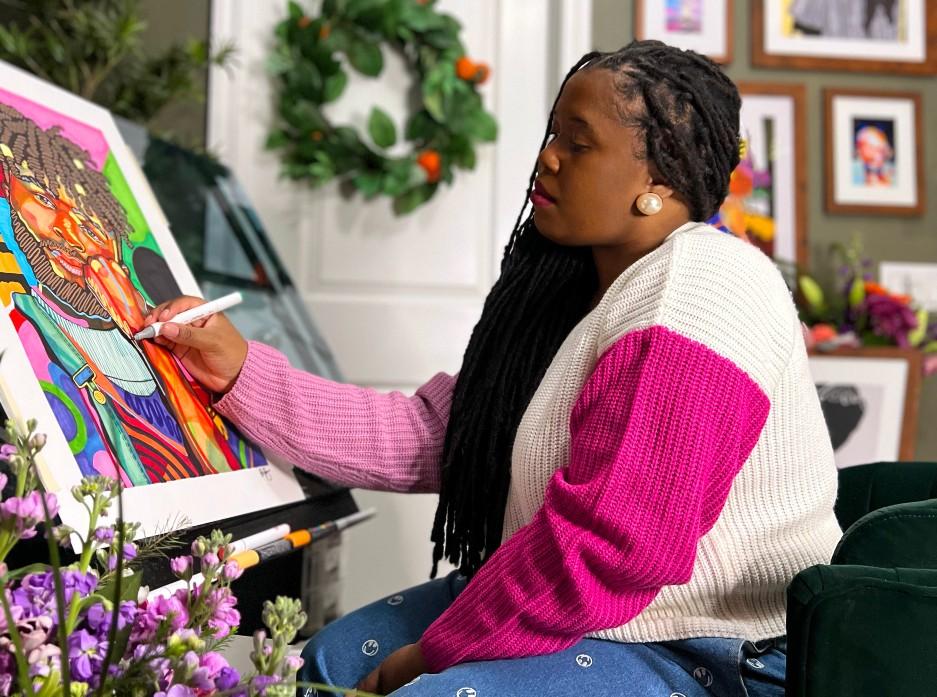 Article continues below advertisement
"I depict art that motivates me. People make requests for certain celebrities, but you try to find someone that you can relate to," she says. Drawing depictions of James Baldwin, Billie Holiday, and Anderson .Paak to name a few, Brown finds a way to connect an aspect of the artist to her personal life and internalizes how to showcase the connection to a particular figure. She is moved by doing extensive research on the individual.
If they're a musician, she finds listening to their compositions to be helpful in providing the inspiration to create a piece. Believing that art should be intentional, Brown motivates other artists to avoid following the route of the popular style or medium but to really be intentional in the type of artwork they create.
An authentic audience is the one thing that Brown always wanted when it came to showcasing her art. "As Black women, we always have this pressure to be extraordinary and to do so great all the time. You don't need to have the best content in the world. It's more about posting what makes you happy," she says.
Her experience shows that being yourself is ultimately what will attract your ideal audience which is the sweet spot for building a successful brand or business of any kind. "Make peace [with the fact that] you will not be liked by everyone and your style will not resonate with all, but more importantly, [it] will resonate with who it needs to," she adds.
Article continues below advertisement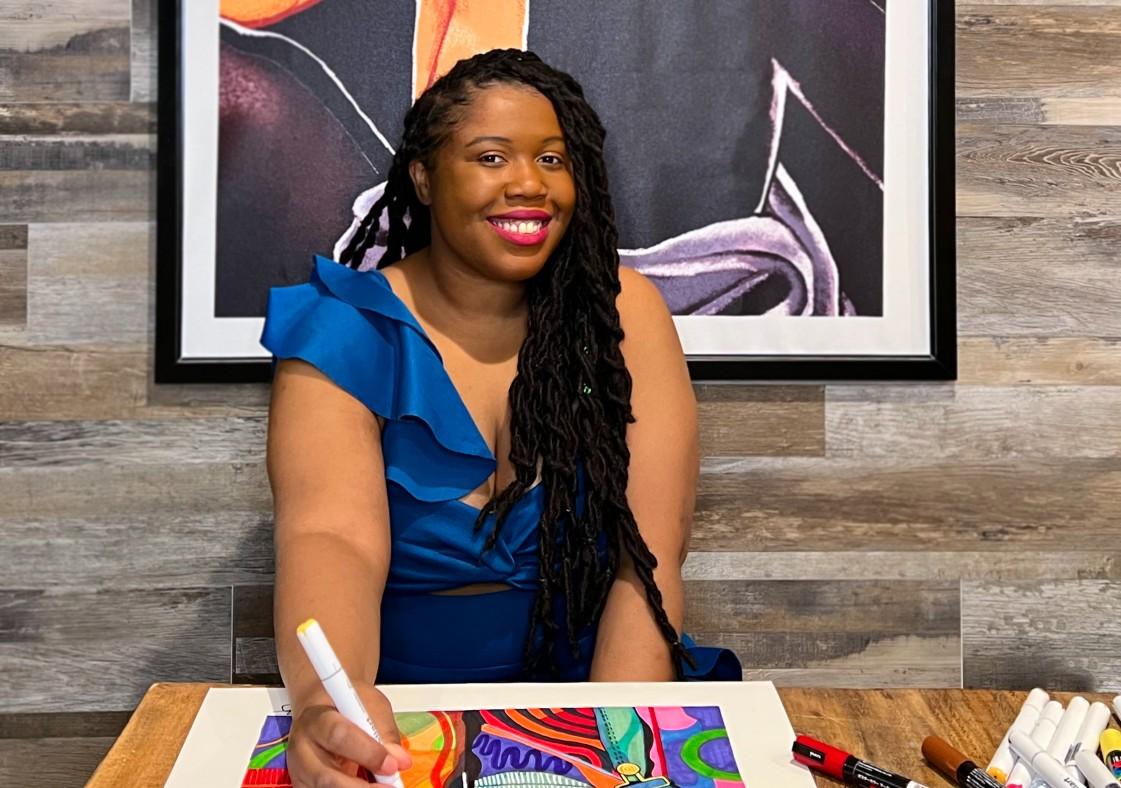 With building a brand and showcasing your talents on any platform, Brown is candid about how to monetize your talent as an artist, emphasizing the power of reinvesting in one's self by focusing on Facebook and Instagram ads, using the right hashtags, and staying consistent with posting. One specific thing that helped, in particular, was utilizing her space to promote her artwork. "Any time I had an interview or was on an IG Live, [I'd show] my artwork in the background," she says.
Brown has a passion not only for the arts and self-expression but also for forming a community and sharing information on how to successfully navigate showcasing your work. "If you want to have a business you have to push it out there for others to see but you also have to be okay with letting go of fear."
Article continues below advertisement
Demystifying the copy-and-paste culture in art, she values being inspired by other artists. "As artists, we all draw inspiration from each other," she says. Having her own battles with artists thinking she has copied their work. Brown remembers to always stay true to themselves and their goals focusing on the bigger priorities and continuing to do what she loves.
Figuring out originality as an artist presented a challenge for Brown. Moved by Pablo Picasso's work she realized he was an artist that followed trends. She signifies the importance of staying up to trend with the competition and using other artists to inspire you creatively. Advising new artists with three key takeaways:
Always be ready to compete.
Don't be afraid to take inspiration from the things that move you.
Know what your competitors are doing well.
Brown continues to push the narrative forward, emphasizing that we all feed and learn from each other, which is essentially how we develop our craft.