Asking for Raises: Microsoft CEO Inadvertently Starts a Conversation
In the age of the pay gap, there's no question that women should speak up and always ask for what they deserve. But that wasn't the message this past Thursday, Computer Scientist Maria Klawe and Microsoft CEO Satya Nadella spoke at the Grace Hopper Celebration of Women in Computing. It was there that Nadella said, "It's not really about asking for a raise, but knowing and having faith that the system will give you the right raise."
At first, this caused a little uproar with the predominately women audience. After all, why should women put their faith in a system that is known to unfairly compensate them for their work? It is a known fact that women make less than men—78% as much to be exact. Shortly after, Nadella sent out this tweet: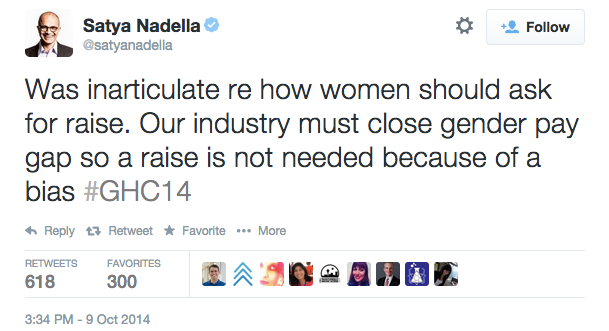 In this tweet, Nadella acknowledges the gender pay gap. He feels that women should not have to ask for a raise to be able to make as much as a man does. Although this statement is less ludicrous, it still is a little off. Even if the playing fields between men and women were equal, shouldn't a person who feels like they deserve more money ask for it? Nadella issued a statement shortly after the 140 character message.
"I believe men and women should get equal pay for equal work. And when it comes to career advice on getting a raise when you think it's deserved, Maria's advice was the right advice. If you think you deserve a raise, you should just ask."
Nadella then goes on to say that he learned from this situation. However, at Fortune's Most Powerful Women Summit, Mary Barra the CEO of General Motors, told the audience that she has never asked for a raise. A large majority of the Summit's attendees as well as Warren Buffett, known as the most successful invest of the 20th century, have also never asked for raises.
Like all things, maybe raises are completely subjective to a person's situation. During the Grace Hopper Celebration, Klawe suggested doing your homework. Research the salary you are supposed to be receiving. If your salary doesn't measure up, consider taking action from there.