Atlanta Publicists Share Advice, And Insight With The Next Generation At PR Girls Do It Better Weekend
The city of Atlanta is known to be the home of some of our favorite celebrities and is known for the many music and amazing events that take place.
The PR Girls Do It Better Weekend presented by PR Mentality on the weekend of August 5th-7th was no exception. The three day business summit was created to give women in public relations the opportunity to learn how to build and market a successful business. The summit was founded by Lindsey A. Walker, of PR Mentality. Walker is an experienced entertainment and fashion publicist who has gotten clients placements in high profile media such as ABC, Yahoo movies, Vibe Vixen and more. The weekend created a classroom environment for young entrepreneurs and PR professionals to learn from women who have been successful in the industry for years.
"I was inspired to create PR Girls Do It Better Weekend because I knew that there were women in business looking for direction on how to build and market themselves. Also, a lot of times the entrepreneurship journey can be difficult when you are starting out and as women we wear so many hats. I wanted to motivate and empower others to continue walking in their purpose and making an impact in the marketplace," said Walker.
Article continues below advertisement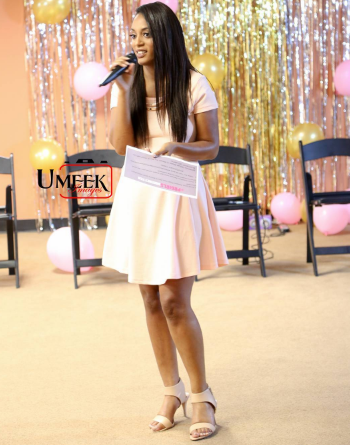 Photo: Umeek Images & We Good Photography
Women traveled from all over to learn the skills they need in order to build a sustainable business in public relations and attract their dream clients. Host Jelisa Raquel opened the weekend with the Empowerment Panel and Mixer. Raquel of Broadcasting Beauty Publicity shared her insights on how to grow money through strategic investments, building a following organically and being a woman in business. Attendees learned that PR isn't a sprint but a marathon, and requires some creativity and tenacity to get the job done.
Article continues below advertisement
Women featured on the panel included Kelli F. Kelley, Creative Director and Lead Publicist of Kelley Brand Communications, Deidre Palode, Founder and Senior Publicist of MayLee Media, Brittany Butler, Money Stylist and Blogger of MissBFab.com, Founder of PR Girls Do It Better/ Lead Publicist of PR Mentality, LLC Lindsey Walker and Aleesha Carter, Publicist of KAC U Images, and summit honoree for a remarkable career in the PR industry.
"Because of Lindsey and PR Girls Do It Better Weekend, I am so inspired to keep going for my dreams; it was a life changing experience for me," said attendee TaLesha Oliver.
The Saturday branding workshops were taught by Atlanta based publicists such as Ronnika Ann of iGNPR, who has had clients like T.I & Tiny, Bravo!, The Real Housewives of Atlanta, VH1, 106 & Park and more on her roster. Ronnika Ann taught women in attendance to use their own brand as their first clients for experience when starting out. She also gave advice on how to get media placements for clients and conducting interviews.
"Be descriptive during your interviews and paint a vivid picture with your words to the reporter and audience," Ronnika Ann explained during her presentation.
Article continues below advertisement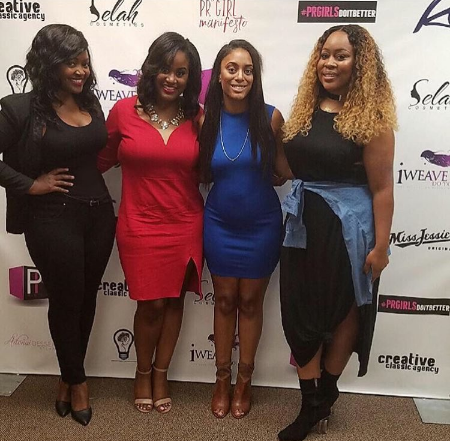 Umeek Images & We Good Photography
Lillie Mae of the Lillie Mae PR Agency, and Erica Dias of The B PR Firm also led workshops during the weekend. Erica Dias explained the power of knowing your worth in and charging for the work you do. Public relations is often a thankless job and it's one of the most stressful jobs out there. Attendees learned the power of quality over quantity when bringing on new clients from Dias as well.
Article continues below advertisement
"Less is more with me, don't ever feel like you have to have 10 million clients and a bunch of other stuff. It's quality over quantity. Every client isn't for you. People who I thought could've never [gotten] paid the retainer that I charge, really can pay it. If you know your worth, and know who your target audience is, people are going to pay for what they want to pay for," Erica Dias explained during the branding workshop.
"I had an amazing time this weekend at the PR Girls Do It Better Weekend Summit. I am grateful to have met these wonderful women in business," said Kelsey Ann, an attendee.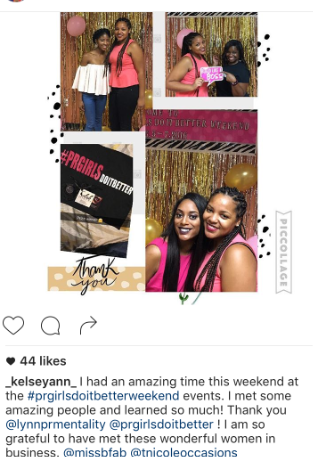 Article continues below advertisement
"To be a successful entrepreneur, you must be committed to the vision and don't allow fear to get in your way," Smallwood taught the aspiring entrepreneurs.
Public relations is a swim or sink industry and it isn't for the sensitive or light hearted. The women who spoke during weekend summit had to learn all the lessons they taught the hard way when building their own businesses.
Everyone from women working in corporate America to current students came to learn the rules of the game, and meet the ladies who represent some of their favorite southern stars.
Attendees were able to enjoy brunch and additional workshops on social media, staying motivated as an entrepreneur on the final day of the summit. The weekend of workshops was sponsored by PR Mentality, LLC, Miss Jessie's, Selah Cosmetics, iWeave Hair, Thoughts By T, Adonai Desserts, Creative Classic Agency and Unique Occasions By T Nicole.
After an informational weekend like this, aspiring PR pros now know that tough skin is a must, demanding respect for yourself and your clients is nonnegotiable and you have to be willing to find a way when there isn't one.