Azra Mehdi On How To Find Divine Purpose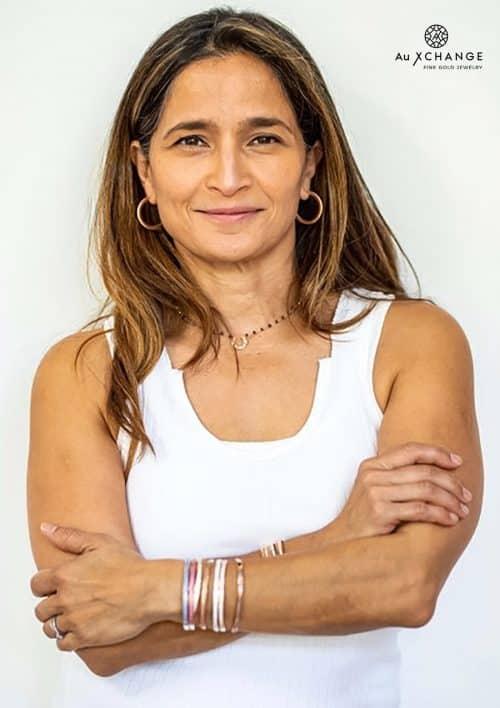 Azra Mehdi is debunking the idea that there's a certain age when it becomes too late to start something new. At 51, after practicing law since her early 20s, she decided to pursue her lifelong passion for jewelry by starting her own fine gold jewelry line, Au Xchange. Au Xchange is a mission-oriented project of love intended to realize her deep-rooted passion for jewelry with her life mission of contributing to the advancement of women through girls' education. With such an interesting and inspiring background, we welcomed Azra to the INSIDER community to share more about her journey to becoming an entrepreneur later in life and ultimately finding purpose beyond her careers.
Read a few excerpts from the conversation.
Azra on what inspired her to start Au Xchange:
I have practiced law for 25 years and have enjoyed it. Worked hard AF to get where I am. My husband seeing the pure joy I had in designing and creating jewelry encouraged me. I felt that women can and should be able to pursue both profession and passion without limits.
On how her career as a lawyer has helped her as an entrepreneur:
My work as an antitrust lawyer also helps me see the consumer/small business side of things – it's important that I provide customers full disclosure on what's in each piece. – transparency is important.
Azra on her signature style of jewelry:
I love cuff bracelets – or anything wrist jewelry. women work with their hands so much – it's nice to get a peek of your beloved piece while typing, or cooking or working out.
On jewelry buying intertwining with women's empowerment:
Women have come a long way – we have careers, jobs, businesses, we buy our own clothes, shoes, makeup, cars, even houses. Yet when it comes to jewelry, there is a reluctance because of this romantic notion that jewelry should be gifted by a man or a partner. Women know what they like and what they want. The very decision to buy a piece of solid gold jewelry is in and of itself a form of self-empowerment.
Azra's advice to young women:
Article continues below advertisement
My favorite poet Rumi, says that "Everyone has been made for some particular work and the desire for that work has been put in every heart." So, my advice is to look within – within ourselves, we all have the gifts and talents we need to fulfill the purpose we've been blessed with. Block out the noise from social media and just focus on what gives you joy. Don't try to mimic others or what they have achieved. For me as a matter of practice, I make it a habit to spend 5-10 minutes every morning in reflection. You don't have to sit on a yoga mat, just spend time with your thoughts. Observe your moments. All my jewelry designs have come to me during this period of reflection.