Bring On The Mondays: Making Your Week Stress Free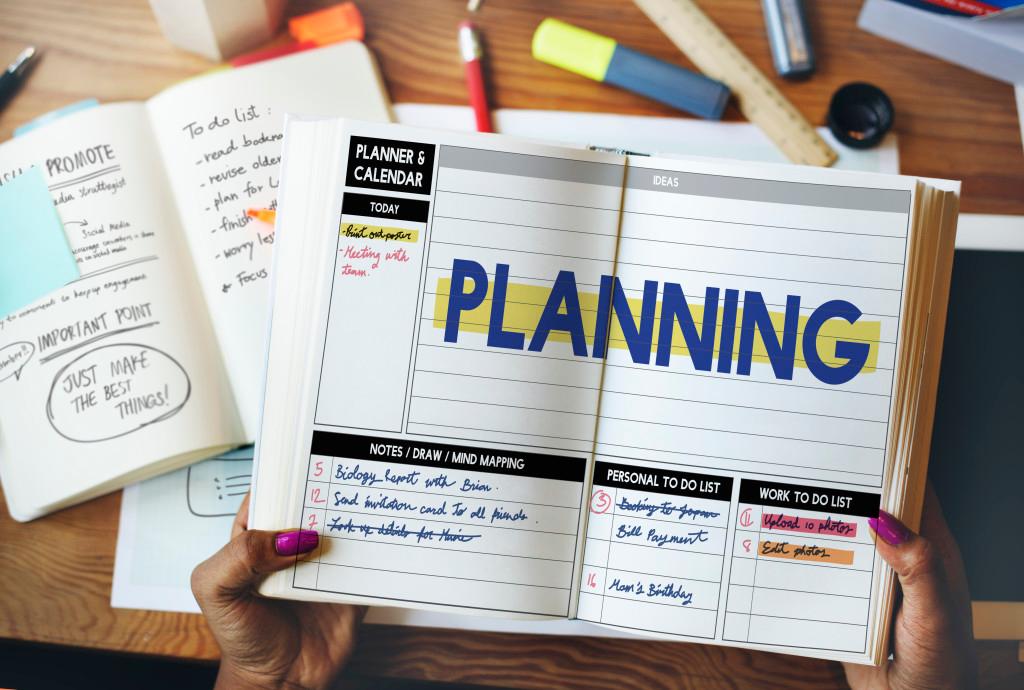 Sunday Scaries are real, and they are, well, scary. My least favorite part of being an adult is spending the weekend thinking about all the things I need to do, avoiding them, and then stressing out come Sunday afternoon, leaving me frazzled and annoyed by Monday morning. It's not the ideal way to start a week.
I figured this was adulthood and I'd get used to it because it was a fact of my life. But then I thought, wait, what if it doesn't have to be? So, I started experimenting with different ways to plan my time. Here are a few tips and tricks that helped me out.
What if I go to the grocery store after work on Thursday or Friday night?
Besides fully stocked shelves and shorter lines, a Friday night trip to the grocery store meant that I could spend the whole weekend knowing I had food for the week and could cross that item off my Sunday Scaries list.
Added bonus: I became better at meal prep, too (as in, I actually did it instead of only thinking about it, not doing it and then regretting it). Rather than prep several lunches and get a head start on multiple dinners all at once (which leaves me stressed and exhausted and my kitchen a disaster), I did it slowly over the weekend. Making yourself some Saturday morning eggs? Go ahead and hard boil several while you're at it to keep on hand for quick breakfasts or to add to a lunchtime salad. Blending a smoothie snack? Portion out a couple beyond what you're about to blend and bag those ingredients up so you're several steps closer to a smoothie breakfast during the week.
Article continues below advertisement
In other words, grocery shopping on Friday and meal prepping gradually over the weekend helps alleviate two big Sunday tasks, leaving you to enjoy your evening and wake up on Monday ready for the week.
What if I do the little things throughout the weekend (or week) instead of a mountain of tasks on Sunday night?
Laundry, grocery store, dry cleaners, meal prep, cleaning–this mountain of chores can make it hard to relax on Sunday. The above experiment helped with two tasks, but my weekend to-do list isn't that short. After one Sunday where I didn't finish laundry until after 9 p.m. thanks to the wait time for the one washer in my building, I decided to try a new approach. In the middle of the week, I threw a load in while I cooked dinner, put it in the dryer while I ate, and folded while watching one of my shows. It felt like no chore at all!
Article continues below advertisement
Added bonus: Why stop at laundry? I decided to look for other weekend tasks to knock out during the week. The dry cleaner I'm always racing to get to on the weekends is open at 7:00 a.m. during the week. So now I grab the dry cleaning bag and drop it off before I head to work. Sure, I have to leave 15 minutes earlier, but I get an extra walk in, too, which feels like a win-win to me.
In other words, optimize your multitasking to cut down what you have to do on Sunday.
What if Sunday isn't the end of the weekend but the start of the week?
Instead of mourning the end of the weekend on Sunday afternoons, I tried to switch my thinking. Sunday is equally part of the weekend, and if you've gotten many of your tasks done already–thanks to Friday night grocery shopping and TV-time laundry folding–you have a little more time to enjoy it.
Added bonus: Going out for dinner tastes just as good on Sunday as it would on Friday or Saturday, and it's probably easier to get a table too.
In other words, Sunday = part of the weekend. Treat it as such. I think they call this Sunday Funday.
Article continues below advertisement
What if I didn't dread Mondays?
Monday often gets a bad rap, and you might even wake up with residual Sunday Scaries. But you don't have to automatically make Monday the worst day of your week. "Mon" means "mine" in French, right? So technically "Mon" day is MY day. I started to try and own the day, and I stopped dreading waking up on Mondays. I go to sleep on Sunday and wake up Monday knowing this is my day to set myself up for success for the week ahead.
Added bonus: Instead of treating myself to coffee on a Friday as a reward for making it to the end of the week, I've started to treat myself on Monday as motivation. I wake up knowing I'll have a treat and that this is MY day. In other words, Monday doesn't have to suck. Own the day (it's yours after all). It's a small switch in your thinking that can go a long way in how you feel.
What if you try it?
See what works for you. Not all these are doable for everyone, but this is what works for me. I'm sure there are some great options for you that wouldn't be feasible for me. Play around with it and give it a few weeks. See what happens. You might find that Sunday doesn't have to be so scary and Monday might not be the worst day of the week anymore.