Barbie Had Over 130 Jobs But That Doesn't Mean You Should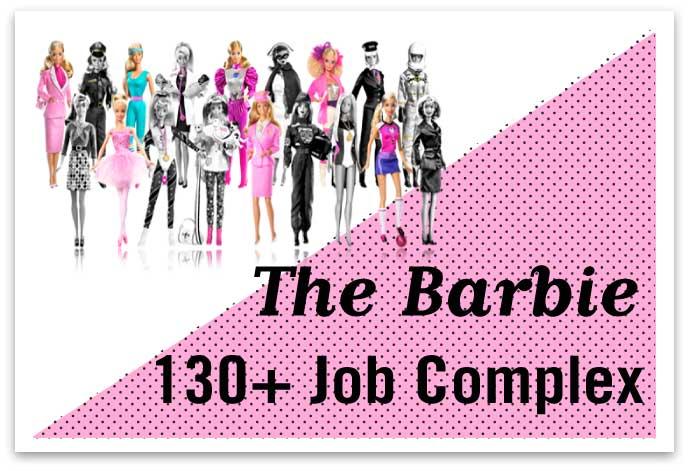 "When you figure out what exactly it is that you want to do, just give me a call back." In those 15 minutes before I picked up the phone to return my accountant's call those words haunted me. I thought to myself. Figure Out? What did he mean I had to "figure out" what I wanted to do? Can't I aspire to hold two primary career titles at the same time instead of just one?
For a generation that has grown up watching double and triple threat entrepreneurs in the working world, the thought of holding the standard "one job" is quite amusing. Old fashioned almost.
Not sure what I'm talking about? Well just look at the average social media bio for young adults ranging from the early teens to late twenties. They're usually filled with hash tags or general job titles that exceed the 140-character space given. Can we really be an "Actor | Singer | Dancer | Model" all at once without completing one goal first? I'm afraid the answer is no and for the many millennials out there, this news is heartbreaking.
Where did this idea come from? The thought that we can do anything and everything we want to and all at the same time. If you have ever faced this dilemma then you've been hit with the "Barbie 130+ Job Complex."
This diagnosis does not only apply to women as I speak to the "supermen" of this generation as well. Why can't guys be the suited up Clark Kent pushing beats at the Daily Planet by day and then save the world at nightfall? Or us females embrace the mantra of "girl power" and become the wonder woman's of tomorrow? It's because of 3 major points that many of us fail to realize until we're overwhelmed and burnt out.
Article continues below advertisement
1) Time & Money– When it comes to a professional career it is important to understand that it all centers around time and money. Yes it is true; Barbie has had a little over 130 jobs in the past 54 years. However if we were to think about how much time she spent working at each job realistically it'd mount up to nothing but a couple of days. (Especially if you include prior schooling and training sessions) The cost of going to school to learn and find your purpose isn't cheap. Even after you've finished your undergrad and grad school journey you will still find that any career you choose takes time. Time to actually do the job and a budget to assure your survival on all fronts.
2) Understand what each title means– Are you really a philanthropist that increases the well being of humankind through charitable donations or do you just enjoy the thought of helping others? Have you interned as a stylist before you volunteered to style that shoot or is your only reference your 100+ likes on Instagram? I'm not discouraging high hopes, I'm just encouraging you to do research. Figure out exactly what the job is before you jump in. Labeling yourself as anything you aren't can be dangerous (the title CEO included). Try interning first, or find a mentor in your field that can guide you to the proper career decision.
3) Success takes time– This includes understanding more than the phrase "Rome wasn't built in a day." It's true that it wasn't, but before they laid the first stone, there had to be an understanding of how to build and knowledge of architecture. Take time to figure out and perfect your craft. By moving at your own pace you will realize you have time to make and learn from your mistakes. It's all about finding the balance. As Will Durant put it "We are what we repeatedly do. Excellence, then, is not an act, but a habit." Don't worry about the timeliness of great success, once your truly immersed in your purpose, success will find you.
What are your suggestions on how to stay focused in a world full of endless opportunities?